This is the story of a bucket of boiling hot water, a 9-month-old baby that had just begun crawling, and the gut-wrenching misery that came after an innocent little moment.
Baby Vamshi sleeps in the PICU now, half of the skin on his body badly burnt; he's fighting for his life. How the story ends depends on all the help this baby's family can get at this hour.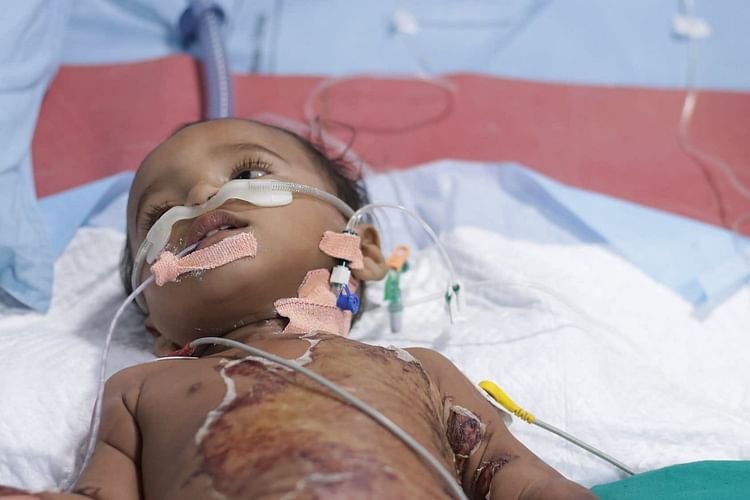 Baby Vamshi suffered burns from his chest to his feet
That day,
Nehru had kept a small bucket of water for boiling,
which he wanted to later take for a bath outside their hut.
The water now piping hot,
he proceeded to pick the bucket up when he received an important phone call; he stepped out for a minute. Meanwhile, it was just another day of crawling for baby Vamshi.
He'd been crawling all around the house, pulling and pushing everything in his way, and that was what he did with the bucket too.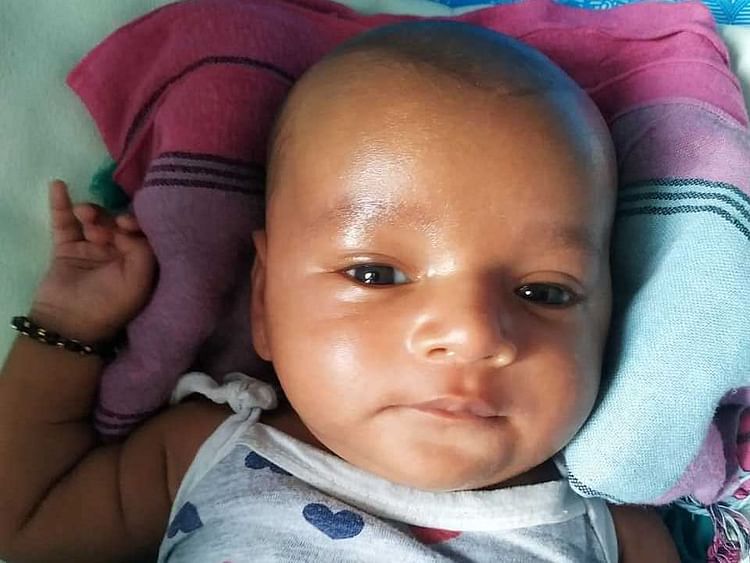 "It took only a minute. I heard a shrill scream. It was Vamshi. When I ran inside, I found him lying in the boiling hot water, wriggling like a worm, with the empty bucket lying by his side. His cries pierced my insides. I froze for a moment. When I picked him up, I saw burns from his chest to his little feet. The pain he was in, and the struggle to express it, I witnessed in his helpless cries! He wanted to make it all go. He couldn't… we couldn't!" – Nehru, father.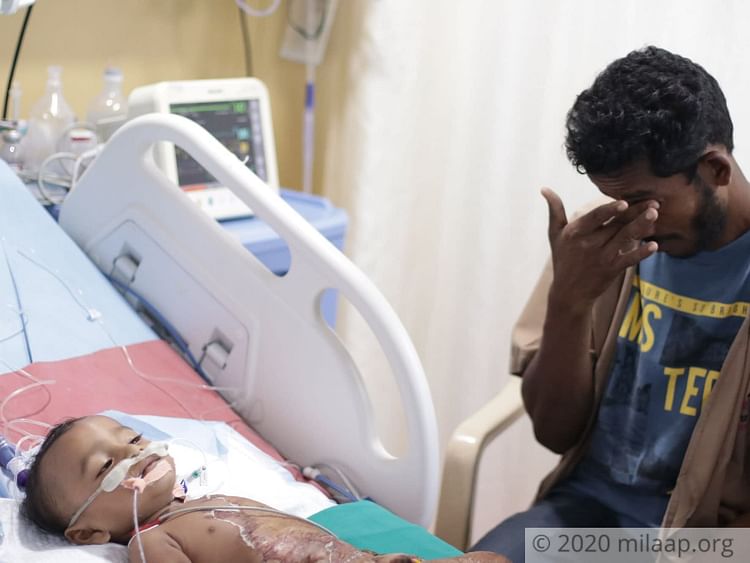 Diagnosed with 50% burns, even a plastic surgery didn't end his pain
Having poured the water all over himself,
baby Vamshi slipped over it and fell on his stomach, into the puddle of hot water.
By the time his parents came running, the damage had been done, even in less than a minute. They rushed him from one hospital to another until a doctor promised to save his life.
"The top layer of his skin was all burnt and gone, when I ran to him. Having to see my child like that, I wished I would just die right then. My husband broke down and couldn't be consoled, feeling like it was all his fault. Vamshi was admitted in the PICU, and was put on ventilator support, where he still stays now. Following a surgery, his burns are slowly drying. But he needs a few more weeks in the PICU, to stabilize. It's been a week, and I still can't hold back my tears when I see him on the bed there!" – Girija, mother.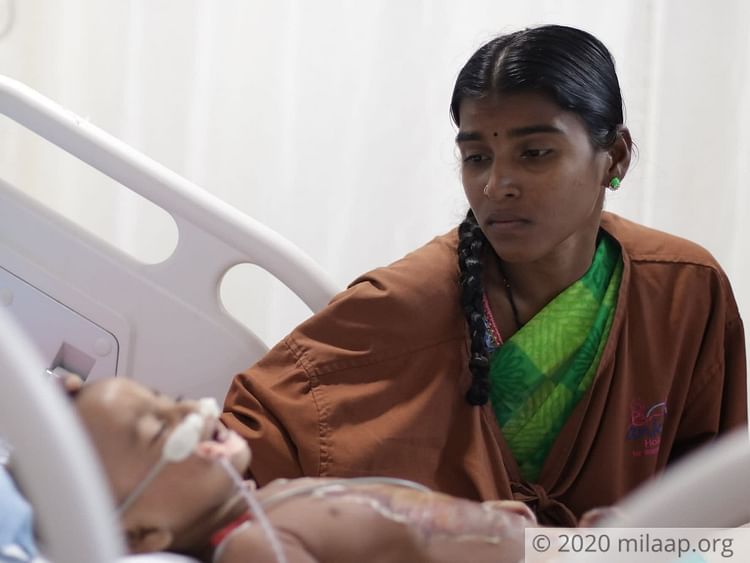 A prolonged stay in the PICU can save him but Nehru can't afford it
"We are from a nomadic tribe that live in a small village near Shankarampet, and don't know a lot of people outside our own community. I'm a daily-wage labourer, and I earn Rs.300 a day when there's work. I can't dream of affording 6 lakh rupees. Please help us save our baby from his pain!" – Nehru.
With your generous contribution, the parents can take home a fully recovered baby Vamshi. Click here to help them.