"Abhishree is very sick now. She's always lying down, she doesn't have the energy to sit up straight. Her eyes are getting yellower, her stomach, more swollen. I see other 5-year-old's wearing their shoes on their own or even running around, my Abhishree can't do either of those things. She's always in pain. We lost our baby boy, her twin, when he was just 10 months old to this disease. Abhishree has survived 5 years, but now she's running out of time." - Pralhad, father
Abhishree needs an urgent liver transplant to survive.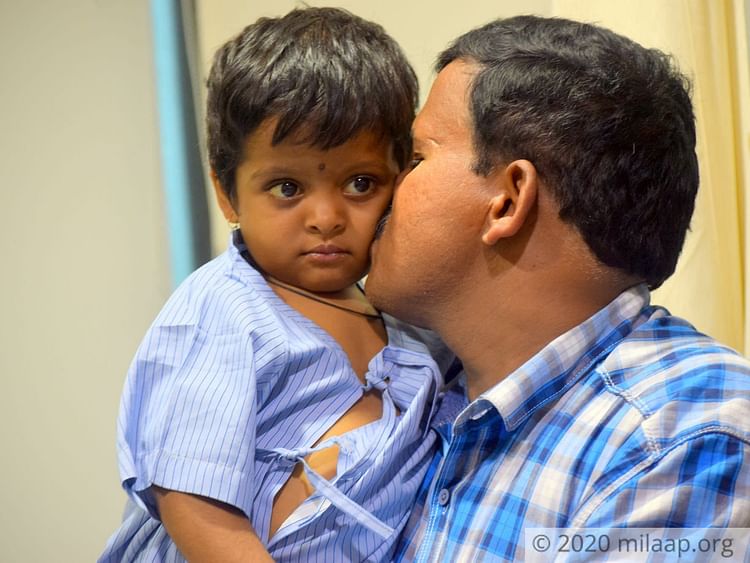 Abhishree has a life-threatening liver disease called
Progressive Familial Intrahepatic Cholestasis (PFIC).
This disease has killed her twin and her two older siblings. They weren't able to get the transplant that could save their life.
But Abhishree can – she can survive this disease with an urgent transplant. Unfortunately, Prahlad and Pratibha can't afford it.


Even a small cut can make her bleed uncontrollably
In over ten years of their marriage, Pratibha and Prahlad have been through a lot. They have experienced moments of happiness with the birth of their children, but it was soon followed by years of heart-breaking sadness. Now, they feel Abhishree is their only hope, their only reason to live.
"She barely even completed pre-school. We had to stop sending her because even a small cut can make her bleed uncontrollably. We've seen this with our older children. We couldn't risk anything. Even now, when she's sad, she tries to recite the nursery rhymes she learnt in pre-school. She hasn't had a childhood, and she might never if we fail to save her…" - Pratibha, mother

After years of struggling to save 3 children, they're in debt
For months Prahlad and Pratibha have been struggling to afford the only treatment that can save her life. But they're falling short. After spending everything they had on all their children till now, this is the most helpless they've been.
"We have to take her for a check-up and tests every 10 days. And each time we end up spending 5,000 rupees at least. That's almost as much as I earn every month as a labour-work supervisor. For the past two months, I haven't earned even that much. I've borrowed from so many people already. How ill I repay them? How can I even borrow more?" - Pralhad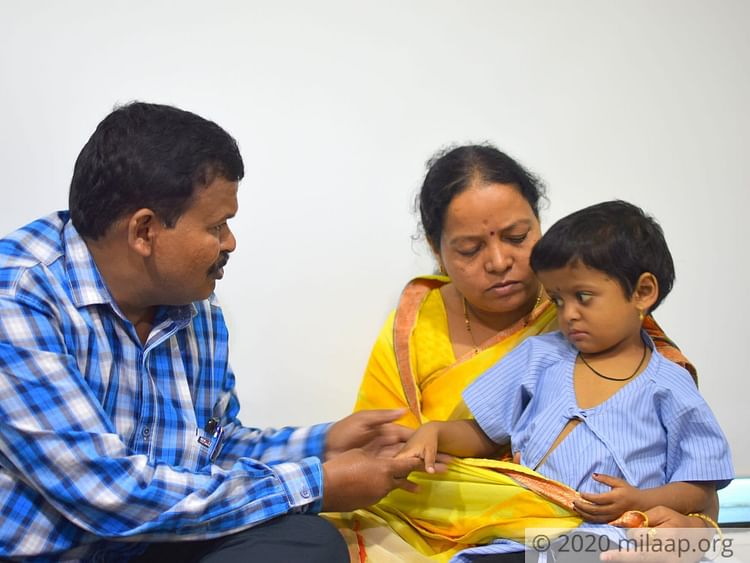 Abhishree can survive with an urgent liver transplant
"Shreya, Shreeraj and Ayush. I think about them every day even now. Losing Abhishree would mean losing everything for us. She is all we have. And with every passing day, we know we're losing a little bit of her."
Abhishree has fought hard until now. Despite the pain she experiences every day, she has pulled through with medicines. But it just isn't enough anymore. Without an urgent transplant, Abshiree will face the same fate as her twin brother. You can help save her life.