Hello All,
Welcome to '
Vinusha's Fundraiser Blondies Workshop.' This 'Joy of Giving' week starts with you! Thank you for making a difference! We will share the google link for the workshop with you shortly. Heavenly Blondies on the way :)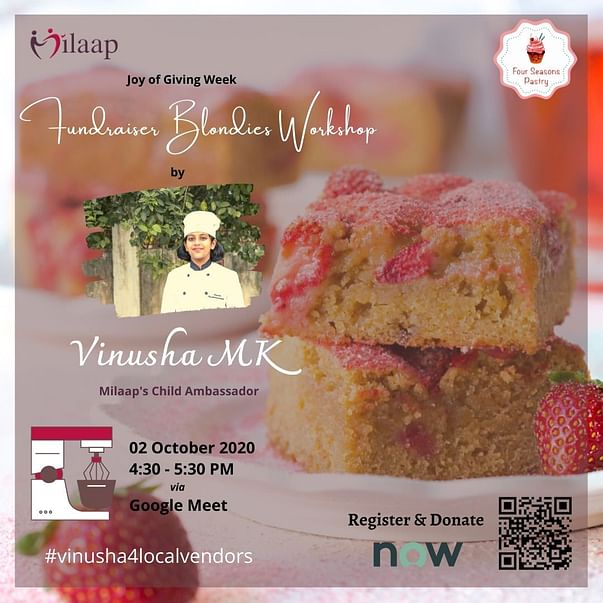 About the cause:
This fundraiser is a continuation of the initiative of '
Nam Veedu, Nam Oor, Nam Kadhai'
to support the small businesses/ local professions and vendors on streets. They started in Aminjikarai, then to Shenoy Nagar area, now, they are planning to expand it to other areas in the city to support local business, through a common tag #namlocal.
They have been supporting the families affected in this dire situation from March within their capacity and supportive friends. So this is a call to reach out to more families who they have connected with now.
◆Target families: 122 ( Each with different requirement )
●To help one affected family: ₹6000
●To help one family with a medical need: ₹3500 (Medicines, treatments, etc.)
●To help pay a part of their children's education fees: ₹2500.
●To help restart/ resume business with raw materials: ₹3000 to ₹9000.
This basic support will resume work, pay for basic essentials like food and also medical needs, school fees, etc.,
We request you to donate generously and to support them in these harsh and difficult times. It would mean the world to those families who are directly benefitted from your kindness. We will share the status of the help reached.
Do check out these articles :
https://timesofindia.indiatimes.com/city/chennai/lockdowninitiative-artists-photographers-focus-on-lives-sidelined-by-lockdown/articleshow/76679127.cms
https://www.thehindu.com/news/cities/chennai/local-history-project-meets-the-pandemic/article32063627.ece
The length of the flower strand is also the length of the struggle; The aroma of the tea is the aroma of strength; The shine of the floors and walls is the sheen of dedication; The distance they drive you around is the distance of the economy; The heap of vegetables is the heap of faith; The crisp of the stitch is the crisp of the talent; The hands that create, build, feed, support and understand! The needs of our day, the wants of our ego, the demands of our lifestyle makes us forget - the food to the plate, the education to the children, healthcare, and welfare; In these challenging times, lets support, until this imbalance curve also flattens with the corona.