We have registered our NGO in Jaipur, Rajasthan and started our journey with five projects 'WE ASSIST (Children)', WE STAND (WOMEN), 'WE LOOK-AFTER (Senior Citizens), 'WE MENTOR(YOUTH)', and 'WE HEAL'.
Your INR 1/- help can make this campaign successful.
On a special day of
Ganesh Chaturthi dated 22nd August 2020
, We at
RIDIPTA WELFARE FOUNDATION
, has started
a new campaign "WE PLAY - KHEL"
under our running state level program
"WE ASSIST (Children)"
which is committed to provide a clean space (
following the Swachh Bharat Mission
) to students to sit during their lunch time and also to provide a small playscape to have fun games during their free time in all Government schools in Rajasthan, INDIA.
These acts transmit a big message of necessary fundamental education to lay the foundation of healthy environmental education. This will also develop the sense of responsibility towards cleanliness & ecological balance.


Please refer the below link to understand more about the campaign :
Click here to know more -- >
Presentation ( WE PLAY - KHEL )
The duration of the campaign is very long as we need to cover almost all the Government schools in Rajasthan state and the count will be almost 15000+.
Our target is to cover 10 government schools in a month on district basis.
Children are the future of a nation and are the best change agents, be it in the family or the community in which they live. It is therefore crucial to catch them young and inculcate in them feelings of empathy and conscience so that they grow up as responsible individuals. It sensitizes the children towards various causes and let them realize the privileged status.
Children who play outdoors regularly are more curious, self-directed and likely to stay with a task longer. Nowhere is better than the outdoors for running, jumping, throwing balls, catching, pulling things, lifting and carrying objects. All these actions require motor skills that improve with practice. Children playing outside get aerobic exercise and gain skills, such as pushing and pulling outdoor play equipment. Lot of studies has done, and the results show that children burn more calories outdoors, helping to prevent obesity and strengthen bones and muscles. Playing in the sun builds vitamin D in the body, which means stronger bones and less likelihood of chronic diseases.
According to the American Academy of Pediatrics, many children have vitamin D deficiencies.
Green school ground encourages students to be more well-mannered, tolerant and polite with each other.
It's not just "We play", It is the lifeblood of the learning process.
As children play, they are developing the cognitive, socio-emotional and physical skills. They will need to take them into successful adulthood. They are developing their curiosity, problem solving skills, intention, flexibility and verbal and non-verbal abilities, their emotional intelligence, learning confidence, cooperation, negotiation, sharing, empathy and how to communicate appropriately.
It's not We Play; we say it is a skill for life.
Why it is needed:
The clean place is required for good health and hygiene and the outdoor play games those are the major part of every child's growth, has often been side-lined in our society now a days.
Most Common Factors:
Lack of funds
Lack of proper INFRASTRUCTURE
Advancement in DIGITAL TECHNOLOGIES
Increasing ACADEMIC COMPETITION
Solution
:
The project 'WE PLAY - KHEL' is basically to provide a clean and hygienic place to have lunch and to sit and also to bring back play for all students studying in Government schools by building sustainable play areas, play gardens using the related designs and available local resources from our society and by encouraging their participation and dedication.
Execution Cycle of the Campaign: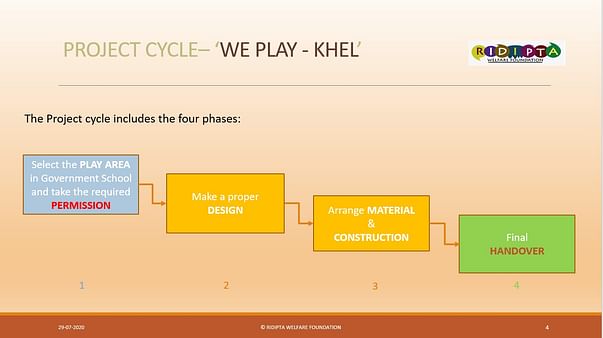 Resources required for our campaign-
Old Tyres – As required
Drums - As required
Ropes - As required
Colors - As required
Brushes - As required
Oil - As required
Brooms – 5
Files – 5
Others as needed
Manpower required -
Help Worker – 3-5
Designer – 1
Manager to handle the project - 1
Others as needed
-----------------------
Minimum Budget required for one school: INR 7,000
Maximum Budget required for one school: Depends on area and number of resources used.
------------------------
Here are some pictures of Government school where we are planning to execute this campaign first. The students used to have food during their lunch time and have some play during their free time at this place, so our target is to make this place clean and suitable to have food and some fun plays.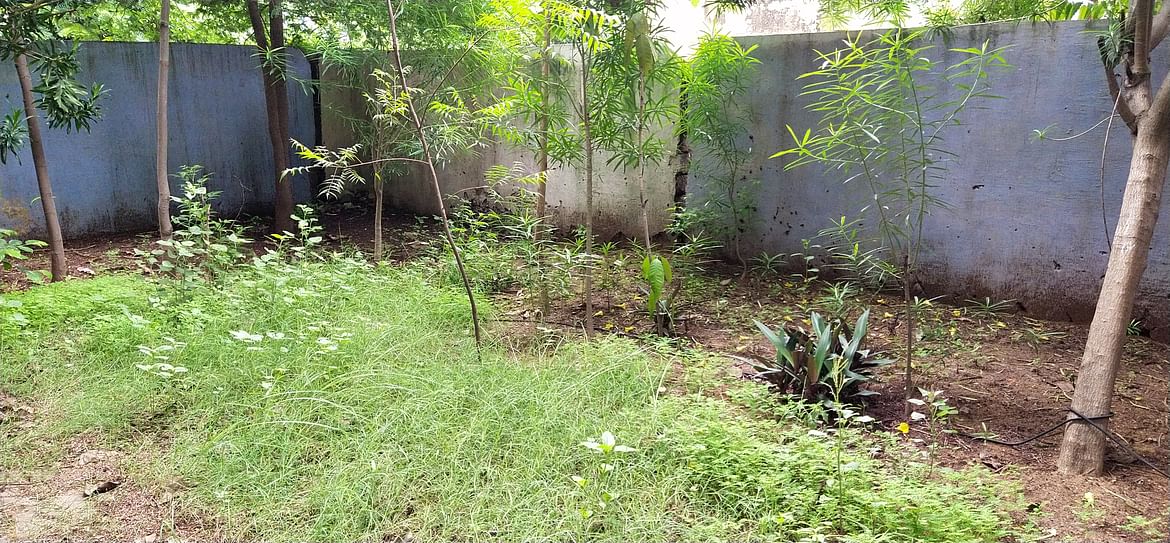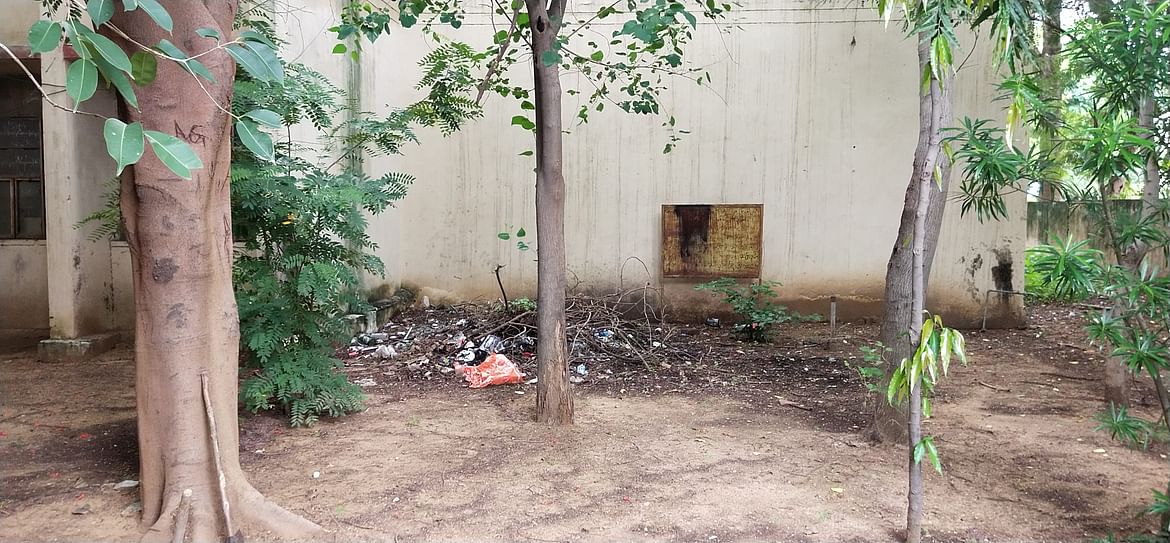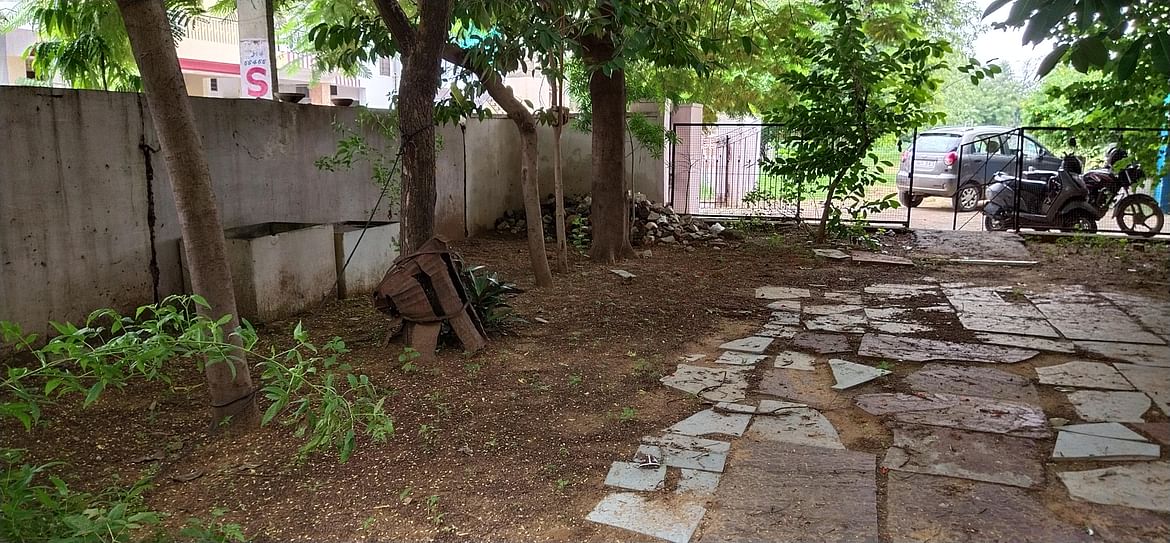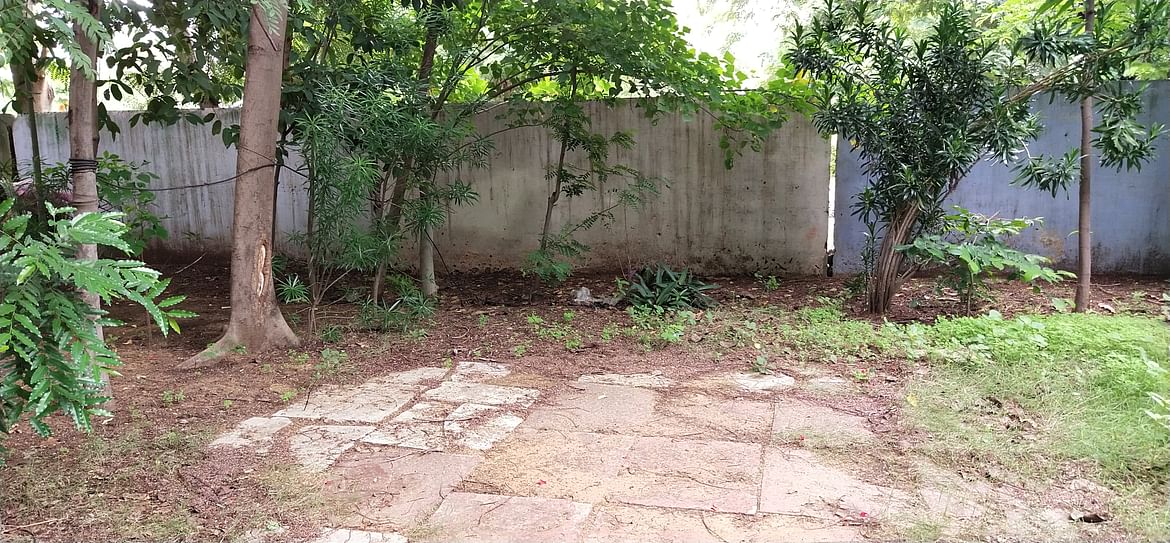 Note
: Please find attached the permission letter from the school to perform our activity to clean and make a place to have food and fun games.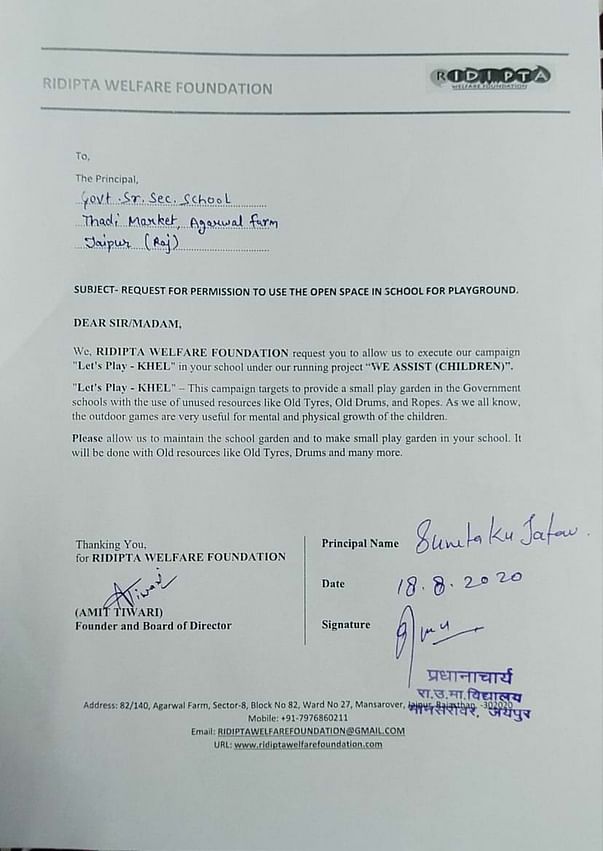 Thank you for your help in advance.
Best Regards,
RIDIPTA WELFARE FOUNDATION