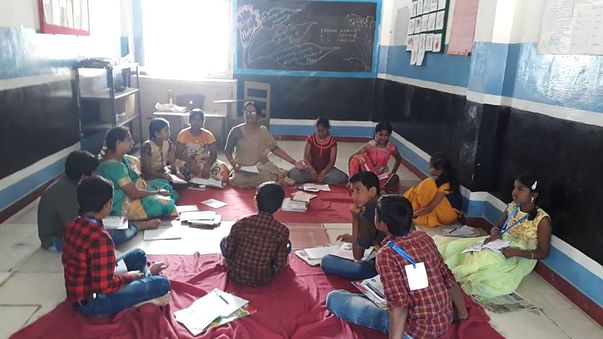 Our organization was established in 1983, with an aim to provide quality education to children from economically weaker sections of the society and is recognized by the Government of Telangana. Facebook Page

Over the past 36 years, we have been working for the overall development of children and have dedicated all our energies and resources into creating the right environment, which would nurture their inner qualities and skills.
Our children come from the households of daily labourers, domestic helps, auto rickshaw drivers, vegetable vendors and hawkers etc., who are dependent on daily incomes for their survival.
Unfortunately, the present COVID 19 pandemic and the lock down had a devastating effect on them directly, where most of them have lost their livelihood and are struggling to make their ends meet.
Also, our school has remained closed since mid-March of 2020 due to the lockdown on educational institutions and the COVID 19 situation has deprived us of any income since then, making it nearly impossible for us to support the salaries of our teachers and the lease expenses of the school premises.
As the pandemic has forced most of our parents into severe financial distress, none of them are able to pay any fee. Further, we have outstanding receivables amounting to approximately INR 9,00,000 rupees in the form of fee to be paid to us, for the previous academic year, which also the parents are not able to bear.
Also, since there is no clarity on when the schools would reopen, we are running out of options on how to meet the salaries, the lease payments and on acquiring the infrastructure needed for supporting the classes.
We have about 400 students and 22 staff members, as of our last academic year.
The COVID 19 pandemic has presented to us with an unprecedented crisis and challenges in keeping the school running.

We are afraid that if the pandemic persists longer, we will not be able to survive, which would result in all our students who are enrolled with us, losing their academic year and our staff losing their jobs.
Hence, with folded hands, we sincerely urge you to kindly consider providing us with financial assistance, so that we can continue to support our children and our staff.

Any help that you can provide us, would become a crucial lifeline for us in sailing through these extremely challenging times