Since the #COVID #Outbreak in India and the complete shutdown, the residents of the Shelter for Women with Disabilities learnt a new skill - making fabric masks - for non medical frontline workers in the Chennai Corporation and Government Hospitals. It was their way of responding to the #Coronavirus crisis.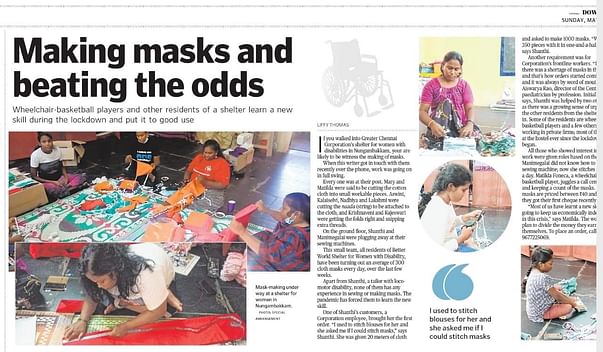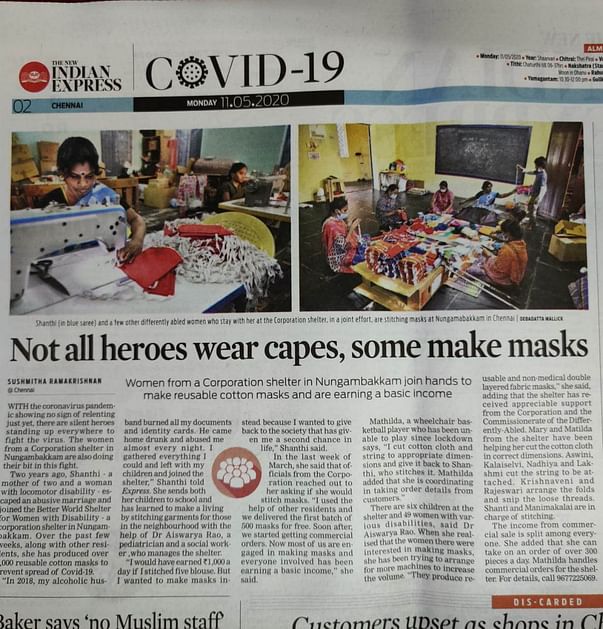 More about the Shelter for Women with Disability
What is a "Better World"? A world without barriers - both physically and challenging the human spirit. A Better World is a World for ALL.

Our core beliefs are that an inclusive, accepting and opportunity-giving world is a better world. We strive to provide the same at our Shelter for Women with Disabilities.

Situated in Chennai and catering to around 60 women with disabilities at a time, we have been providing a safe space for young women with a range of disabilities from extremely disadvantaged situations coming from all over Tamilnadu. Our aim is to enable them to live independently, to contribute to society and to make a family for themselves.

Our women live with all kinds of disabilities - locomotor, speech and hearing impairment, visual impairment, burns, mental health, and multiple disabilities among others.
The following are our requirements for now and approx cost details of them:
CCTV Cameras - 1 lakh - money raised and installed
Compound Wall for Shelter - 7 lakhs - money raised and built
10 Disabled- friendly Toilets - Rs 7 lakhs - Not yet raised
Mask Making Centre - 15 lakhs - Not yet raised