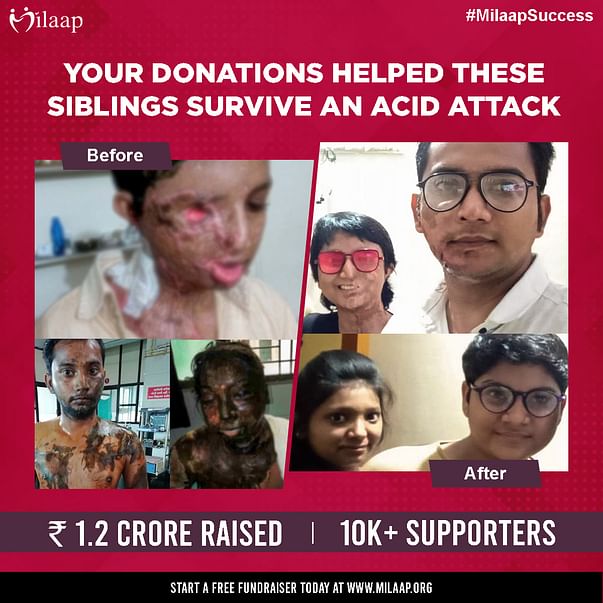 The siblings recovering: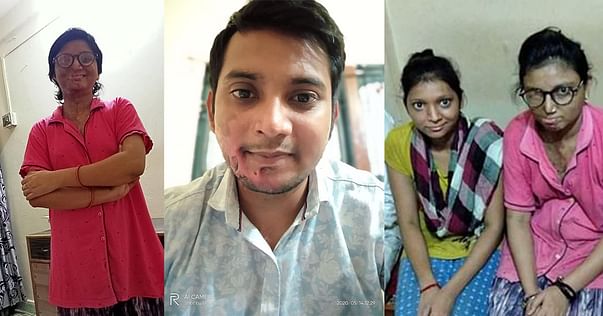 In the early hours of August 8th, 23-year-old Bhargav woke to the sharpest pain he had ever known. His whole torso, starting from the neck down, felt like it was on fire, and he immediately realized what had happened. His father had finally done it; he had thrown acid on his own son.
"I thought

'This is it, he's going to kill me,'

and ran to the bathroom before he could hurt me more. I bolted the door from the inside and tried turning the light on but there was no power. When I turned the tap on, there was no water. I started panicking. That's when I heard the screams. My family was still in the room. At first I thought they had seen what he did to me, but then I realized they were screams of pain." - Bhargav, 23
Bhargav and his siblings - Pravinaben (26), Alpaben (19), and Tarun (14) - lived with their parents Chhaganbhai and Hansaben in a tiny one bedroom house in Surat, Gujarat. Theirs wasn't a happy household. Chhaganbhai was a violent and abusive alcoholic who constantly berated them all, threatening them with violence at every turn.
"

Six months ago, he started telling us he would throw acid on us all one day.

He would say that I didn't respect him enough, that my mother didn't serve him properly. He would also make horrible accusations about my sisters' character.

He used to tell us that one day he would teach us a lesson.

But he had made similar threats before, always drunk, so we never took him seriously. Now…"
By the time Bhargav realized he wasn't to be the only victim, it was too late
"As soon as Pravinaben started calling for me, I ran outside. The room was dark as well, lit only by the streetlights outside. There was a thick red smoke hanging in the air, and the smell… the smell was horrible. I heard someone

crying in one of the corners.

It was Pravinaben, and her face was smoking; she had Tarun hidden behind her. My mother was lying on the floor, screaming, with Alpaben clinging to her. I couldn't find any of our phones so I ran outside, yelling for help. By the time we got to the hospital, my mother was unconscious."
Brave Pravinaben shielded the youngest sibling, receiving a second splash of acid right on her face
In the crucial hours that followed, doctors were able to control the spread of the burns. But the damage was already done. Hansaben, their mother, suffered the worst, and on September 2nd she succumbed to her injuries. The three older siblings all received extensive burns as well, but Pravinaben suffered the worst because she chose to shield Tarun from her father's rage, receiving a second splash of acid right on her face because of it.
Now, Pravinaben's right eye is gone, and so is most of her ear. She needs urgent surgeries to try and retain as much of her face as possible, before she develops life-threatening infections. But with all the expenses the family has borne so far, they are struggling to afford the surgeries that Pravinaben needs.
While life can never go back to normal for this brave woman, surgeries can help her get back at least some of what was lost. Please contribute as much as you can for this family.