The spread of COVID-19 has significantly pronounced the need for addressing the mental health needs of individuals, particularly children and caregivers in marginalized and low-income communities.
With the spread of the virus in slum communities, loss of income and job opportunities, being locked in small home spaces, many a time with difficult family situations, the life situations of many young children and their caregivers have become grim with rising fear, anxiety and inability to manage complex emotions in such ambiguous times.
The
intersectionality of poverty and mental health
is well-documented.
Lower mental health and higher stress has also been linked to decreased immunity
, hence increasing the probability of infection.
Apni Shala has been working with children, educators and families from low-income homes, through for the last 7 years in Mumbai's L, M-east and M-west wards (Kurla, Ghatkopar, Chembur, Govandi, and Mankhurd), three of the least developed wards in the city.
With a focus on promotive and preventive mental health, Apni Shala's initiatives focus on building stronger social skills and developing deeper emotional resilience.
Apni Shala team is working with over 4500 children, over 200 educators, and more than 300 families to destigmatize mental health, create awareness, and help individuals develop better mental health capacities and create a safe environment for others around them.
In direct response to (1) reduce the spread of COVID-19 infection and (2) provide families with information access and mental wellbeing support, the funds raised through this campaign will be utilized towards:
1) Develop age-appropriate, audience-relevant Mental Health resources:
Resources developed for diverse age groups (children, adults, caregivers, youth, etc) and languages (English, Hindi, Marathi)
Disseminated through Whatsapp, social media and other online channels easily accessible to communities
Here are
some sample resources
developed in last few days.

2) Design and facilitate online mental wellbeing workshops: With Apni Shala's core competency to build social-emotional skills for children and adults, we aim to take our workshops online. This will serve children from diverse socio-economic backgrounds, social sector workers/leaders, and caregivers.
Here's a
list of workshop being offered in the 1st phase
.
3) Offer support to children and caregivers:
Apni Shala team has curated COVID-19 resources, customized for communities we serve. Using phone calls and Whatsapp (which has high penetration in communities), the team is providing support in the following ways:
Connect parents and families in low-income communities with information and support already available on available COVID-19 from government and other organizations/individuals in their area with respect to food, grains, medicines, etc
Offer mental health first-aid to children and adults in distress (with a focus on preventive/promotive mental health)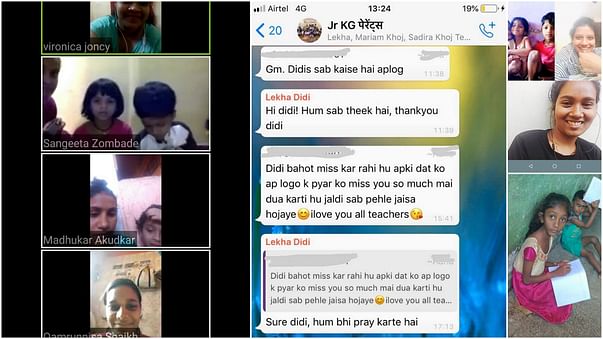 Join team Apni Shala in serving some of the most marginalized migrant communities in this city.