How Covid-19 has affected the education of Low-income Community in Urban and Rural Areas?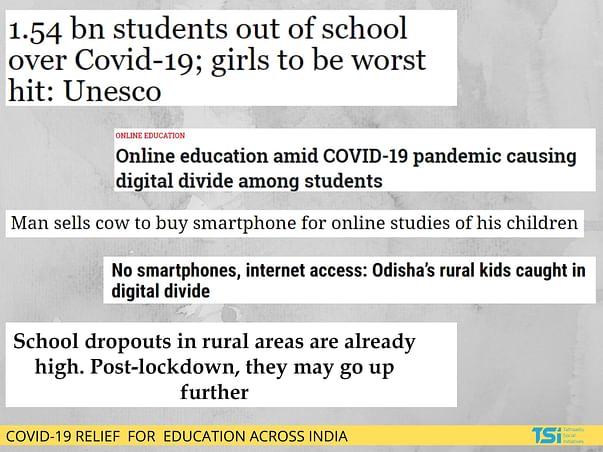 Schools are closed, parents are out of work and families are under a growing strain.
An entire generation of children have seen their education and learning interrupted. Children who stay at homes for a longer time risk being pulled into child-labor or child marriage. They also face violence.
The COVID-19 pandemic has aggravated structural disparities between rural and urban areas. Access to digital education is limited and by itself cannot solve the learning gap.
In rural areas, fees for many private schools are deposited before the final examination, which was not deposited this year due to Covid-19. In such a situation, these schools do not have the capacity to pay even their teachers.

What we are Doing?
At this critical juncture, we at Tathaastu Social Initiatives are making efforts to target those at greatest risk of being left behind. We have reached out to educational institutions and organizations across the country and assessed their needs. Through our careful assessment and ongoing verification process, we have selected 8 organizations and a few more still in waiting.

How we plan to achieve this?
We will support them in one or more below mentioned ways: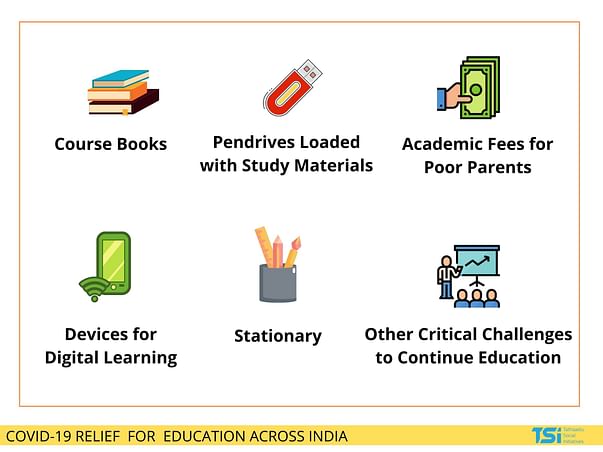 Average Contribution required for 1 child in 1 month= INR 450 (approx.)

Number of months, they need support for= 4

Number of such children who need help= 800

Total Contribution required= INR (450* 4* 800) = INR 1,440,000 (approx.)

How Can You Help?
You can contribute however small or big. INR 100 or INR 100000, it is the spirit that counts. It may not be easy to see the possible impact of your contribution at present; but your INR 100 could pave the way for an entire generation of children who are at the brink of getting marginalized yet again.

If you believe in what we do, please share this story with your friends and relatives. This is as much an awareness campaign as it is a fundraiser.

To support us with your skills and time please
sign up here.