1-year-old Sanvi is battling death. Instead of playing with his older brother, Atharva, or smiling at her mom, she is fighting for her life in the hospital. This has been her reality since the little one was born.
Now her liver has given up on her completely and without an urgent transplant in the next 2 days this 1-year-old might not live till her next birthday.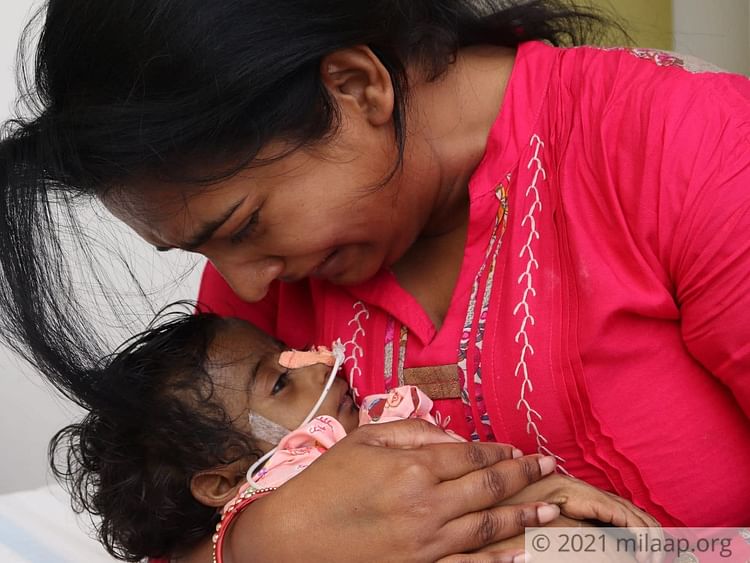 Little Sanvi would vomit out even the tiny bit of milk that she would have
Shweta and Manoj were overjoyed when Sanvi was born to them, so was Atharva. The parents had decided not to rush to have a second child because they didn't want to compromise anything for Atharva. But 10 years later, when Shweta got pregnant and she finally gave birth to a beautiful baby girl, they felt their family was complete. But their happiness was short-lived.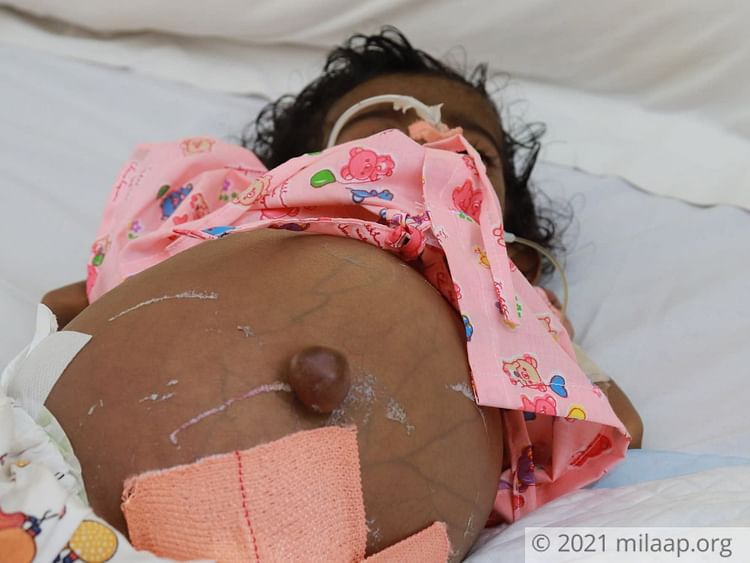 "Sanvi was fine for the first couple of days after her birth. But soon she started showing worrying signs. She would vomit out even if she fed a tiny bit of milk - not just from her mouth but also from her nose. It was such a horrible sight, I didn't know what was happening to her. Then I noticed that her entire body was turning yellow, even the white of her eyes! She was passing white-coloured stool. Now Manoj and I were really scared," - Shweta, mother.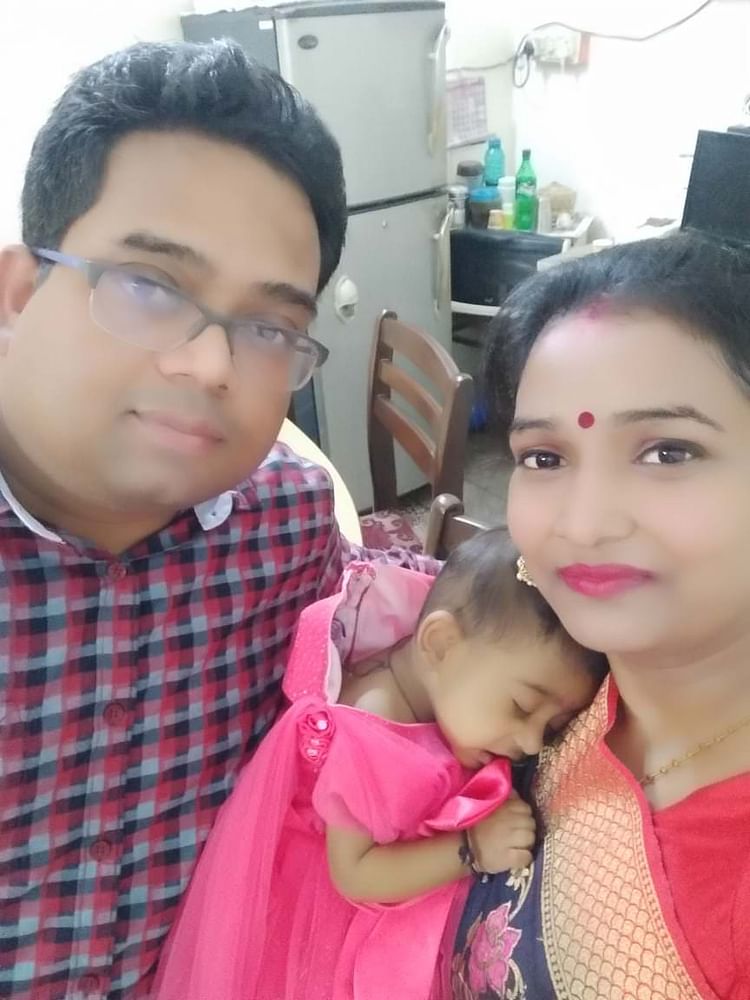 But doctors in 3 different cities couldn't understand what was wrong with baby Sanvi. She was given innumerable medicines but nothing seemed to give her any relief. Finally when she was 3 months old, doctors in Lucknow figured that the bile ducts in her liver had been inflamed and constricted since birth. They advised an immediate surgery and the worried parents wasted no time in arranging the money for it. But unfortunately, the surgery was not a success.
Her stomach is swollen like a football - Sanvi is in immense pain
Sanvi kept getting worse with every passing day and finally, a couple of months back,
the doctors said that only an urgent liver transplant could save her, an autoimmune disease of the liver was killing her.
Her stomach has swollen to the size of a football and she is in immense pain. Sanvi is living on borrowed time - she needs the transplant in the next two days.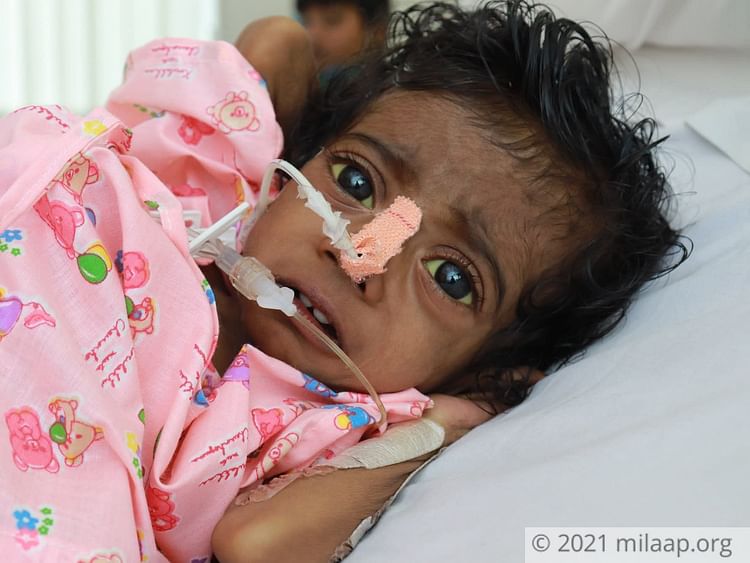 "My eyes well up in tears each time I see my daughter suffering like this. She doesn't deserve to be like this, a tube through her nose, unable to even turn sides and sleep peacefully. They drain 500 ml of fluid from her stomach every day. The process is so painful and she screams so much but there's nothing I can do…," - Shweta.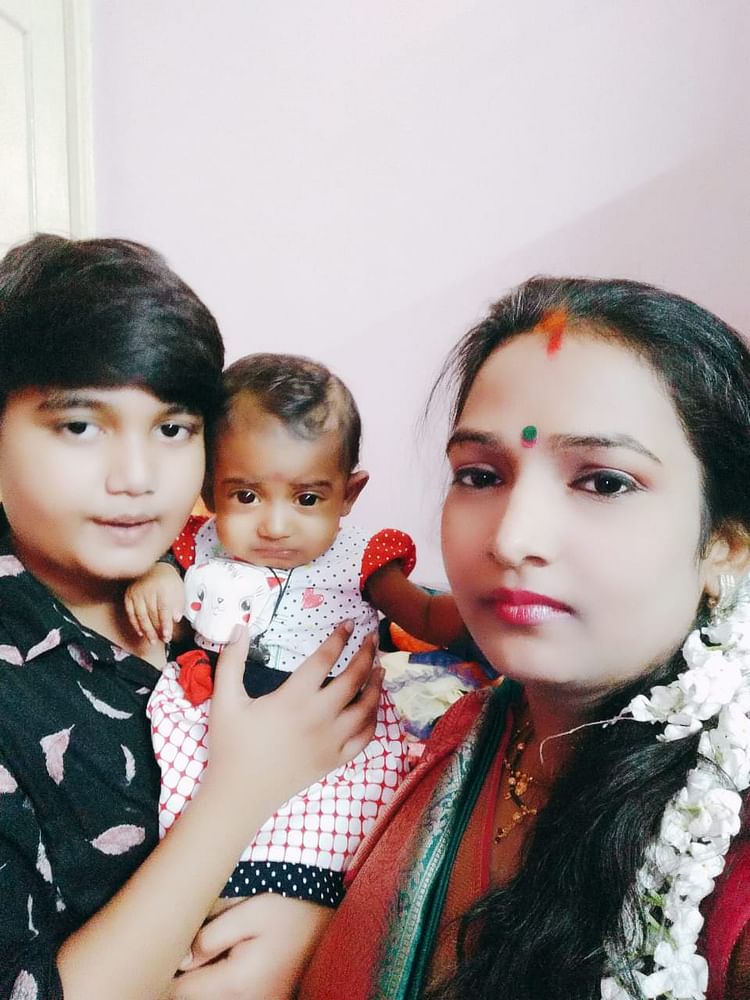 With your kind support, Sanvi can get better
Manoj and Shweta worked very hard and were running a business for sometime now. But the pandemic hit them hard and in the last 6 months, they've hardly earned anything. However, with Sanvi's deteriorating health, they have been compelled to shell out around 5 lakhs till now. They have borrowed from family members and friends too.
"But now that's no longer an option. We need 18.5 lakhs for her transplant and I am willing to donate but we don't know how to afford it. Manoj has been relentlessly trying every avenue to get some help but nothing is working out. You're our only hope now - please, please save my little angel," - Shweta.
Click here to donate and save Sanvi's life.