Every morning, stepping into his brother's school shoes wearing his bag, little Likith would drag his feet all around the house, telling everybody he's off to school. Evenings were all about scribbling in his brother's books, soon after he came. But who knew that a deadly cancer would deny this child the very schooling he loves so much! Today, over 4 years old, while his cancer continues to eat away his organs, he still dreams of stepping into a school; and his parents are afraid it'll remain a dream forever!
He was just 3 when Likith was diagnosed with cancer
"Last year, he began falling sick every 2 days. We'd take him to the doctor in our village, get a few drops of a tonic and get him home. The fever left…but always came back. At the same time, his stomach also began to swell. We took him to the hospital, and after many tests, they told us our boy was fighting a cancer of the liver. Our world collapsed! How could a 3-year-old get this big a disease?" – Chethan, father.
Likith was diagnosed with
hepatoblastoma – a cancer that starts in the liver cells
, and can be fatal if left untreated. Doctors recommended an immediate surgery, for the removal of the tumor; and followed by chemotherapy.
He fought his way through it, and was declared cancer-free
"I never thought I would learn about cancer this way! I'd spent months of sleepless nights, seeing my boy in pain. He would pluck out the needles and tubes pinned to him, and throw them away. He would scream, and cry, for he did not understand why he was in pain. But all this paid off when the doctors said last December, that his cancer was gone! He was cured!" – Bharathi, mother.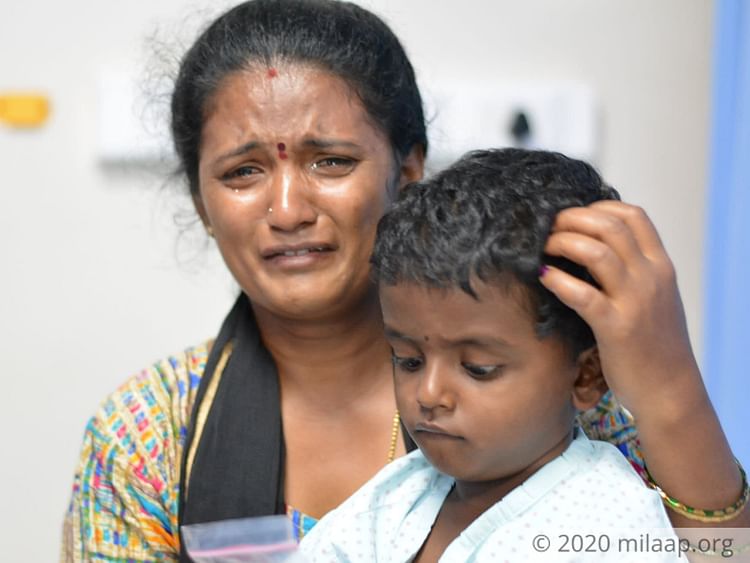 But the cancer was back…and this time, it was his lungs
"A few weeks ago, we'd come for a check-up, and the scans shook us! The cancer was back, and it was his lungs this time. One lung had a huge tumor, while on the other, the cancer lay scattered. I couldn't take it. The liver cancer had already scarred him and he grew timid when the same cycle began again! He needed another surgery and we were so worried. But my baby survived!" – Bharathi.
However on the other lung,
the cancer being malignant, still continues to spread. Only prolonged cycles of chemotherapy can cure him
of his cancer, but the parents have not a rupee left!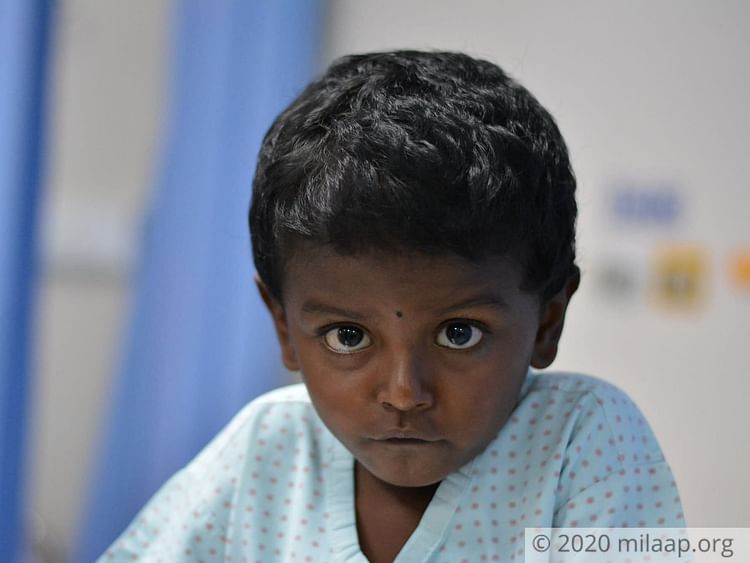 "I am in debt, I have no means to save my son"
On days there's work, Chethan and Bharathi earn no more than Rs.300 a day. Starting last August, they've spent every rupee they could afford, on Likith's treatment. But now,
they need 8 lakhs more, to permanently cure their son of cancer.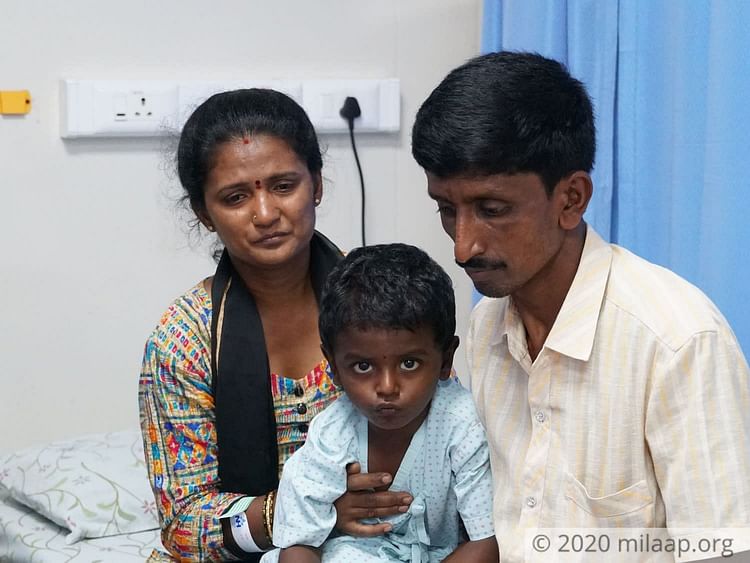 "Covid-19 has hit us all badly! I spend my day waiting to be called by the landlords, just so I can earn even 100 rupees more. Even one day without work, means no food the next day…we can't afford this! Please help us save him. He deserves to live; and to go to school, like all kids his age!" – Chethan.
You can help put an end to his pain, and fulfill his dreams of going to school. Any contribution from you, big or small, can save this child's life. Click here to save Likith.