"I am used to seeing Dishu dancing, singing and playing around in the house with her siblings. I am used to listening to her talk endlessly and pestering me with numerous questions but now she is so silent. She can't even get up from her bed. Her body is so weak and pale that she cries in pain whenever she tries to walk and I am unable to make it stop.
This deadly disease is taking her away from me."
- Neelam, mother
She was diagnosed with cancer
8-year-old Dishita's whole body was aching and she had
a constant fever not less than 100 degrees.
No matter how many medicines she took or doctors she visited, it didn't go away. So the parents decided to take her to a bigger hospital in Delhi.
When taken there, she was admitted to the hospital immediately without delay as her
blood levels were dangerously down
and she needed an immediate blood transfusion. Later when tests were done and the reports came,
she was diagnosed with Acute Myeloid Leukemia (AML), a type of blood cancer.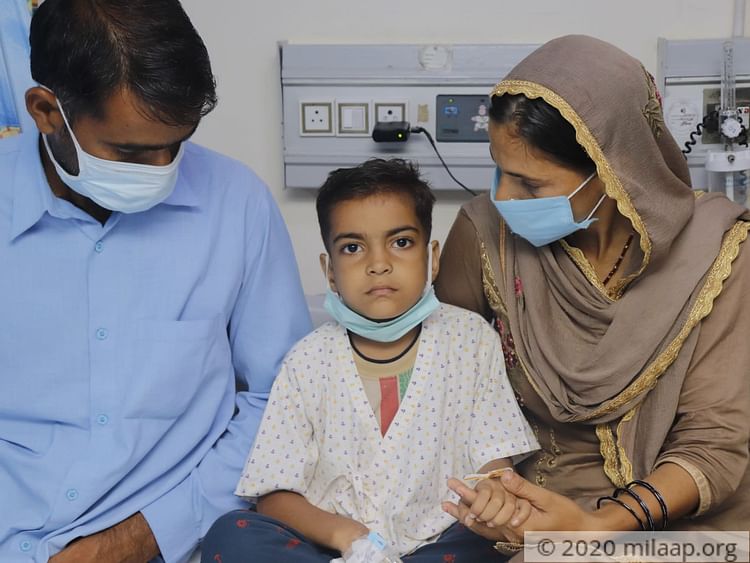 The little girl begs her helpless mother to take her home
"Ever since we came here, her health has only been getting worse. As soon as she sees the nurse enters, she begs me to take her back home. She is afraid of the injections and gets scared watching blood going into her through the pipes attached to her. I want to take her home too but not without the treatment. I don't want to give up but I don't know how to save her either." - Neelam
To beat cancer, Dishita has to undergo
chemotherapy for the next few months
and the treatment needs to
start immediately. She is surviving on continuous blood transfusions but they can't help her for long
without chemotherapy. The treatment is going to cost 10 lakh rupees which this poor family cannot afford. Pawan is a farmer whose income is not enough to bear such a cost.
They can save their daughter but not without your help
"We have a small piece of land back in our village Sorkhi, Haryana. It is the only source of income we have. The money I earn from the crops is hardly enough to provide my family with three proper meals a day. How will I have any savings? I begged and borrowed whatever I can but it is not enough. When we left our village, I never expected it would cost so much. How will I save my daughter like this?"- Pawan

You are their only hope to save Dishita. Your generous contribution can save this 8-year-old from the clutches of cancer. Click here to contribute.