"Our little girl, barely 2 weeks old, is fighting hard to see this world. I had to wait this long after my C-section just to have a glimpse of her. She had a severe lung infection after her pre-term birth and was kept away in isolation for treatment. Now, her condition is worse. The doctors fear that my baby has a rare brain disease that can be fatal. I can't withstand this agony, it's tearing me apart." – Mother, Rudhra Jayashree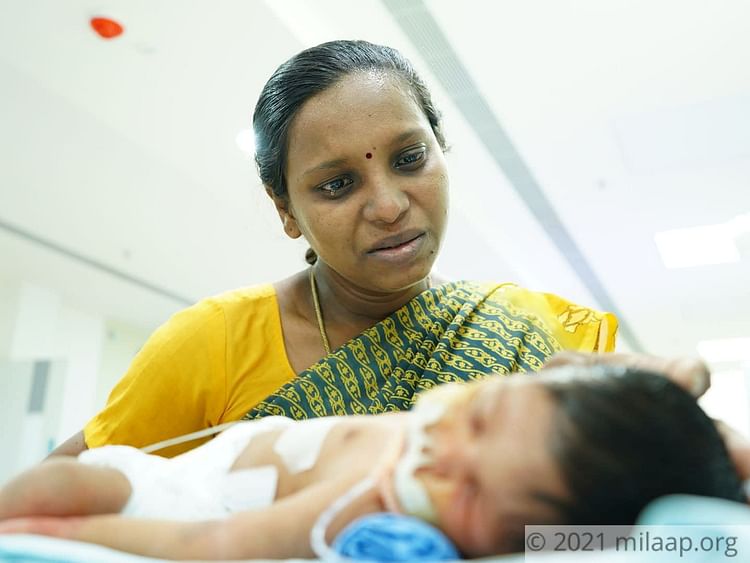 This is a very rare condition that needs further medical investigation
Baby of Rudhra is on HFNC support due to a tumor and severe brain infection.
The doctors have informed the parents that there is leakage of blood that is entering the fluids in the brain. Also, there are traces of blood clots.
This usually happens in accident cases where there is a head injury.
However, it is a very rare case in a newborn
.
I was so careful about everything yet I'm unlucky
"During this pregnancy, I went through a very strict diet as I am a diabetic. I was so careful about what I eat as I had a lot of food restrictions. I wanted to have a healthy baby; that's all I had prayed for. I lost a baby in my first pregnancy at 8 months and now I cannot bear to lose this baby too. God has betrayed me yet again. My son who is 3 years old wants to meet his baby sister. How can I tell him that she may not come home?"…weeps Rudhra unable to hold back her emotions.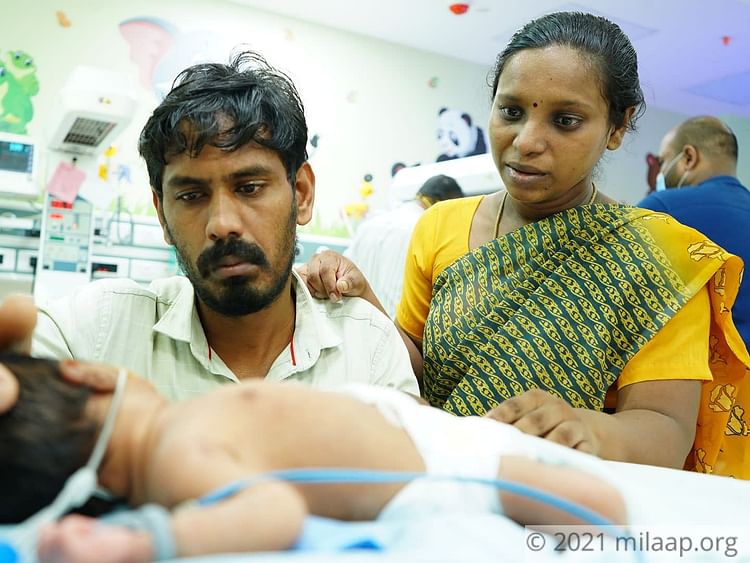 The parents cannot afford the treatment cost
Baby of Rudhra is being treated for her infections with antibiotics and anti-viral medicines that are very expensive. She needs to be in observation for another 2-3 weeks; meanwhile, she has undergone numerous tests to diagnose the illness.
The cost for the treatment is expected to be around 7-8 Lakhs, an amount that is huge for this family to afford.
"When the doctors told us that we need to take numerous tests to investigate the exact condition, I was scared beyond measure. Coming from a small village and humble background, I have never heard of such things. I haven't even held my daughter in my arms yet and the thought that I might lose her is inconceivable." – Father, Ezhumalai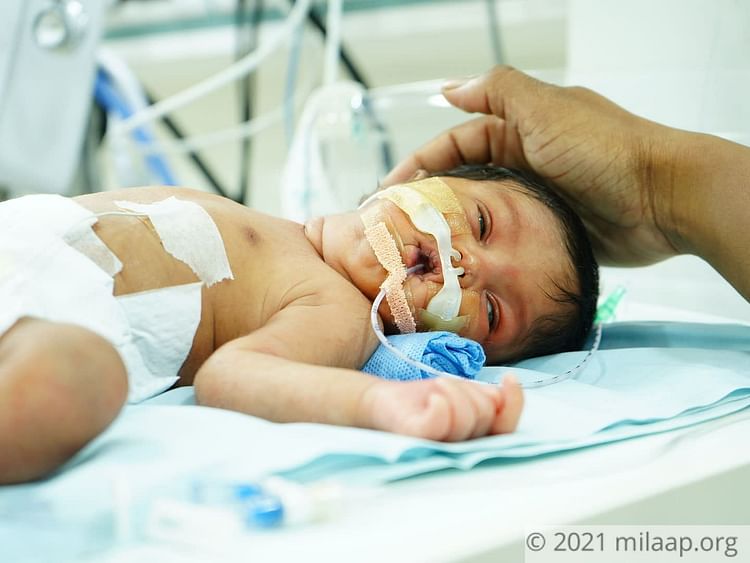 Ezhumalai works in a small-scale private company in Chengalpet, Chennai.
His earnings are not enough to afford the treatment for his newborn daughter.
He is trying hard to arrange money for the expenses but he is unsuccessful in his attempts.
Baby of Rudhra can be saved with your generous and combined efforts and love. Her parents will forever be grateful if you come forward to help them in this grave situation.