"After losing two babies, one after the other, before they could even be born, I was beyond devastated. So, when I discovered that I was pregnant again, despite being absolutely thrilled, I still had a lingering fear of losing this baby in the back of my mind. Yet, I carried our baby full term and she was born without a hassle. Never did I imagine that my worst fears would come true in such a terrible way!"
- Samreen, mother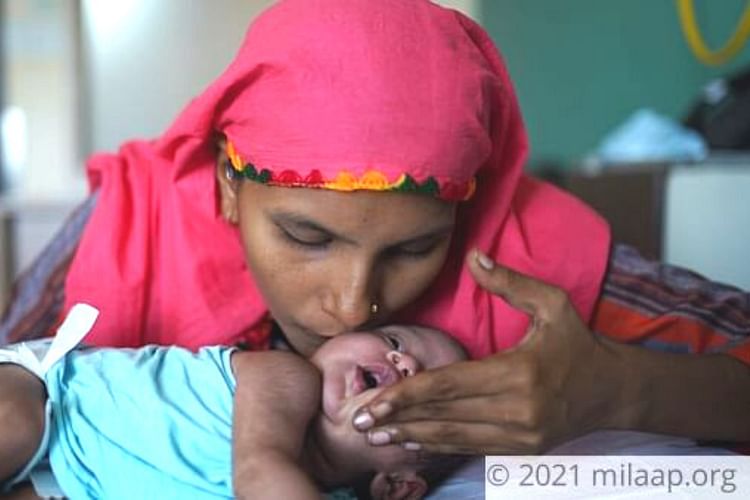 She was born with a huge lump on her lower back
Samreen and Sahejad became parents to a beautiful baby girl earlier this month and they were elated to be adding a new member to their family. Their 5-year-old too was excited to be a big brother. Having lost 2 babies previously, they had been filled with hope at the birth of their daughter, Aaysha.
But all of that came crashing down when she was diagnosed with a rare congenital condition.
"I thanked my lucky stars when I heard her first cry. I was just so happy to hold her in my arms. But then I noticed that horrendous lump on her back. Instantly I knew something was terribly wrong. The hospital where I gave birth wasn't equipped to treat her, so we had go elsewhere. In the last 16 days, we sought several hospitals with the hopes of getting her treated. Every doctor we approached would tell us she was in critical condition, or that she wouldn't survive more than a few days. We were absolutely terrified." - Samreen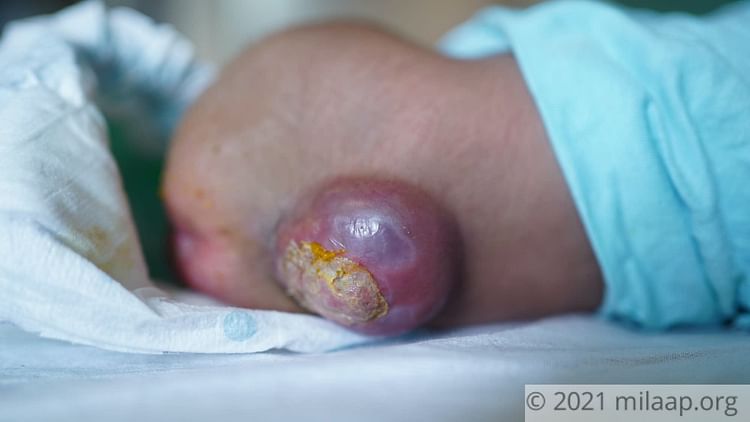 Because of a congenital condition, their newborn has an exposed spinal cord
Baby Aaysha suffers from
a neurological disorder called

Meningomyelocele

.
It is
a type of

spina bifida

, a birth defect where the spinal canal and the backbone don't close before the baby is born
. As a result,
the baby girl was born with her spinal cord exposed and sticking out of her lower back, a skin-like sac covering the exposed area.
"They told us that it is was because I didn't take enough folic acid supplements during my pregnancy. But I was so careful throughout - following the doctors advice, getting my monthly check-ups, taking all the prescribed medications and supplements. I did everything I was told to do by my doctor, and even my monthly sonograms came out clear. They told me my baby was growing well and healthy. How did things go so wrong? Why does my baby have to suffer so much before she's had the chance to even live her life?" - Samreen
In the long run, it could pose a major threat to the baby
The only option available to little Aaysha is a surgery.
Any delay in her treatment and
her spinal cord abnormalities could cause problems in her legs
. She could
lose complete control of her bladder and bowel functions
. Her
legs may also be partially or completely paralyzed, or even lack sensation
. Hence, she needs this surgery a soon as possible to be able to live a normal life. However, it is expensive, and beyond her parents' capacity to afford.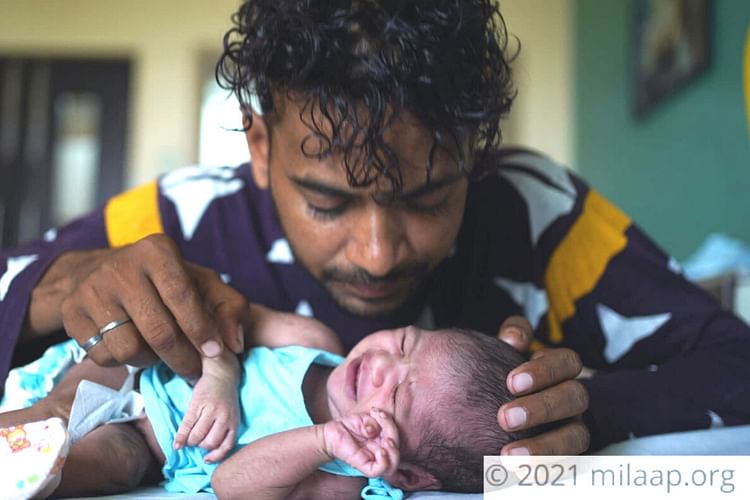 They struggle to make ends meet, affording this surgery is impossible for them
The surgery and follow-up treatment that baby Aaysha needs comes at INR 8 lakhs, an amount that
Sahejad, a mere daily-wage labourer, could never afford on his own
. He is only able to make a living when there is work, and
with the pandemic-led lockdown exhausting all their income-earning options, this family had been struggling to make ends meet
. This surgery is simply out of their reach.
"When we were restlessly going around to get our baby treated, we spent so much money on just hiring a car to drive us - we couldn't take a newborn on a bus full of people. We have spent every single rupee we had so far, and even went about pleading and borrowing from relatives that would help us. My wife hasn't been able to rest since the day she gave birth. She too is in so much pain from her delivery, yet she never complains because all we want is for our baby to get better and come back home with us. But without any money, how do I get her the treatment she needs?" - Sahejad, father
Only with your kind support will this sweet little angel be able to get her surgery and recover soundly. Your contribution will go a long way in saving baby Aaysha. Click here to donate.