'We cannot help everyone but everyone can help someone'
हम हर किसी की मदद नहीं कर सकते लेकिन हर कोई किसी की मदद कर सकता है.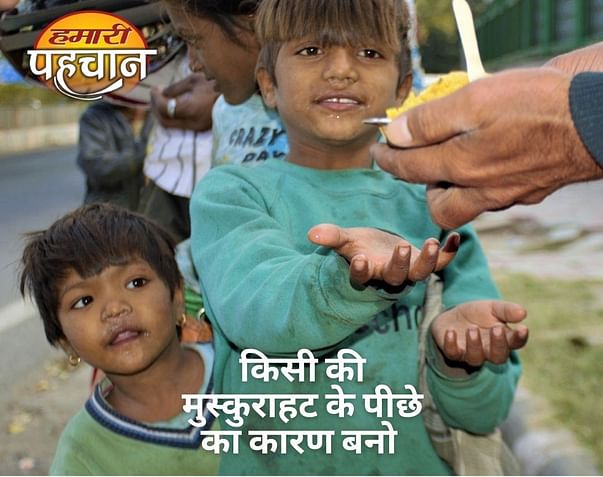 Hey there! I'm Gayatri Reddy. A high schooler who's volunteering for the NGO- Hamari pahachan. Currently we are working on the project "fight against malnutrition". Over 189.2 million people in India are malnourished. Which accounts to a 14% of the population of India. 19 croes of people are forced to sleep on an empty stomach and as many as 4500 children under the age of 5 die hunger related death every single day.
An average human needs atleast 2 meals or 1,200 calories per day. Covid-19 pandemic has made it even more challenging for them to get food and water And NGO- hamari pahachan is compassionately working to combat hunger.
The major cause of hunger is inequality due to social status and lack of access to facilities. India is one of the highest-ranking countries in the world for the most number of people suffering from hunger.

If we see the basic necessities for 1 family: Rs.2199/-
Basic necessities for 10 families: Rs.21990/-
Basic necessities for 35 families: Rs.76965/-

Ration for 1 family includes:
( Three types of Pulses, Rice, Atta, Eggs, Tea, Sanitary Pads, Soap, Shampoo, Cloth, and Utensils wash
The smallest of the smallest amount which you donate would make a big difference.
Let's be kind to our fellow humans and help Hamari Pahachan eradicate hunger in India.

No amount is big or small, it's the contribution that matters! You can donate for a one time meal i.e. Rs.50/-
If you have any queries then reach out to me: gayatristar004@gmail.com
Or you can also reach out to the organization:
arti.internsrecord@gmail.com
You can check out the social media channels of Hamari Pahchan NGO: