The week before Hemant's blood transfusion is extremely rough for him. He is enrolled at a school, but his attendance is less than 50 percent because his body can't cope with daily activities

while battling thalassemia major

. Of late, his abdomen has been swelling up and he has been palpitating a lot - all of which show

how this blood disorder is taking a toll on his liver and heart.



"Sometimes I wish I had some other disease where taking one medicine would cure it instantly. But with this blood disorder, regular transfusions constantly frightens me by reminding me about my sickness every second of the day. It makes me feel isolated from my friends, who make plans to play out in the fields. But I cannot do that, as my parents are scared of me suffering from another infection" - Hemant
His frequent blood transfusions are now weakening his crucial organs
For anyone battling a blood disorder like thalassemia major, it is a constant struggle to survive every second. This dreaded disease hasn't even spared little Hemant, who has been suffering from it since birth.
His body hasn't been able to produce blood on its own and now his weak body is unable to bear the brunt of frequent blood transfusions. The iron deposits in his body are attacking his liver, kidneys, heart and spleen.

Hemant was just 7 months old when his stomach hardened like a rock and rashes started appearing on his whole body. His skin was yellowing too, and recurring fevers left his body scalding hot. At that time, his parents, Parmeshwari and Dhallo Devi, had absolutely no idea about this disease, and so they just followed the doctor's advice of urgently giving him units of blood.

A delay in bone marrow transplant will put this boy on the brink of death
"The first time I found out about his critically low blood counts, I thought he would recover with a single transfusion. But then, this kept happening over and over again, and that's when I realized the severity of this disease. Look at him, his growth is so stunted that no one believes he is 11 now. My son's body can't produce fresh blood on its own, making his survival impossible without borrowed blood.

These transfusions worked for 11 years but now the outside blood is attacking his own organs and the only cure left is a bone marrow transplant, failing which my son won't make it

.

"

- Parmeshwari, father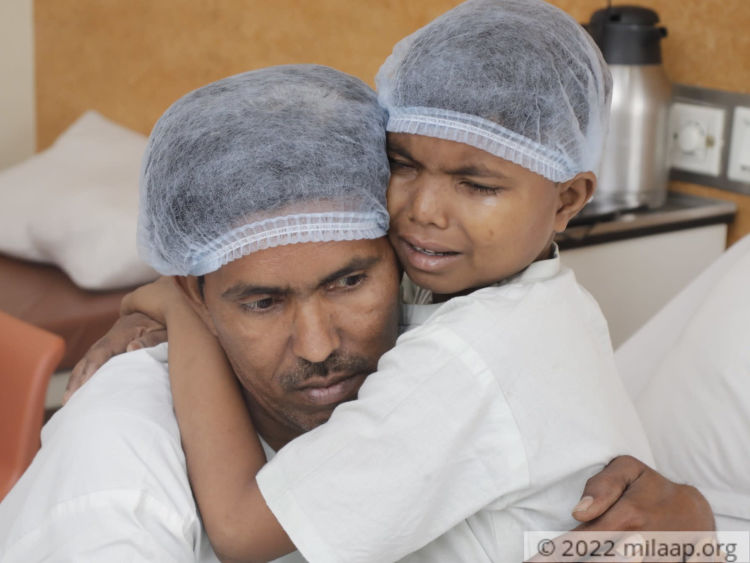 His Thalassemia has crushed all the dreams and aspirations of this family
Hemant's parents feel that life has been very cruel to their son, as he has matured way beyond his tender age.

Seeing his mother faint right in front of his eyes when she heard they would need INR 30 lakhs to save him, has been a harrowing experience for him

. Since that day, he decided to not flinch when those needles pricked him, because his tears would reflect on his parents' face immediately.

"I used to tease my elder brothers to fulfil my wishlist once they both got a job in some big company. Instead they had to drop out of school and get into labour work to fill our stomachs. This is only because my baba has put everything into my treatment, that we have nothing left anymore. They are all relentlessly working day in and out, be it heat or cold, just so that they can arrange lakhs of rupees for my treatment. I feel guilty for crushing their dreams because of my condition." - Hemant
Please click here to help 11-year old Hemant finally get a cure for his otherwise lifelong blood disorder.