11-month old Saniya is Raju and Shampa's first baby girl. While pregnant with Saniya, Shampa knew in her heart that it would be a baby girl. But all her happiness came to a standstill upon learning about a cancerous tumour in Saniya's abdomen.
"My Gudiya (doll) was going to turn one next month. I was so excited and wanted to make it special for her. Even with our limited means, every month Raju and I used to save Rs.20-30 so that I could get her a new dress for her birthday. But now I can lose her to cancer even before her first birthday. It breaks my heart to know that I may never get a chance to raise my child."- Shampa, mother
She needs chemotherapy to kill the cancer cells
At the beginning of this month, Saniya's belly had started swelling unusually. She stopped urinating and would have high fevers.

Only after an MRI, they discovered an Intra-Abdominal tumour. It was so serious that they had to operate and take it out immediately.

But their woes didn't end here as even after such a high-risk surgery, Saniya still has cancer. Now she needs chemotherapy to destroy the cancer cells in her abdomen.


"My daughter is so young. I was ecstatic that she had begun her motherhood journey. But when I got that dreaded call, I left everything and came to take care of her. Shampa is so disturbed that she hasn't stopped crying and never leaves Saniya's bedside. All she keeps begging me is to save her baby but I'm so helpless seeing both of them suffer like this. It pains me immensely." - Saraswati, Shampa's mother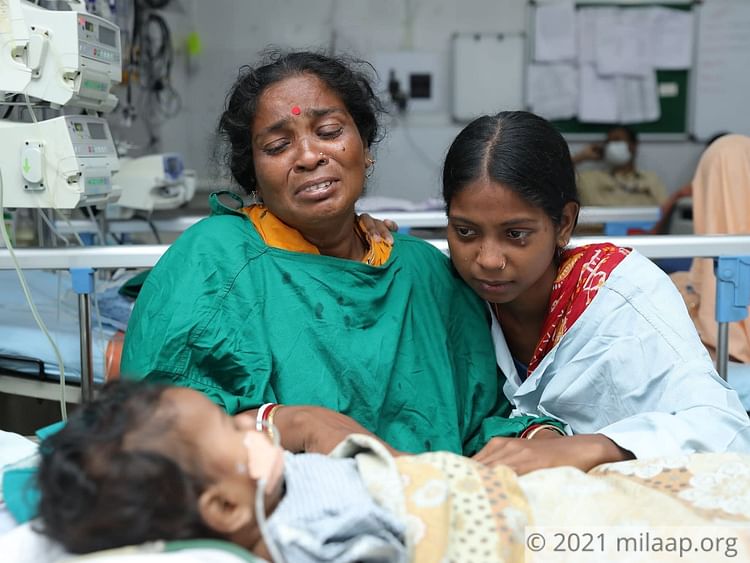 Raju works two jobs but still can't afford 8 lakh rupees on his own
As soon as Raju got to know about Shampa's pregnancy, he had kept aside all his savings for her newborn baby's future. He had saved that money to repair his kaccha house's roof which was blown away by Cyclone Amphan last year. Even in his worst dreams, he never imagined that everything he had saved to secure her daughter's future would still not be enough for her treatment.

Raju works as a farmer and a rickshaw puller during the off-season. He still goes to work because if he stops, they will not have anything to eat for that day. At work, all he thinks about is the 8 lakh rupees he needs to save his baby. He has spent more than 2 lakhs for her treatment till now from his savings and loans. When he married Shampa, he had promised to take care of her but now due to his inability to afford Saniya's treatment, he feels lost.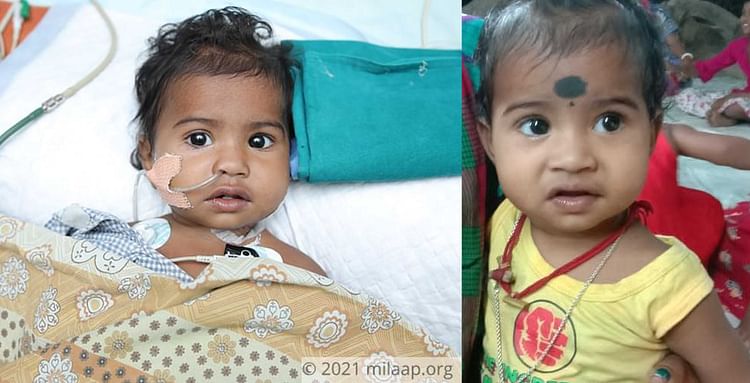 Saniya has been in the PICU since the beginning of this month. At this tender age she is not even able to express her unimaginable pain but her cries break her parents' hearts. Any help towards her treatment will help this young couple save their first child. Click here to donate.