"My child wasn't like this before. He was super active and loved running around the house. But ever since he has fallen sick, he is not the same.
From the moment he wakes up to when he falls asleep, he's struggling to talk and cries his little eyes out.
It's just not fair.
He's only 3 years old! His heart is failing and he needs immediate heart surgery to survive. But, we can't afford it! "


Little Ritvik wasn't even 6 months old when he first started having medical problems. He began to get recurring fevers and seemed to be tired all the time.


"We had no idea then that all this was because of a heart problem. We had just taken him to a local doctor, hoping they would be able to give him some relief, but they took one look at him and immediately suspected there was something wrong with his heart. When we got the tests and scans... it was confirmed. My baby's heart was dying."
He has spent his first year of life struggling to just stay alive
"Once we got the diagnosis we took him to a bigger hospital, hoping they would be able to help him. My son was not even 1 year old when he underwent his first heart surgery! Once he got it, they told us he would just need medicines and that he would completely recover. We were overjoyed beyond belief, and for almost a year it seemed like it would work. But, then his health started failing again. The doctors say he needs one final surgery to completely cure him once and for all."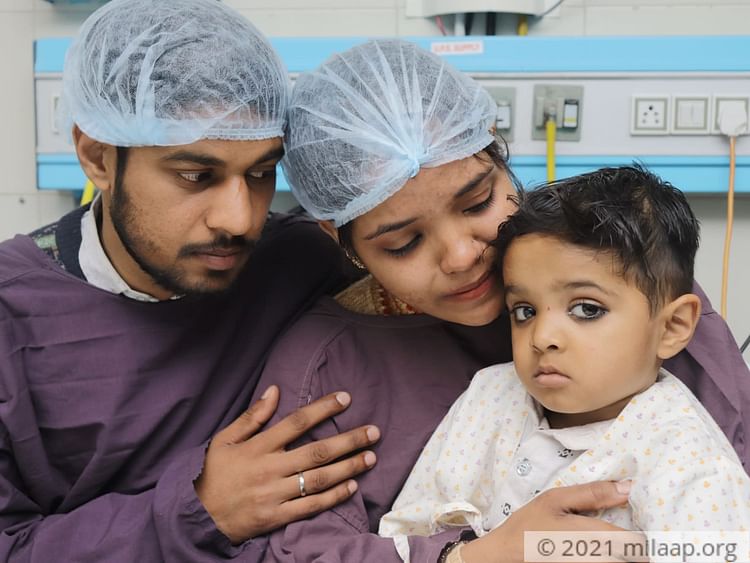 He's even struggling to breathe now
Ritvik's condition has progressed to a stage now where he's struggling to draw in every single breath he takes. His heart is too weak to pump blood and distribute oxygen throughout the body. No matter how much this little one gasps, it is not going to help him. He needs that second surgery.


"But I'm just a clerk. There's no way I can afford something like this. You're our only hope now. Please, please show my boy some kindness and donate whatever you can. It's his only chance to live..."
Click here to donate.