UPDATE: Dear Supporters,

Thank you so much for all your love and support.

It has been a year since the transplant and Pradeep's reports show zero sign of cancer but he now has GvHD, a post-transplant complication that needs further treatment. Without which his life will be in danger once again.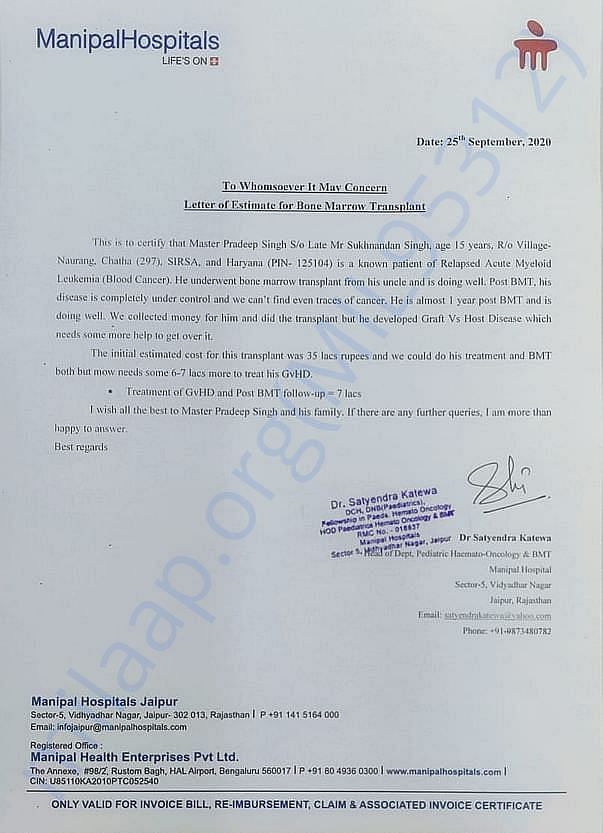 Kulvir has seen a lot in her life – she lost her husband in a car accident a few years ago, and just when she was recovering from the loss, her daughter died in a road accident. The pain was unimaginable for this mother who had two young children to look after, all on her own. Kulvir was devastated, but she knew she had to stay strong for her children. Unfortunately, the family's miseries were not over yet. Her son, Pradeep, was diagnosed with blood cancer.


"It all just happened one after the other…how much does a person have to go through, how much does my son have to go through? Cancer for the second time.. Why didn't God make me suffer instead?" - Kulvir, mother
The pain of losing his family has silenced him
Pradeep (15) was a happy child. Even though he has a growth defect due to which one leg is 14 inches shorter and one arm is 3 inches shorter than the other, he never let it stop him. He couldn't play as much as the other children, but Pradeep's father always made sure to tell him that his defect can't limit him. Yes, Pradeep was a happy child, until he lost his two loved ones. After his father's and sister's death, Pradeep became quiet.


"His father used to bring him toy cars and he would spend hours playing with them…with his father. But after the accident, Pradeep wasn't the same. Now that he has cancer for the second time, he's gotten worse. On some day he thinks he won't make it…I worry about him. And I know the only thing he worries about is me. He doesn't want me to suffer."
I couldn't save my husband or my daughter, I have to save my son
Pradeep was 11 when he was first diagnosed with blood cancer. 4 years later, the same fever, the same pain was back again. This time, Kulvir has nothing to save him. All her savings, all the money she had borrowed is gone. She spent over 10 lakhs on her daughter's treatment after the accident, and she still couldn't be saved. She begged and borrowed for Kulvir's chemotherapy the first time. But this time, Kulvir needs a bone marrow transplant at the earliest – which this poor mother just can't afford.


"We have a little bit of land, but that's not enough. My son is my strength. I couldn't save my daughter … even after all that. I have to save Pradeep. He has fought this disease once and he can do it again. But I can't save him on my own."
The treatmant will cost 35 lakhs and this mother is helpless. Kulvir is desperate to save her son. He is her only hope and you can help. With your kind contribution Kulvir can save her son from blood cancer.

Supporting Document
The specifics of this case have been verified by the medical team at the concerned hospital. For any clarification on the treatment or associated costs, contact the campaign organizer or the medical team.