"Some days, she curls up in her bed crying and we tell her things will be okay. But most days, it's the other way around. We break down and become miserable. It's she who gives us the strength then, although we see the hope dying in her eyes" – Renuka, mother


Born into an uneducated family in a village, Keerthana strived each day to study and reach great heights. With no one to help her with her studies, she worked hard all by herself. She wanted nothing more than to free her parents from their daily wage labour. But today, at 17, she is battling cancer and is devastated seeing her parents struggling to afford her treatment. She doesn't want to be a burden, but she's helpless.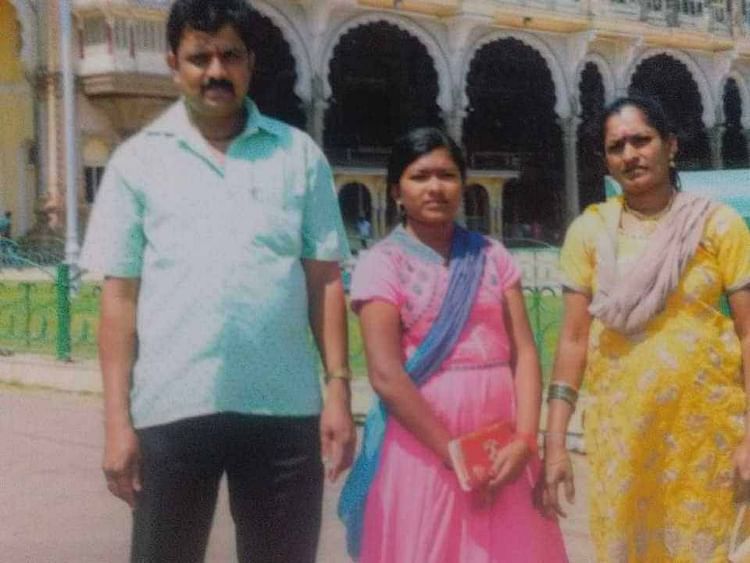 Two years of recurring fever and absence from school ended with the diagnosis of blood cancer
"It started when she was in 8th grade. She would have fever, that went away after an injection at the clinics nearby. But it always came back. She would complain of a severe body ache and headaches. She started missing classes for days, then weeks. Her school life went for a toss. But she always recovered. Then just before her 10th board exams, her condition worsened, and they told she…she had blood cancer!" – Muniyanthappa, father.

Kumari Keerthana was diagnosed with Acute Lymphoblastic Leukemia - a cancer of the blood and bone marrow that leads to a drastic decrease in the production of blood.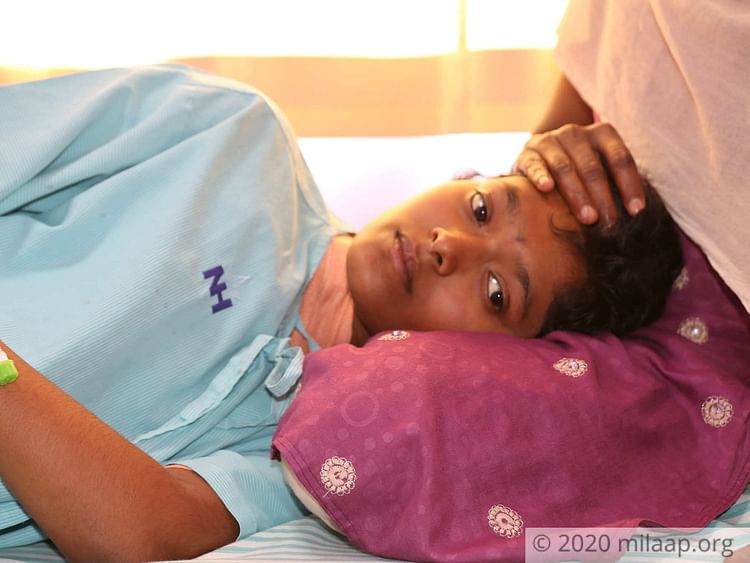 Chemotherapy could have cured her but her parents couldn't continue
"We thought we could afford her treatment somehow, even if it meant begging. But just 6 months later, we had sold all our jewellery and were left with nothing to sell and no one to borrow from. We hadn't told anyone outside family. With not a rupee left, we took her back home. Luckily for us, she had become better than before, and her schooling continued. But it did not last long…" - Renuka.
Keerthana got weaker and her cancer...it got stronger
A month ago, just after she had gotten her hall tickets for her exams, her body gave up on her, again. The pain was unbearable this time, and her life crashed when she realized she had become a burden again.
"When we took her back, they scolded us. They told us it could have led to her death. I couldn't even think of it…seeing Keerthana in so much pain, I hated myself for not having finished her treatment earlier! She needs chemotherapy again, for two years; and this time, I have decided I won't take her out without curing her completely… but now, my pockets are emptier than before!" – Muniyanthappa.

Muniyanthappa wants to save his only daughter, but he doesn't know how
Two years of treatment will cost them 14 lakh rupees and Muniyanthappa can't even think of affording it. He is a daily wage labourer and Renuka works in a small private company. Together, they earn no more than 20,000 rupees.


"We were terrified of others knowing about her cancer. Because people say things, and it would destroy her. But instead, she gave us the courage to face it. Yes, my child has cancer. But she'll beat it! But I can't do this on my own. Help me save her, please!" – Muniyanthappa.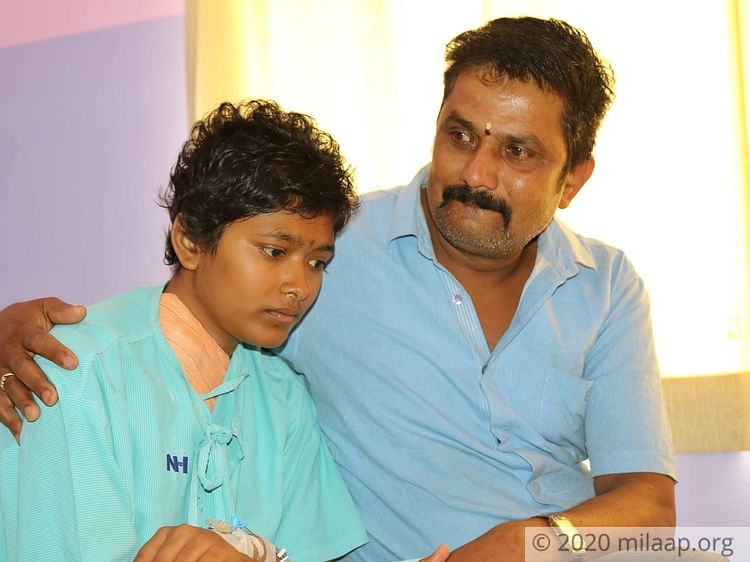 Any contribution from you, big or small, can help this 17-year-old girl win her battle against cancer. Help her.