"It was pouring heavily that night. I was sitting with my wife, Iswarya, in the back seat, trying to calm her down. She was in immense pain - she was in her seventh month and her water had broken. But I was worried we wouldn't make it in time to save both the baby and my wife. I was also worried that we might meet with an accident on the road because of the heavy rains, but we reached right in time," - Kadirvel, father.

However, Kadirvel and Iswarya's worry didn't come to an end that day. Their baby was born with severely low birth weight and a host of other problems. The little one is struggling for his life in the ICU.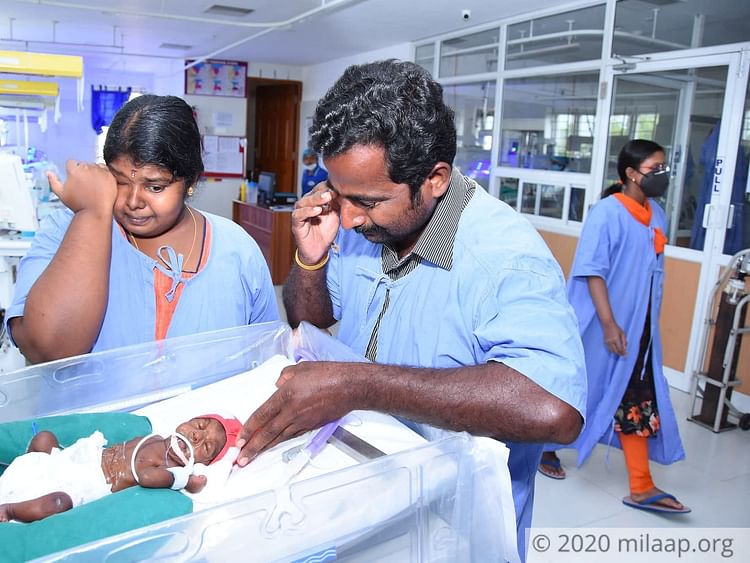 His stomach started swelling up, he needed immediate surgery
Iswarya's baby boy was born premature, his organs hadn't developed yet. He was unable to breathe on his own - he needed ventilator support for seven days. But when that wasn't working, they had to make an incision on his throat so that he could breathe through the pipe they put in there. As Iswarya and Kadirvel look at him, all frail and weak, they can't stop their tears.

"As if all this wasn't enough, soon his stomach started swelling and the doctors told us that my baby was not able to pass stool. They said he needs immediate surgery. I was shocked. He is such a small baby, I didn't know if he'd survive the surgery. But then, we had no choice. My husband somehow managed to afford the surgery. We thought he would be better soon," - Iswarya, mother.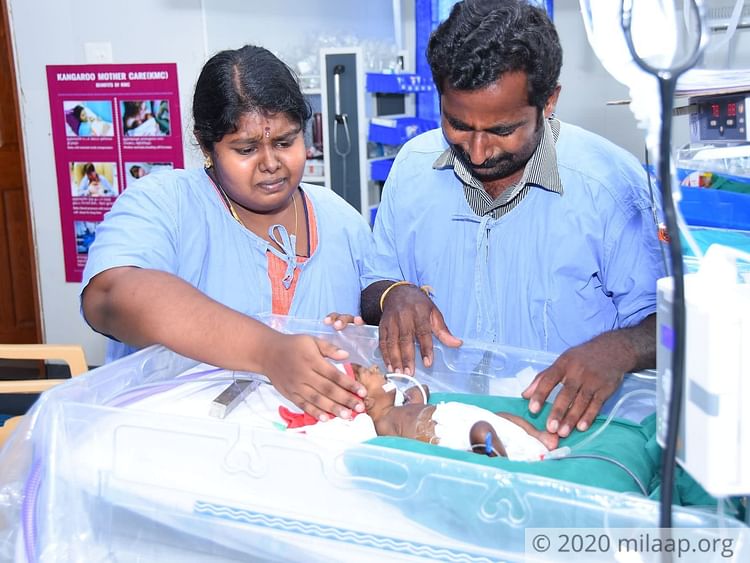 But the parents were proved wrong in just a few days - the baby's stomach started swelling again. Now he needs another surgery, but his parents can't afford it.
They travel 26 kms to spend only a couple of minutes with their baby
Iswarya has still not recovered from her C-section. Yet she refuses to miss even a single day of hospital visit. Kadirvel can't afford a car to take her, so she sits on her husband's motorcycle.

"The distance from our home in Tiruchengode to Erode is almost 26 kms. I was worried that she would hurt herself more because of the potholes on the road - her stitches haven't healed yet. But she doesn't want to stay at home. She wants to come along to take a look at our son, even if it's just for a few seconds. She is afraid she won't be able to take him home," - Kadirvel.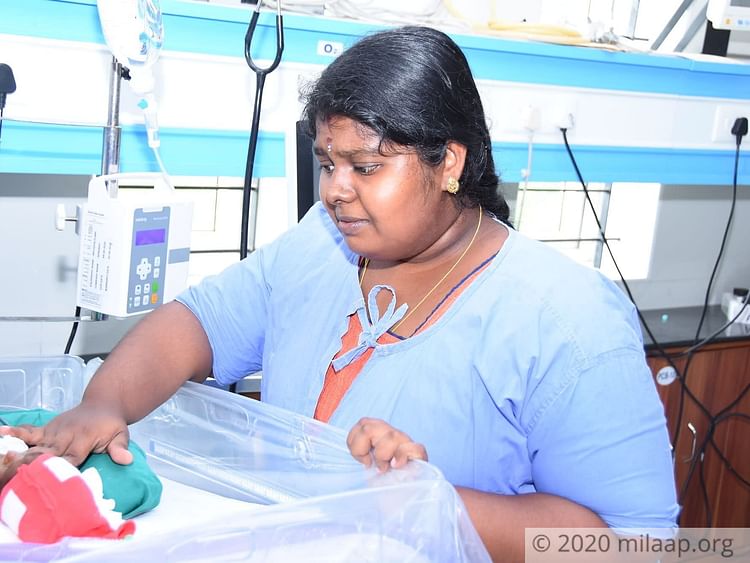 Their child needs to stay in the ICU for 2 more months
Kadirvel used to work in a factory but now his salary has been reduced to half. The sole earning member of his family, the poor man has already spent over 4 lakhs for his child's treatment. Yet, his baby boy is not getting healthy. He needs to stay in the ICU for at least two more months.


"Only you can help me now. I need 12 lakhs to save my son's life - there's no way I can afford it on my own," - Kadirvel.