Fellowship Program Apply now
Do you think you are a change maker? Do you think you can be one? If all you have been looking for is an opportunity, it's time to knock on the right door.
The Milaap Fellowship Program provides young professionals the platform to make an impact. It gives you six-month to live, experience and contribute to an important cause while documenting inspiring stories of change.
Milaap is offering a full-time position designed to increase our impact and provide Fellows with a unique insider experience. We are now accepting applications for our 7th batch starting January 2017! Our chosen Fellows will join us at Milaap's headquarters in Bangalore, India to attend a training program to mark the beginning of their journey of creating a real social impact for the next six months.
About the Fellowship Program

Milaap is providing driven, socially responsible students and young professionals full-time positions in rural, semi-urban, and urban regions. Our fellows become the the eyes and ears of a community that struggles to voice its needs and hardships. Depending on your preferences, you can opt to become a:
Milaap Lend Fellow - Stationed with one of Milaap's trusted field partners in rural and semi-urban locations, you discover the ground reality of microfinance on field. For more details click here
Milaap Open Fellow- You get to cover powerful stories of real-life heroes and social initiatives from across India in primarily urban regions. For more details click here
Locations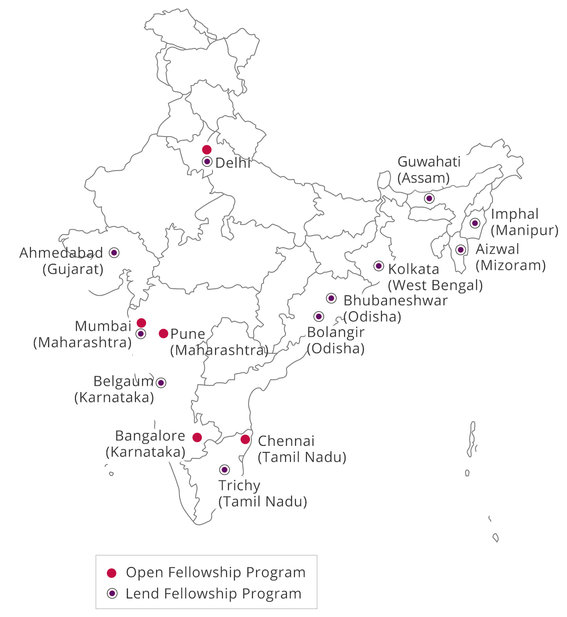 Before You Apply
Step 1:

Understand what Milaap is all about and read the Fellowship Program description carefully. Although it will be a remarkably exciting adventure, the program will also be demanding and challenging. Ask yourself sincerely if this is the kind of program that you are ready for.

Step 2:

Prepare your CV, a motivation letter, as well as any additional references you might have, and apply here. If you have any queries about the program please email them to fellows@milaap.org
What to Expect After You Submit Your Application
If your profile fits our requirements, a member of our team will get in touch with you in order to schedule interviews.
If you are one of the super folks selected, Congrats!
For starters, you'll have to attend a five-day training at Milaap headquarters in Bangalore. The training will cover our model, the tools, and the resources you will be needing during the Fellowship Program. We will make sure to provide you with some essential information that you will need on your placement site too. The training will also give you an opportunity to meet and interact with the team.
You will be deployed at the end of the first week. On the field, you will be assigned a diverse set of daily tasks requiring creativity, sense of responsibility, and autonomy. We would also like you to share your experiences on the field through blog posts. Your contributions to the Milaap blog and other content platforms such as Karmany Connect and The Better India will be read by a large audience, and will be a means of great publicity for Milaap.
Logistical Information
The Fellows will be paid a stipend on a monthly basis. However, they are expected to cover for their visa, flight tickets, and medical insurance. Unfortunately, we cannot support them in their pursuit of visa, but we will, of course, provide them with all the required documents. Also, please keep in mind that the Fellows might be required to get a few recommended vaccines beforehand. Make sure to contact the doctor to get more information regarding it.
Dates and Deadlines
We currently accept two classes of Fellows per year, with an average of 10-15 Fellows per class.
| Class | Application Deadline | Selection of Fellows | Training at Milaap HQ in Bangalore | Deployment | Wrap up Phase |
| --- | --- | --- | --- | --- | --- |
| C1 | October 31, 2016* | November 30, 2016 | January 1 - 7, 2017 | January 8, 2017 | June 30, 2017 |
| C2 | May 15, 2017* | May 31, 2017 | July 1 - 7, 2017 | July 8, 2017 | December 31, 2017 |
*If you are extremely passionate about joining us as a Fellow, and have missed the deadline, drop in your CV and cover letter. If we feel you are extraordinary, we might still consider your application.
We welcome your application to the Fellowship Program and wish you good luck in the selection process.
Apply now
FAQs
Who are we looking for?
We are looking for applicants with substantial cross-cultural exposure and, at least, four semesters of study in an undergraduate program.
Applicants should also bring with them a high level of motivation. The minimum age requirement for the Fellowship Program is 21. The Milaap Fellows must be highly proficient in written and spoken English. Being fluent in one or more of the following regional languages is a plus - Hindi, Gujarati, Bengali, Odia, Tamil, Kannada, Assamese, Mizo.
What does my day as a Fellow look like?
Daily tasks of Lend Fellows are never the same and vary depending on many factors, like the location of the Field Partner and the focus areas of the Field partner, amongst others. The daily tasks of Open Fellows, on the other hand, depend on the beneficiaries and the respective causes. However, all Fellows have one thing in common: They have to come up with inspiring and powerful stories of change.
Will I have time for traveling and sightseeing?
The Milaap Fellowship requires a six-month commitment from the Fellows. Hence, it will be your first priority to try and make sure you complete your deliverables on time. However, we are generally flexible concerning short leaves, providing that we have sufficient notice and the duration of the leave is reasonable.
What do I need to bring along in terms of electronic equipment?
You will require a laptop and a digital camera on the field. Make sure to include these items when planning your budget.
Will I be sent to a safe region/city?
This depends on your interpretation of safety. We advise you to do extensive research on the region/city in which you will be placed. As your safety is of great concern to us, we will never send you to a location you're not comfortable with.