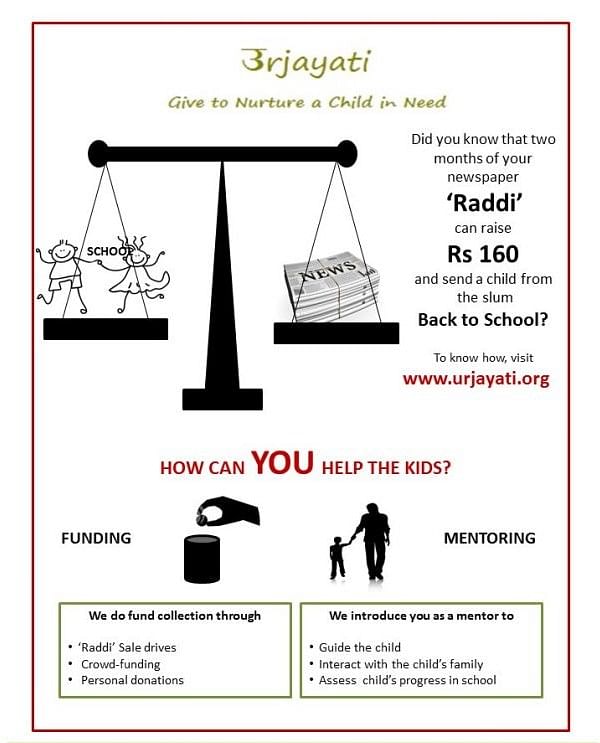 WHAT DOES URJAYATI DO?
"Raddi" is the colloquial Indian word for old newspapers, plastic bottles, metallic cans and things of that ilk which people either throw out or sell to a 'raddiwala' (collector) to be recycled, and get a paltry sum of money in return.
And that's what we did with our volunteers for our first fundraiser - we collected 'raddi' as donation from households and sold it to raise money for our initial kitty, with which we started the process of sending 8 kids from the slums of Mumbai back to school.
And that's what Project Urjayati is all about - financially sponsoring slum children from disadvantaged backgrounds to go back to school, and mentoring them to ensure they don't drop out. All this to help them get an education, instead of getting pushed into child labour.
WHO ARE WE? AND WHY ARE WE DOING THIS?
Project Urjayati is an independent initiative by three Gandhi Fellows. We are three women who, till a few years back, were immersed in college degrees, foreign exchange programs and corporate jobs with MNCs.

From 2014 though, we spent two years working with 32 municipal schools and their surrounding slums in Mumbai and Thane, with the NGO Kaivalya Education Foundation.

We have each spent a month living in the slums of Mumbai with the children we work for.
We have also spent a month each working at labour jobs with the parents of these children.
All of this, so that we could understand their problems and help in our own small way.
In our experience with kids from the municipal schools and slums in Mumbai, we noticed that many children from low-income families drop-out of school. Or don't go at all. Or try to manage work and school together and compromise on their education. Often they are in this position because they have to work to support their families. Or look after a sick relative or younger sibling while the parents are at work. Or simply because they cannot even afford the monthly transport cost if the school is far away.
For instance, take the case of Ronti. 15-year old Ronti Sarkar was the topper of his school in Class 10. From there on, his education now takes up 50% of his family's income. Not because it costs that much, but because his family earns that little. Despite their best efforts.
With the help of our donors, the mentors, and a number of very kind volunteers who have helped us in every imaginable way, Project Urjayati has been making sure that kids like Ronti don't have to forgo their education because of dire financial conditions at home.
Over the years, we have gone from supporting 8 kids in Mumbai to 22 kids from the slums of Mumbai, Delhi and Kolkata, to our current group of kids in Kolkata. We hope to be able to take on more with support from those who believe that every child should get the opportunity to study – without having to worry about how to pay for the books they need, or the fees in school, or the bus they need to take so that they don't have to walk an hour to get to school every day.
HOW DO WE USE THE FUNDS RAISE?
We customize our funding options for each child, to cater to their specific needs. One child might need as little as INR 200 (approx. US$ 3) per month, while another might need as much as INR 2000 (approx. US$ 30) per month.
All funds we raise go directly to the kids and their families into their bank accounts, to pay for their tuitions, school and college fees, books, or sometimes even their bus passes for school.
WANT TO KNOW MORE ABOUT OUR WORK?
On Nov 27, 2015, our project and campaign was covered by DNA newspaper in Mumbai.
On Dec 7, 2015, our project was covered by NDTV 24x7 -
Link to NDTV Video
Halfway through last year, in May 2016, Milaap visited the slum to follow up on our project, and published this article in The Better India Blog -
Link to Article in The Better India Blog
.
For more details, you can:
Follow us on Facebook -
Urjayati's Facebook Page
Email us at
contacturjayati@gmail.com
Or
drop us a message via LinkedIn:
​-
Aditi Chatterjee:
https://www.linkedin.com/in/aditischatterjee
- Harsha Ramchandani: https://www.linkedin.com/in/harsha-ramchandani
- Shrestha Ganguly: https://www.linkedin.com/in/shresthaganguly