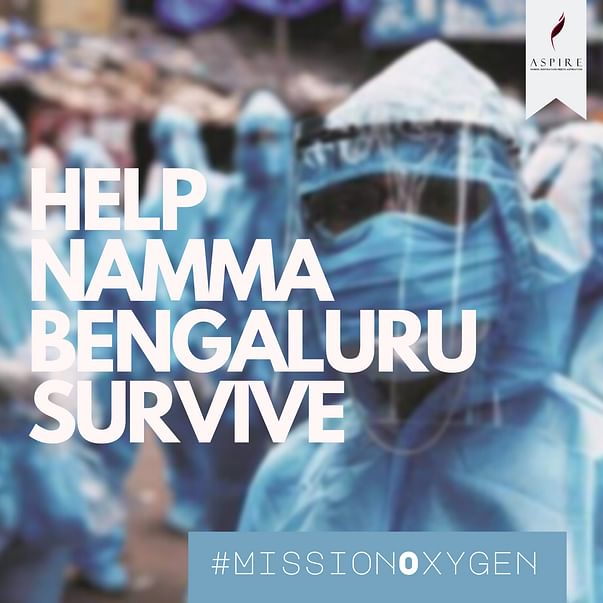 The city of Bengaluru, which once brimmed with vigour now carries a deafening silence in its streets, while its people choke to death. The second wave of the virus threatens to wipe away the last flicker of hope as it storms the bustling town under the force of its furious tide. People gasp for oxygen and relay between hospitals to find ICU beds to save their loved ones, and the cemeteries continue to pile bodies of those who were healthy just moments ago. Most of us have considered death as a stranger all this while, but the pandemic has made it our neighbour that can visit us anytime.

The medical infrastructure of Bengaluru has collapsed under the burden of the virus invisible to the naked eye, and the need for covid relief has reached its peak.
There is an immediate requirement for Oxygen Cylinders, Ambulance Services, Medical Aid and 24/7 Helpline Support for Bed Allocation, Plasma, Covid-19 Deceased Burial Service, etc. The need for action is incumbent on those who are able, and
Team Aspire
aims to do just that.
Project TouchLife
was initiated by the team to reach out with dignity to anyone facing a financial crisis, and
Mission Oxygen
is the first venture under its hood, and is affiliated with
Mercy Mission
.

Through Mission Oxygen, we will be providing oxygen cylinders, ambulance services, medical aid and round the clock helpline support for desperate souls in these unprecedented times. If we've caught your attention and you've made it this far, here's how you too can participate in this crusade to save lives.
What's Team Aspire?
A platform where inspiration meets aspiration, Aspire is a women-led group that's been in action since September, 2015. It is a not-for-profit organization registered under the government. While catering to the underprivileged who often go unnoticed, including the orphans, destitute, homeless and ailing patients, the team also constantly works towards honing personal skills and nurturing a better community.
In a nutshell, we're a group of young women trying to uplift self and society.

Our Vision
Aspire envisions a life that every human is worthy of leading. By reaching out to individuals in the society, the organization aims at building a cohesive environment, a world where the needy are looked after and their basic needs met. In times where bloodshed and hatred is common, Aspire relentlessly works towards spreading love and the message of peace.

Team Aspire at the forefront during COVID:
Team Aspire is a contributing member under the banner of Mercy Mission, which includes over 20 NGO's spread across the city. The umbrella aid came into existence in the wake of the pandemic in early 2020, and the collective efforts of the teams under it were recognised by the State Government, various prestigious organizations as well as the Vice President of India.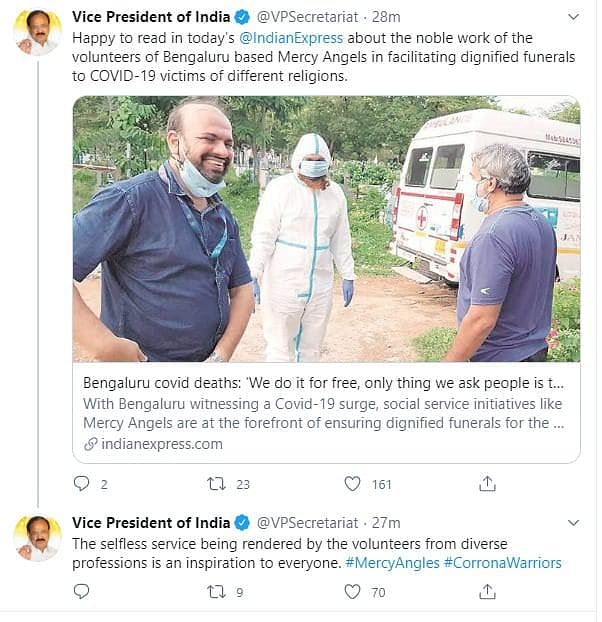 The initiatives run by Mercy Mission from 2020 are :
1.
Mercy Oxygen Centre
: 9 oxygen centres were set and provided 1500+ cylinders free of charge.
2.
Mercy Angels
: MM has completed 580 last journeys of COVID deceased and around 45 Non-Covid last journeys with the team of 30+ ground volunteers and 4 helpline agents.
3.
Mercy Ambulance
: 6 ambulances with oxygen support were functioning to transport patients free of cost.
4.
Mercy Online Clinic
: A free Mercy Clinic Mobile App was created to provide authentic medical consultation and advice.
5.
Mercy Plasma
: In collaboration with BMST, a leading blood bank, plasma donations were coordinated.
6.
Mercy Medicines and Equipment
: Medicines worth ₹3 lakh from over 600 prescriptions were given for free.
7.
Mercy Sahay
: MM joined hands with Sochara and launched a helpline to provide free counselling in three different languages for people in stress.
8.
Mercy Kits
: Over 70,000 ration kits were distributed in Bangalore and across Karnataka
9.
Mercy Kitchens
: Over 14 lakh food packets were distributed from 33 Mercy Kitchens across Bangalore.
10.
Mercy Booths
: Screening of Body temperature, oxygen levels, blood pressure was done across 39 Field Booths in over 35 vulnerable areas across Bangalore.

How can you help?
At Aspire, we believe in thinking big and breaking our massive plans into little targets to achieve our goal. One step by each person helps us cover the path to our dreams.
Our city of smiles and warm hugs is plummeting by the minute, and we need you to act quickly so we can battle this towering virus. The pandemic may have brought us to our very knees, but together, we will rise with time, stronger and braver. With The Almighty as our Guide, we can and we will!

If you're reading this, we urge you to contribute and give a breath of fresh air to a gasping victim. You do not need to be the wealthiest to donate towards this cause, all you need is a kind and empathetic heart. Your donation could be what it takes to provide an oxygen concentrator for a choking patient or arrange for an ambulance for the one slipping into unconsciousness. Your aid could provide relief to someone. Please donate to the mission and help save humanity.
Come forward now, because you can't really claim to care until you take the lead and start somewhere.

Facebook: https://www.facebook.com/AspireBLR
Instagram: https://www.instagram.com/team.aspire/