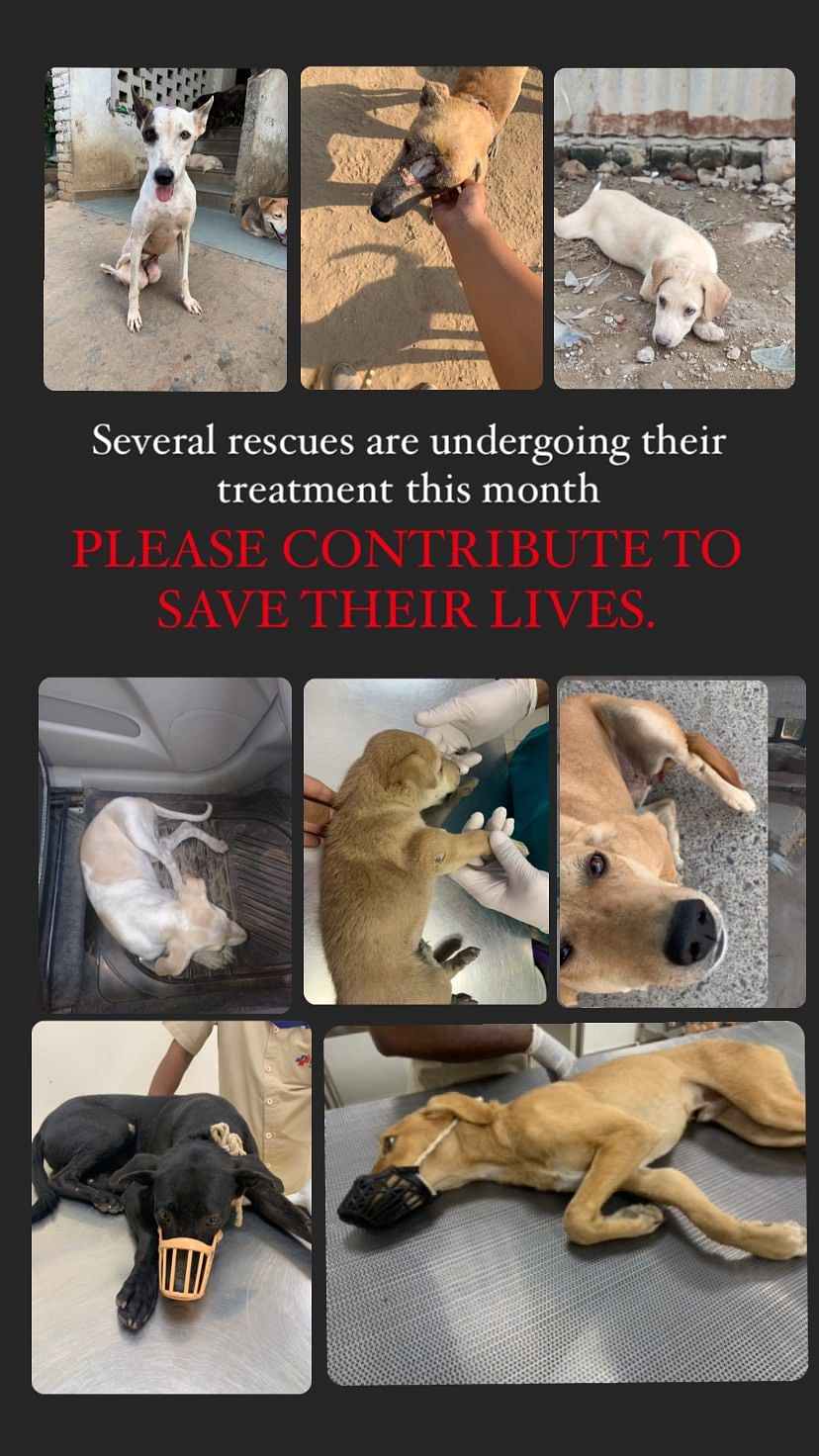 THEY NEED US, WILL YOU HELP THEM LIVE ANOTHER DAY?I am an individual rescuer and I often look up to NGOs, veterinarians and fellow animal rescuers for their support and advise.
This month, I have got an unprecedented number of bills to pay- all because of someone else's negligence and cruelty.
Several dogs are undergoing treatment for fractures, post accident and trauma cases and maggot infestation, as listed below:
1. Aura (upper left in the collage)- she was run over by a car on the Surajkund road and left to die. I found her 15 days after her accident. Her pelvic was fractured and surgery wasn't advise. She was taken into medical boarding, where she will have to be for the rest of her life. She is barely 10 months old and full of life. The care has healed her but she still can't walk fine. There are no chances of survival if she is left on the road. Every month, I need to pay ₹5,000 for her medical boarding.
2. Shera (upper in the middle)- was found eaten away by maggots in several places. He was the worst case I had ever found. His bones were visible with inches of his flesh missing. He is currently under treatment and has survived the worse. His treatment and boarding charges are ₹5,000.
3. Maple (upper right most)- A pup of barely 3 months old, she has suffered a fracture on her front limb. She needs to be kept in medical care, especially because of her age, until she recovers. Her boarding charge of one month is ₹5,000.
4. Chutki (middle lane left)- Barely 3 months old, she was run over by a car in her sleep. Her upper hip has been fractured and requires surgery immediately. Blood tests and post operative care will have to be administered for the same.
Her surgery costs are ₹8000, blood test ₹1000 and post operative care will be ₹7500.
5. Jimmy's son- A tiny pup of barely a month, he has contracted maggots from his mother. He was reported days after and by then he had developed abscess in several parts. They had to be bursted by the veterinarian and there are follow ups until recovery. Total costs for the same is ₹1500
6. Molly (middle lane right)- She is suffering from vaginal tumour, which has affected her behaviour significantly. She is getting weaker and unlike herself. The total charges of her chemotherapy shots and boarding will be ₹5000.
7. Kaali (bottom row left)- She was run over by a car in her sleep. While her bone has healed after a month's medical care, she still hasn't recovered sensation indicating serious nerve damage. She is just 8 months old and is already paralysed. Her physiotherapy and medical boarding for this month is ₹7500 (physio for 15 days) and ₹5000 (boarding). Vet follow ups and transportation are ₹2500. As she drags herself to me, my heart just breaks in a million pieces. From being the most active, nimble dog- she has been resorted to this.
8. Changu- (bottom row right picture). He was found lying in the wild, with snakes very close to his body. It had been days since his accident and in an attempt to heal him, the locals had tied his body with a stick so tight that it suffocated him instead. It went on till he stopped eating and almost gave up. When I rushed him into emergency, he would barely respond. His blood reports were drastic, with severe anaemia and infection, making him unfit for even surgery. His x ray showed a bone badly broken. Every day he battles his life. He is under critical care for atleast three weeks, before we decide whether to proceed for his surgery or not. The cost of his current treatment is ₹6500.
9. WHITEY- her tumour burst, leaving her to bleed. She was severely anaemic when she reached and her blood tests reports need to be stable before chemotherapy. Her chemotherapy, boarding and blood tests are approximately ₹7500.
10. Brown dog- Her leg has been cut off under mysterious circumstances. It needs to be amputated after her blood reports come clean. There will be post op, given the complications.

Other than this, there were hefty transport bills for rushing into emergencies and those of pet cabs.
——

Out of all the ones I am handling, bills for these remain unpaid. While the facilities were kind to let me admit them on a credit basis, I need to pay off the bills urgently before I can take more in my care.


For those who contribute, please keep checking the fundraiser for updates and regular bills and pictures.

You can see their, and others updates on my page, Me and My Human on Facebook and Instagram.