Hello there! I'm Aishwarya, I'm an ardent social worker. I've been involved with a number of non-governmental organizations (NGOs) in order to further the social cause. In the year 2021, I became a volunteer and active worker with Hamari Pahchan NGO. Since then I have worked on multiple projects and initiatives like food distribution, legal awareness, sanitary pad distribution etc.

As we stand face to face with the second wave of COVID-19, the problems that we all face have grown tremendously. Hundreds of Frontline workers have lost their lives in service and our people continue to languish in absence of accessibility to vaccines and essential kits.

What are we at HAMARI PAHCHAN NGO going to do?

हम लोग आपके साथ मिलकर दिल्ली को कोरोना मुक्त, अगर आपको किसी भी चीज की जरूरत है तो हमें संपर्क करें।
आइए, हमारी मदद कीजिए इस मुहिम में। . खुद से आगे, चलिए दूसरों तक मदद पहुंचाए। जुड़िए हमारी पहचान से।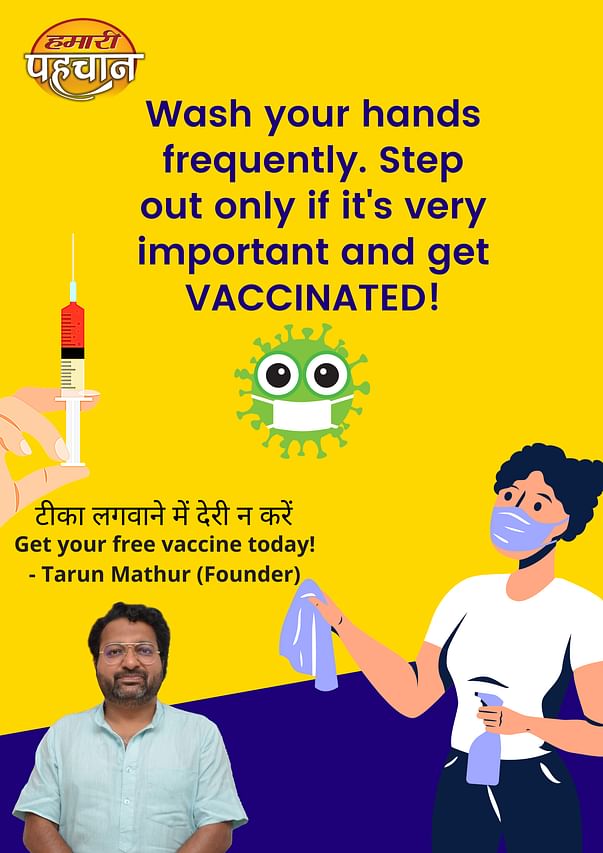 Help us and we'll help everyone
हमारी मदद कीजिए और हम जितने भी सक्षम हो सबकी मदद करने की कोशिश करेंगे।
-It's easy for a lot of us to comfortably sit at home and book our vaccination slots. The same isn't possible for people who don't have access to technology or live far from vaccination centres. Therefore we've taken the responsibility to ensure door-to-door vaccination aid so that no matter what, no one is left behind.
-We'll also help people from old age homes to reach the vaccination centre and ensure that they get safely vaccinated.
-We are also helping househelps to get access to vaccination for free.
We are also working on providing COVID-19 relief kit to people in need. So what does this COVID-19 relief kit include?
Sanitary pads, Dettol, Sanitisers, Thermometer, Medicines, Oximeter and Food.
Kit for 1 person: Rs. 2,800.
Kit for 3 people: Rs. 8,400.
Kit for 5 people: Rs. 14,000.
Kit for 8 people: Rs.22,400.
We are adamant about doing all that we can from our side but it isn't possible without your help. I know that we are separated by distance but in the end, we all are fighting towards the common evil - COVID-19. Bridge the distance and help us in our endeavour. Every penny and every small donation adds up to something big enough to save a family from collapsing and breaking. The more you participate, the more I'll be able to assist them with your help.
Visit our sites to get further information on what we do:
Instagram
,
Facebook
,
Twitter
,
YouTube
,
LinkedIn
You can read more about this NGO on www.hamaripahchan.org or write at pahchanhamari@gmail.com.