This morning, August 13th, Trepan lost his battle with this terrible disease. We will be posting an update shortly with more details of what happened and what we plan to do now.
Please read below to know about this incredible human being and what he achieved.
In 2015, Trepan Singh Chauhan, a prolific writer and indefatigable social activist, noticed a weird, non-stop twitching up and down his left arm. It was the first sign that he was fighting an unusual and extremely destructive neurological condition, similar to ALS (
amyotrophic lateral sclerosis
, better known as motor neuron disease or Lou Gehrig's disease).

Over the years since, this disease has destroyed his ability to move both his hands, made it almost impossible to walk, and even almost destroyed his voice. Today he's been in the ICU for over a month, and the doctors say he will probably need mechanical support just in order to be able to breathe.
But, even as his illness destroyed his ability to move, Trepan remained involved in social movements and in pioneering social research. In 2016, as his hands had begun to go, Trepan organised two events to honour and celebrate
thousands of Uttarakhandi village women
. In 2017, with his hands non-functional and his legs gradually weakening, he walked 18 kilometers, to a place 10,000 feet above sea level, to help a village with a community hydel project. In 2019, with his voice beginning to fail and needing someone to hold him when he walked, he started work on his fifth novel, using an eye tracking machine to type. Rajiv Lochan Sah, editor of Nainital Samachar and one of Uttarakhand's foremost intellectuals, has described Trepan as "the brain of Uttarakhand."

Trepan's doctor says that in decades of practice he has never seen a patient with this level of courage and commitment.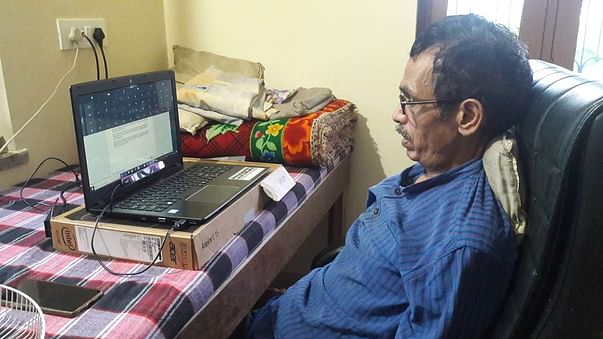 But Trepan needs your support to continue his fight. You can read more about Trepan's work and his financial needs below.
Will you help a man who has given his entire life to helping change the lives of others?

Trepan's Life and Work

Trepan is a thinker, writer and grassroots organiser, whose work cuts across environmental, right to information and labour movements, and whose work was closely tied to the birth of the state of Uttarakhand.
Trepan was fourteen when he joined the Chipko movement. He went on to found Chetna Andolan, which began to campaign for the Right to Information and to hold public hearings (jan sunwais) against corruption. Over the years, Trepan and the Andolan campaigned for statehood, fought environmentally destructive projects, organised relief efforts to help thousands of families after earthquakes and landslides, set up a school that runs to this day, and founded the first village-owned producer company for hydroelectricity in the state. From 2009 onwards Trepan moved to Dehradun, where Chetna Andolan set up one of Uttarakhand's first unions dedicated to daily wage workers - which today has over 7000 members.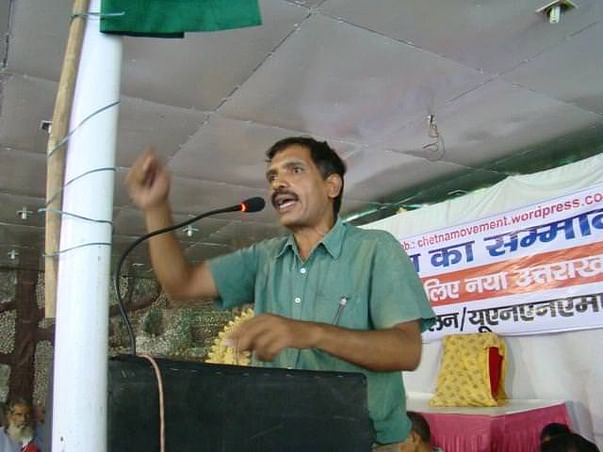 In 2016, even after the onset of his illness as said, Trepan organised two huge competitions for village women - ghasiyaris, or grass cutters - to honour and highlight their contribution in defending the verdant ecology of Uttarakhand. In both competitions the winner was honoured with a "Best Ecologist Award" of a lakh and a silver crown, all with money raised from donations from local villagers. Over 5000 women competed over the course of these competitions (you can see a news report on the second competition
here
).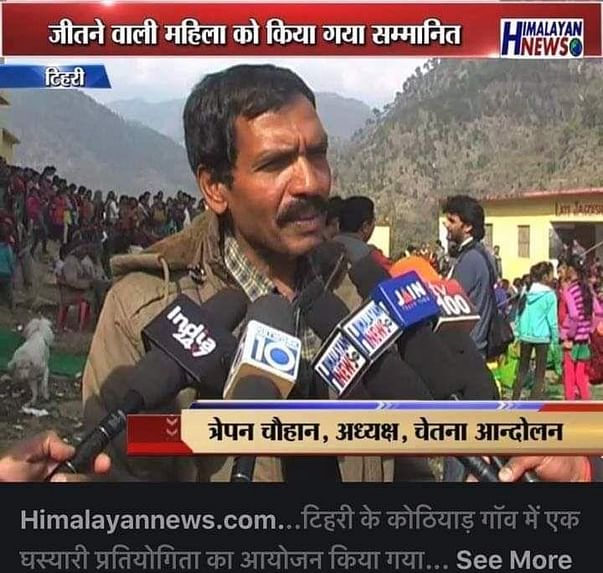 Even as he's been involved in all these movements, Trepan has also written five fiction works, including four novels which have established his name in Hindi literary circles. His books
Yamuna and Hey Bwari
(get them from Amazon
here
and
here
) are the best known novels on the Uttarakhand movement. He also has been an integral part of a
research collective
on social issues - his primary source of income - participating in a series of pioneering research studies on social issues ranging from migrant workers to the electricity sector and the future of cooperatives in India.
Today, living under conditions of severe disability, Trepan continues to be involved in the work of all of these organisations. Meetings are held in his house, he stays in touch on Facebook and WhatsApp when he can use his eye tracker, and he continues to guide the work of the union, the school and Chetna Andolan. His work has only been interrupted very recently by his hospitalisation since the beginning of June.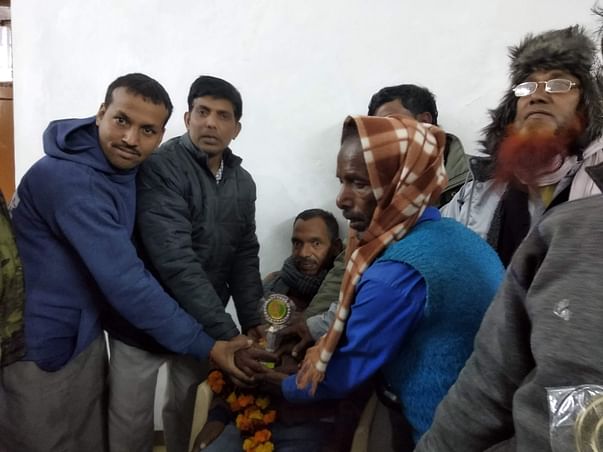 Trepan's Family

Trepan is married and has two children. His wife, Nirmala, is a trained teacher and worked in the Chetna Andolan school until she quit two years ago to become his full-time caregiver. Nirmala and Trepan have two children, Akshat, aged 14, and Paridhi, aged 11.
Nirmala's care has literally kept Trepan alive for the last two years, but she is also exhausted and overcommitted, taking care of both children as well his diet, exercise, medical care and medications on a 24/7 basis. We only managed to raise enough money to hire a daytime helper nine months ago, but Nirmala still shoulders most of the burden. Trepan's children love him deeply and have been at his side through all these years of struggle.
The Medical Condition
Trepan's disease is a neurodegenerative disorder that affects the nerve cells that control movement, known as motor neurons. The exact disease is unclear but it is either a variant of
ALS/MND
or a closely related disease. Over time, in most cases, diseases like this gradually eliminate the ability of a person to engage in voluntary movement by destroying the nerves that connect their brain to their muscles. Both muscles and brain are intact, but because there is no connection, the patient loses the ability to move and their muscles begin to waste away.
These diseases generally start from one part of the body and spread throughout the body. Patients often lose control of all their limbs, lose the ability to walk and eventually to move at all, and lose their voice and ability to swallow. They may eventually lose control of all muscles except those in their eyes, which are more rarely affected. In Trepan's case, the disease began in his left arm, first making his left hand useless and then his right, and then spread to his neck, back, legs and eventually to his tongue and mouth muscles as well. Most recently, the disease has begun to destroy the muscles of his chest and abdomen that make it possible for him to breathe.
Diseases of this kind are very poorly understood - till date there is no scientific understanding of why they happen, how they progress, and why there are wide variations in how they affect people. There is also no known cure or even an accepted way to slow the disease's progression (beyond treatments that have very mild benefits).
Trepan has fought the disease in every way he can. He has traveled across the country, visited over a dozen neurologists, twice stayed at ayurvedic treatment centres, and tried out ayurvedic, homeopathic, siddha and acupuncture based treatments as well as a cocktail of supplements and medications based on available research and his doctors' advice. At times he's achieved near miraculous improvements, like a period in 2018 when for two months he regained the ability to write with his hands. But the disease has eventually overtaken each of those improvements.
Why Trepan Needs Our Help
Everything Trepan has been doing to stay active - from his medications to the equipment he needs to work, communicate and even survive - costs money. The eye tracking device he uses to write cost nearly 3 lakhs. A special medical stand to hold it so he can use it lying down cost another 1.4 lakhs. Treatments, hospitalisations, supportive equipment, and medications cost thousands to lakhs of rupees a month. Till date, all of these costs have come out of Trepan's income, out of family members' savings, or out of the extraordinary generosity of friends and colleagues (some of whom have given several lakhs).
But with the worsening of Trepan's condition, his expenses have also skyrocketed. That's why we need your help. We're trying to raise money for the following:
Money for hospital expenses. He has repeatedly required ICU level care and the current hospitalisation itself has cost more than eight lakhs. He's likely to need this more, and expenses may cross ten lakhs.
Money to pay for trained home assistance, i.e. nursing care from staff experienced in handling respiratory difficulties. We estimate this will cost at least 7.5 lakhs for a year.
Mechanical equipment that Trepan may need - such as a home ventilator that may be needed if his breathing fails, a monitor to track vital signs, oxygen cylinders if required, etc. We estimate this will require at least 2.5 - 4 lakhs.
Money for medications and physiotherapy. We estimate this will cost approximately 30000 a month, or 3.6 lakhs in a year.
That adds up to around 20-25 lakhs for a year. Trepan's income isn't sufficient to cover these costs, and that's why we need your help.