About us

The Blind Relief Association Delhi is a non-governmental organization that has been serving in the field of education, vocational training and rehabilitation of the visually impaired since 1944.

This campaign is being run by Ahaana Bharat Ram and Saina Munjal, students of the Shri Ram School to help Theatre for A Cause to raise funds for The Blind Relief Association.

Theatre For A Cause (TFAC) is a not-for-profit organization that believes in the power of music and theatre. They perform and produce musicals to create a social impact by raising funds for NGOs.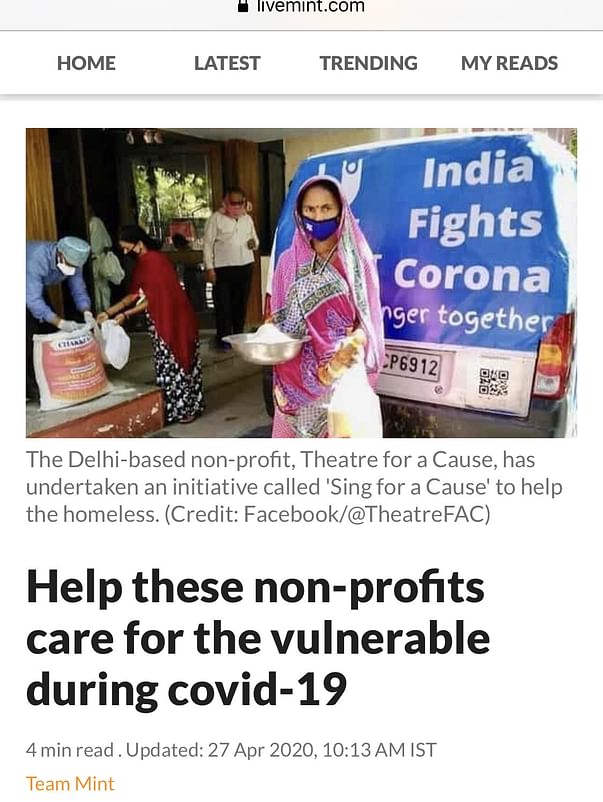 Who are we helping?

The coronavirus pandemic and lockdown has severely affected people from all walks of life but none more than those with disabilities. They represent an often forgotten section of society and are suffering the most in the present circumstances. Despite the government and efforts made by various NGO's, People With Disabilities (PwD) are largely unable to avail of the assistance being provided.
How are we helping?

TFAC is collaborating with The Blind Relief Association to feed the lower income People With Disabilities (PwD). The reach will include not only the visually impaired but also those with other physical and mental challenges. One of the primary efforts involves doorstep delivery of ration kits to lower income PWD's whose disability prevents them from leaving their homes and navigating queues. The goal is to provide at least a 1000 kits to affected PWD families over the next three months.

In addition, The Blind Relief Association in collaboration with other non-governmental organisations is going beyond the disabled and providing 850 freshly cooked meals to the homeless and daily wagers.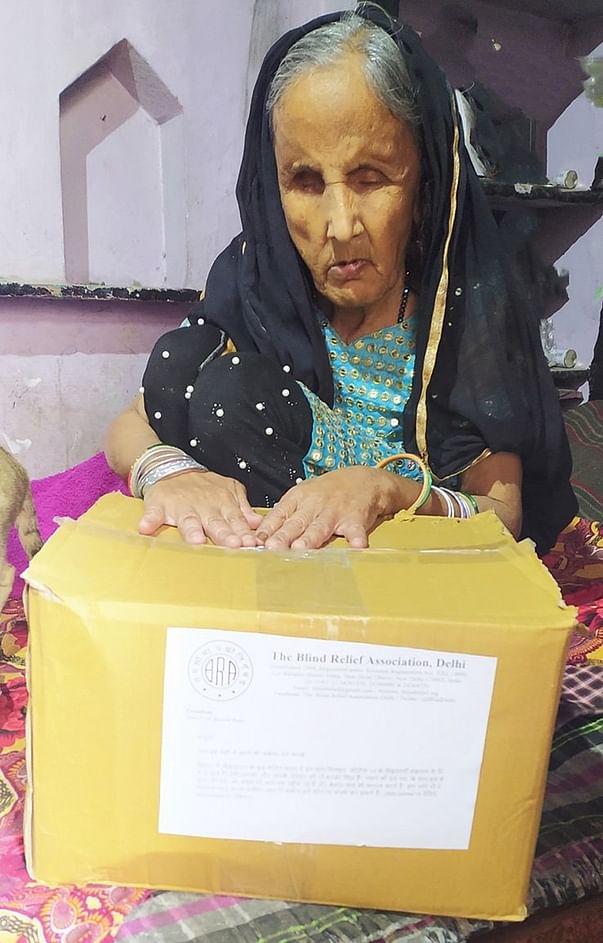 TFAC is also drawing upon its belief in the power of music to raise awareness and funds while bringing cheer through a social media campaign, the TFAC Challenge.
Our goal is to provide ration kits to feed 1000 families of people with disabilities.
How are the funds being allocated?
We aim to raise Rs 10 Lakh to buy a 1000 ration kits to distribute it over the next 3 months.
Each kit costs Rs. 1000
and will feed a family of four people with disabilities for one month.
Each Ration kit includes:
| | | | |
| --- | --- | --- | --- |
| S. No | Items | Quantity | Amount |
| 1 | Rice | 5 kgs | Donated by KRBL Limited |
| 2 | Fortune Atta | 5 kgs | Rs. 175/- |
| 3 | Arhar Dal | 1 kg | Rs. 82/- |
| 4 | Channa Dal | 1 kg | Rs. 55/- |
| 5 | Masoor Dal | 1 kg | Rs. 66/- |
| 6 | Tata Haldi Powder | 200 gms | Rs. 44/- |
| 7 | Tata Red Chilli powder | 200 gms | Rs. 57/- |
| 8 | Tata Coriander powder | 200 gms | Rs. 43/- |
| 9 | Tata Salt | 1 kg | Rs. 15/- |
| 10 | Nature Fresh Oil | 1 L | Rs. 110/- |
| 11 | Tata Agni Tea | 250 gms | Rs. 47/- |
| 12 | Sugar | 1kg | Rs. 41/- |
| 13 | Lifebuoy Soap | 125 gms | Rs 44/- |
| 14 | Rin Detergent Powder | 1 kg | Rs 63/- |
| 15 | Masks, Packaging & Distribution | | Rs. 158 |
| | | Total | Rs. 1000 |
You can help by donating now!
Even your smallest contribution will go a long way
!
Frequently Asked QuestionsHow much of my donation goes towards the cause?100%
of the funds raised through this fundraiser campaign go to The Blind Relief Association. Infact even this fundraising platform, Milaap, has cancelled its fee for this cause.
Why is there such a need?
People with Disabilities, elderly populations and individuals with chronic health conditions, are the
worst hit by Covid-19
. Nonetheless, there is little mention in the media of Covid-19's impact on their lives when millions are under lockdown.
People with disabilities (PWDs) are more susceptible to viruses like Covid-19 relative to others.
According to a survey conducted by the Ministry of Statistics, 2.2 per cent of India's population is disabled. In effect, 86 out of every 1,000 Indians have a disability.
As per FICCI, the lockdown has disproportionately affected Persons with Disabilities in comparison to the non-disabled population. For example, many Persons with Intellectual Disabilities require regular therapy, without which their condition deteriorates. Access to medication has taken a huge blow, with many not having enough medical supplies till the end of the lockdown. Groceries have been hoarded by the non-disabled, leaving nothing for Persons with Disabilities living independently.
A large number of PwDs are homeless, contractual labourers and migrant workers.
Research has indicated that unemployment and poverty rates are higher among Persons with Disabilities which has worsened their struggle in the time of the pandemic.
Autistic people can often be very sensitive to changes in food tastes, textures, and smells caused by sensory overload. As well as increasing anxiety, being unable to buy their usual foods because of food shortages and not being able to shop in the usual supermarket at the usual time of day can lead to a limited diet, as substitutes may be unacceptable.
Knowing this, and witnessing the current crisis,
let's join hands with Theatre for a Cause to support The Blind Relief Association
so the People with Disabilities can remain healthy, anxiety-free and safe at home.
Will my donation be exempt from tax?
Yes. Your donation will get an 80G exemption.
DONATE NOW!