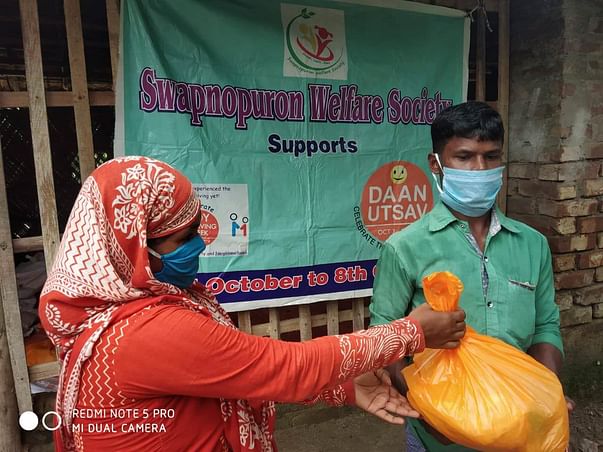 Imagine how difficult life has become for the families in Sunderbans,
who hardly recovered from the devastating cyclone Amphan and in no time the second wave of covid-19 pandemic started taking it's toll on them.
SWAPNOPURON WELFARE SOCIETY
which translates as "
dream come true",
was started by a group of like minded people in 2012 from then on they have always tried and taken initiative to reach out to the people of Sunderbans. In these hard times as well, SWS is looking forward to start a COVID-19 Ration kit Distribution Drive for the families in 'Hingalganj block'; Sunderbans. The cost of a single ration kit is
Rs.500
only, which can feed a family for the next
30 days.
Below are the listed items that will be provided in the Ration Kit.
5kg- Rice
400 grams - Dal
1 litre – Mustard Oil
1 Packet – Salt
1kg – Soyabean
500 grams- Dahlia
500 grams- Sattoo
Pack of Surgical Masks
Soaps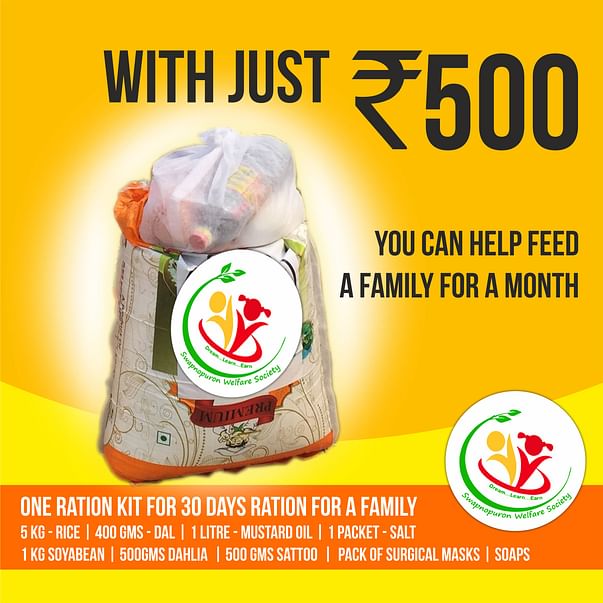 SWS is emphasizing on preventive health care to encourage people to develop a healthy diet model to enhance immunity boosters, hence the Kit is very essential and will be very helpful.


A generous support of Rs.500 can help provide meals to a family for one month, we request everyone to forward support to your fellow countrymen in this hour of need.

Other Major Initiatives
Post Amphan Relief Initiatives by SWS
Under
"Dignity for work"
Project, SWS ensured Ration kits, masks, tarpaulins and solar lamps distribution for Amphan relief work in Sunderbans.
7 community kitchens were setup where food was cooked with raw materials provided.
76,174 cooked meals served.
8042 families received dry ration.
2000 litres of drinking water distributed everyday.
1864 families received tarpaulin sheets.
Swapnopuron is rebuilding the lives of those affected in the times of Crisis.
The main
purpose
of Swapnopuron Welfare Society is to improve the lives of poor and marginalized women and children through Child Education, Child Protection, Literacy Program, Women Employment and Empowerment.
SWS has already educated over 1000 students up to standard five. We try to achieve our goals through a number of motives and initiatives such as:-
Reach out to every child of Sunderbans and to protect them from abuse and exploitation.
2. To ensure that no child is forced to child labour and opportunity of Education to all through :-
- Elementary Education Program
- Capacity Building Initiatives
- Skill Development
3. Women Empowerment Initiatives for those coming from a weaker socio-economic background, helping them to be self- reliant.
4. Make People aware and desensitize issues like Menstruation and subsequent health issues.
Our Vision
A safe empowered community where every child has an equal chance to realize his/her full potential.
WE REQUEST EVERYONE TO CONTRIBUTE THEIR BIT TOWARDS THIS RATION KIT DISTRIBUTION DRIVE. A LITTLE SUPPORT FROM YOUR END CAN ENSURE A FAMILIES MEAL FOR 30 DAYS!
To know more about us you can visit our official website:
https://www.swapnopuron.org/