Bombay Jayashri seeks your support to set up Swami Dayananda Centre for Learning, Manjakkudi
-To spread education and learning among children of the underprivileged

Namaste!
A child's mind is like a blank canvas. It is important for parents, teachers and all those associated with a child's life to create an environment where they can explore, experiment and unravel its potential to the fullest.
It is with this mission of a holistic approach to learning that the Swami Dayananda Centre for Learning will be set up in Manjakkudi, in the Tiruvarur District of Tamil Nadu.
The initiative, which will be unveiled next academic year aims to have teachers and educators who will instill curiosity and motivate children to learn through the arts, music, science and value education classes.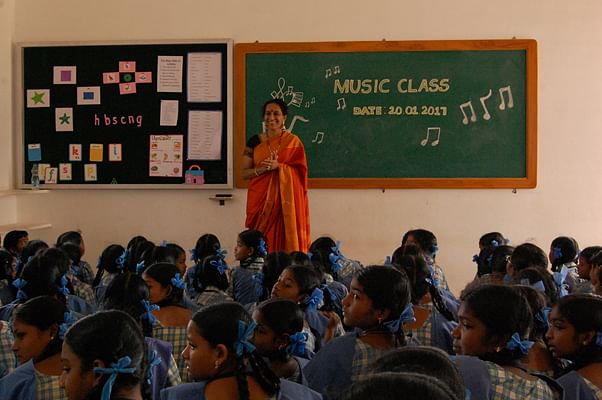 Gratitude to our Ambassador Smt Bombay Jayashri Ramnath

We are so happy to have Smt. Bombay Jayashri Ramnath as our Ambassador for this project. She along with her students has always had a special connect with us at Manjakkudi and the students of the Swami Dayananda Educational Trust schools. For many years now, she has been teaching music to these students, for whom it is now a part of curriculum. As a mark of her affection and love for the children of Manjakkudi, Smt. Bombay Jayashri has come forward to raise awareness and partner with Milaap to bring contributors for this cause.
"Children in India, especially in rural areas must be encouraged to imagine and dream, to listen to beautiful narratives, explore hands on and express, without restrictions. I firmly believe that a child's emotional, social and intellectual development starts with the first lullaby heard. Just as how the lullaby soothes the child to drift into sleep, every child deserves a loving environment which nurtures and nourishes learning and opening up a world of beauty within" she says.

With this in mind, our ambassador Smt.Bombay Jayashri Ramnath is sharing a 'Moonchild' original lullaby dedicated to the Children of Manjakkudi.
Who will it help?
In the first year, the center would focus on children of Manjakkudi and the neighboring villages within a five kilometer radius. Children will be admitted in the afterschool and weekend programme, which is provided at no cost. It is heartening to note that 95% of these children are first generation learners -their parents are farmers or daily wage earners, and in many cases education is unavailable to the children . Their home environment is not conducive to learning, nor are their parents able to impart discipline, a value system, or motivate these young minds. A majority of the children are uninspired or forced to go to school, with records indicating low attendance.
Why is this project important?
There is no doubt that such a project is the need of the hour. Children are the change makers of tomorrow and we need to prepare them to walk a virtuous path. A holistic education will help children develop into strong and confident persons. It will make them aware of the right and wrong; think, analyze and solve problems with more clarity and finally, lead a disciplined and meaningful life.
What do we plan to do ?
Every week, about 100 children are expected to visit Swami Dayananda Centre. At the Atal Tinkering Lab, they will have a space to think out of the box, explore, experiment! The center will also impart value education taught by a Swamini. Through these classes, the focus will be on all aspects of student development: the academic, the intellectual, the creative, the social, the physical, the ethical and the emotional. An adult literacy programme is also in place to empower women from economically weaker sections of the community. With competent teachers and facilitators already in place, the center will be under Swami Dayananda Educational Trust, Manjakkudi.
How much will it cost?
The Project cost is estimated at Rs.30 lakhs and spanning over 3,500 sq.ft.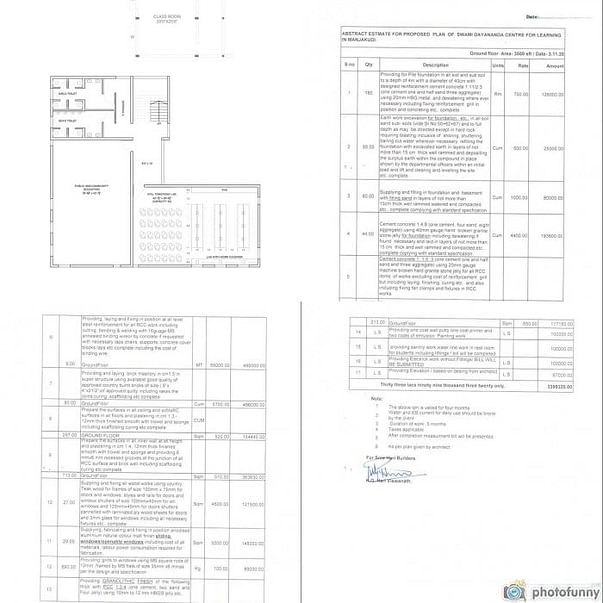 Seeking Support

A little support goes a long way. We at Manjakkudi appeal to all those who can support this project. We are excited about the new Swami Dayananda Centre for Learning – there is going to be lot of hands on activities for us to do.
-From the children of Manjakkudi