Why the fundraiser?
This is a six month pilot project to empower community level workers (ASHA etc.) through training and relevant supplies (mask, PPE etc.) in collaboration with
Digital Saarthi
. Experts believe that Corona will shift from epidemic to endemic with seasonal flare ups from time to time. From urban centres, it will sneak into rural areas. A community which is aware and community workers who are well trained and equipped are going to be the sheet anchor of our agrarian economy in coming decades. This campaign is being coordinated by a medical doctor (
sachin
) and a digital social worker (Abhinav) from this region - Chakrata, Dehradun.
It is flu but different
Over all situation continues to be alarming, if we add the economic and psychological impact of the pandemic and our attempts to control it - also the fact that it may linger for some time, may be years. Since the first COVID19 case in Wuhan, China 3 months back the world has registered coronavirus cases in 212 countries with a total of 37,27,802 cases of COVID19 occur worldwide. COVID19 has been responsible for a staggering 2,58,338 deaths by 6th May, 2020. Amidst the rumours of COVID19 being sensitive to summer heat, India hasn't been spared of the COVID19 contagion. On 6th May, 2020 India is home to 44,900 COVID19 cases and 1693 deaths. (
worldometers
)
We are still in the 2nd month of our COVID19 contagion so the numbers are most likely to increase as reports and research suggest that the summer heat does not really impact the virus. As we enter into the 7th week of the CoronaVirus Lockdown, a developing India with a lacking health infrastructure and health insurance mechanism can not afford to let the guard down. (Below: Two mountain blocks of Dehradun District)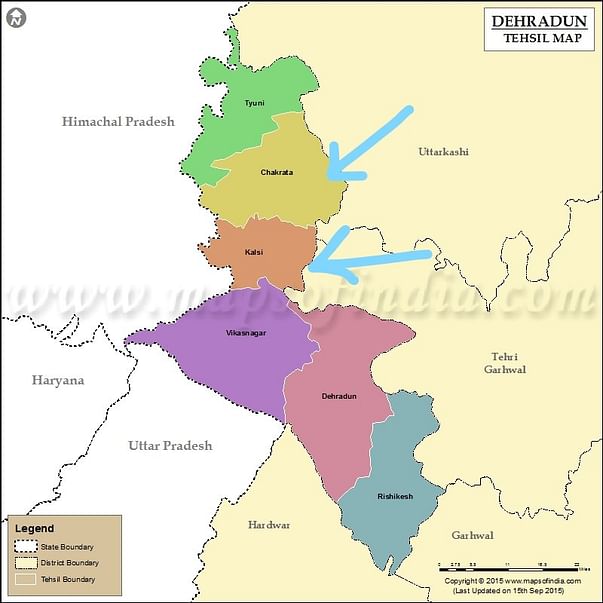 Healthcare In Uttarakhand
Uttarakhand state is blessed with beauty of the mountains the snow capped peaks, lush alpine ranges. dense flora and fauna but with beauty comes the beast of the arduous hilly terrain. Due to the lack of health care and accessible education, Uttarakhand has seen 32 Lakh Migrants leaving their beautiful villages for the urban spaces.
Dismal Health Care infrastructure and health care human resource crunch has influenced the migration patterns in Uttarakhand. Out of 1258 Posts for specialised doctors across Uttarakhand which is insufficient in itself , Uttarakhand only has 415 Specialised Doctors. (
Times of India
)

Mountainous districts like Pauri, Tehri, Bageshwar, Uttarkashi and Chamoli are more affected by the shortage of doctors. There are no orthopaedic surgeons in Tehri and Bageshwar districts and not even a single ENT surgeon in Tehri, Chamoli and Bageshwar districts.

The NITI Aayog 2019 report notes that the state's neonatal mortality rate [neonates are newborns from 0-6 months age] has increased from 28 deaths per 1,000 live births to 30, and its under-five mortality rate (U5MR) has increased from 38 to 41.
Meanwhile, the National Family Health Survey 2015-16 (NFHS-4) has also reported poor health indicators in Uttarakhand. It noted infant mortality rate (IMR) and U5MR of 44 and 49 per 1000 live births in the state, respectively. This is way behind the national average statistics. These dismal health indicators indicate a lacking health infrastructure and human resource. Specifically, medical infrastructure in Kalsi and Chakrata block, as shown below, leaves much to desire:
Jaunsar Bawar - Health Infrastructure Status

Includes 2 Tribal Blocks: Kalsi & Chakrata

in District Dehradun, Uttarakhand :*Digital Saarthi Report




S.No.

Medical Unit

Quantity

Status

CHC

2

Functional but understaffed. Diagnostics intermittently available due to infrastructure or staff unavailability.

PHC (APHC + BPHC)

5

3 Functional 2 Non Functional Functional PHC is understaffed.

No Diagnostics available.

SAD – State Allopathic Dispensary

14

11 Functional 3 Non functional

Functional PHC understaffed.

No Diagnostics available.

S.C – Sub Centers

57

35 Functional 22 Non Functional.

All are understaffed.

No Diagnostics available.
Coronavirus Situation In Uttarakhand
Since the lockdown was announced on 22nd March 2020. Uttarakhand saw a massive displacement of people towards their native homes. Internal migration of unprecedented proportions began as people started travelin back to their homes internal and interstate migration occured. By 15th April, 2020 Uttarakhand had nearly 67000 people in Home Quarantine and another nearly 4000 in institutional quarantine since the beginning of the quarantine on 22nd March , 2020 .
All these home quarantine efforts have been facilitated by the Local Health surveillance teams (Including local Doctors, ANM, Pharmacists ASHAs, Anganwadis) equipped with a manual thermometer or digital thermometers, and lack of protective gear mostly. Which wasn't the most appropriate medical practice. Now some have been equipped with thermal sensors & protective gear but still its not enough.
Uttarakhand state launched a portal on 30th April 2020 to bring back its massive migrant base in different states across India. In 3 days, i.e by 6th May, 2020 nearly 1 lakh 64 thousand people had registered on the website. That's nearly 1.6 % of the supposed entire population of the entire state. This returning group will pose various challenges- testing, quarantine and treatment etc. (
Uttarakhand state
)
Proposed Intervention
So based on this grim situation we are focusing on the tribal hilly region of Jaunsar Bawar which includes the 2 blocks of Kalsi and Chakrata in District Dehradun, Uttarakhand. Our focus will be on two areas: providing necessary/ relevant equipment and awareness/ training. We have interacted with the local health department and we wish to work on the following objectives, to the extent funds are available:
Providing protective gear/PPE/screening/testing equipments to the local health workers and medical staff.

Organising training and awareness session on Community Hygiene & Personal Hygiene with Community Health Workers (CHWs) & active front-line social workers (FSWs).

Organising training & awareness sessions on harmful effects of Tobacco chewing and smoking with CHWs & FSWs (i.e. Use the opportunity to address a rampant and relevant public health problem)
Formation and orientation of local health and hygiene samitis which shall be formed with trained CHWs & FSWs for evaluation and consistent communication to behavior change.

Online (Social Media – video/photo/blogs) and moderated Offline (Audio Vehicle & Posters) communication on COVID19, hygiene and tobacco use.

Counselling and consultation of Corona Warriors i.e Doctors, Pharmacists, CHWs and FSWs.

Unique, meaningful and collaborative engagement and participation of urban and rural citizens with local govt. /corporate/ NGO / SHGs /Clusters / Youth groups etc to promote better health and hygiene practices in the region.
The following Contacts and the Location of the local Health Centers and allied Community Health Workers shall be supported.
Target Population
1,25,486 in the Jaunsar Bawar tribal constituency in District Dehradun.
Population:

Block Chakrata in District Dehradun is 67258 (Males: 34938 / Females: 32320)

Literacy Rate:

In Chakrata: 61.6 %, Male: 70.79 % . Female: 51.58 %

Male to Female Literacy Difference: 19.21

Population:

Block Kalsi in District Dehradun is 58228

(Males: 30301 / Females: 27927 )

Literacy Rate:

In Kalsi: 68.30 %, Male: 77.50 % , Female: 58.26 %

Male to Female Literacy Difference: 19.24
The target population has a literacy rate of 64.95 % lower than state average of 79.83% & national average of 74.04 %. Literacy has been linked to the hygiene of communities. The local population being tribal and mostly illiterate and semi educated people left and residing in villages the community and personal hygiene practices are lacking in the area.
Health Centres Supported
We will be working with following health institutions:
| | | |
| --- | --- | --- |
| S.No. | Medical Unit | Quantity |
| | CHC | 2 |
| | PHC (APHC + BPHC) | 5 |
| | SAD – State Allopathic Dispensary | 14 |
| | S.C – Sub Centers | 57 |

We will be training and working with following ASHAs

ASHAs Working in Block Chakrata: 110 ASHA Facilitators in Block Chakrata: 7

ASHAs Working in Block Kalsi : 90

ASHA Facilitators in Block Kalsi: 6
Estimated Budget
For the six month pilot, it is INR 8.6 lacs (attached below). This campaign is to cover the bare minimum of the main operations: PPE kits, reusable masks and training for community level workers.
If you are interested in other components, please let us know:
digitalsmta@gmail.com