Help Rural India fight COVID-19
Rural India is in dire need of medical help as Covid-19 crisis worsens. Indian Town Seva is raising funds and procuring oxygen concentrators for rural India. As highlighted by 'Backward Region Grant Fund', 243 districts have reported more than 36,000 deaths as of 5th May.
Need of the hour is to help with donations to arrange medical supplies and make sure they are served to the right communities. The money raised is being used to procure oxygen concentrators, oximeters, flow-meters, PPE kits, thermometers, etc. Urgency of getting oxygen to rural India is high and we need to act right now.
Please note: Milaap embeds a default tip of 15% when you make a donation - this is entirely voluntary and the amount does not come to this fundraiser. You can modify/remove this by selecting "Other" Tip Amount.

We are partnering with local NGOs in each state to help us with ground level logistics. Our team is procuring medical supplies and handing it over to local verified NGOs. Together we are planning an end-to-end supply chain. Once these NGOs hand over supplies to hospitals or covid care centers we have a thorough list including but not limited to following.

1. Letter to request donation from local NGO
2. Confirmation for donation acceptance
3. Proof of delivery - images, videos, on-site check
4. Follow-up of utilization of supplies (Proof - images, videos, letter from covid care center, hospital management)

All the amount collected so far has been used to procure 8x10L and 5x5L concentrators which will be delivered to smaller towns and villages. We have spent 10 lakhs so far and have ~1.5 lakhs remaining with which we are trying to buy more medical supplies.

Heartfelt gratitude to each one of you who donated and trusted us in this process. Sincere appreciation, you keep us going!

In this process, we want to gain your trust by making our invoices, delivery timelines and fund details transparent to you. If you have more questions please feel free to reach out to us. Link

Please follow us on Instagram/Facebook/twitter - @indiantownseva
Our Work:
Ambajogai, a small town, 100 miles away from nearest big city and almost 250 miles away from Mumbai, is still grappling to find Oxygen Concentrators for its inhabitants. We delivered 3 oxygen concentrators today they are in need of 25 more. Please help us save more lives in our partnership with Jnana Prabodhini foundation at Indiantownseva.org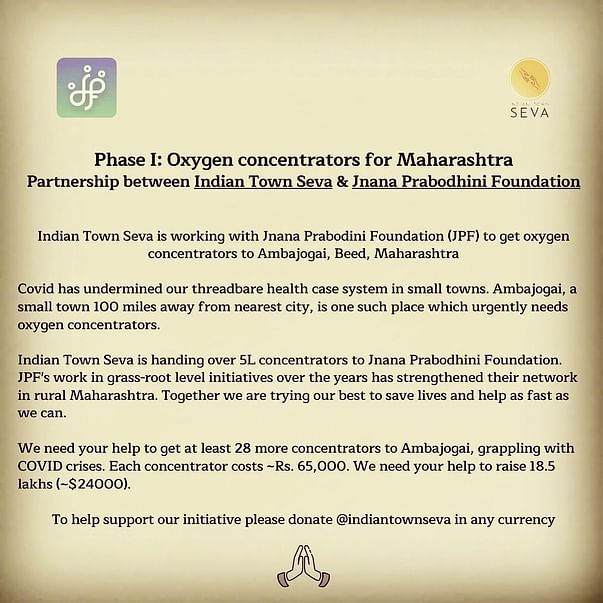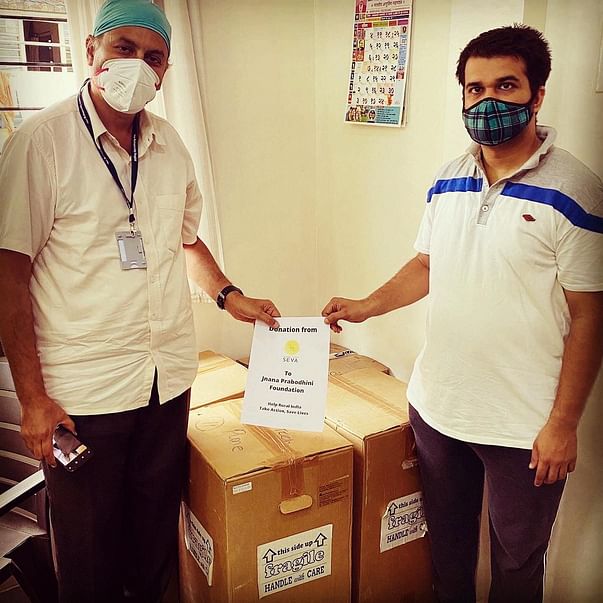 ————

We are a small team but have worked tirelessly so far. Our team composition:

Shilpi Nayak: Google
Nikhil Tyagi: Apple
Samruddhi Deshpande: Apple
Saurabh Nayak: Amazon
Aditya Sen: VMware
Ankur Vishwakarma: Catchpoint
Praveer Nayak: Wipro