About Nupur Zankar:
Nupur Zankar Academy of Performing Arts & Research Centre, based in Mumbai, is a Registered Charitable Trust under The Bombay Trust Act, 1950. This reputed arts institute enjoys exemptions under section 80G of the Income Tax Act. Founded by the renowned Kathak dance exponent- Shila Mehta- the primary objectives of the organization are to raise awareness of the personal and societal benefits of Indian Classical Arts. In line with this vision, Nupur Zankar has been regularly organizing different cultural programs for over 20 years under the series of 'Sanskriti Mahotsav' and 'Vande Mataram'. Such platforms are used to increase exposure to masters in different arts fields, artists, gurus, and performers and typically include themes related to contemporary issues that are relevant to people of different ages.

Driven by the philosophical underpinnings of Indian Classical forms, Shila Mehta's Nupur Zankar has well-established centres across India, the USA, UK, and Belgium. This speaks to a conviction of using Indian cultural heritage as a medium for growth amongst people of all backgrounds. Some highlights of activity at these regions include that in 2020, Shila Mehta was commissioned by the Swindon South Asian Performing Arts Centre (SAPAC) to collaborate with local artists on a unique project exploring "Rhythm in Chaos"- a piece bringing to the forefront the experience of the COVID-19 restrictions through the eyes of people diagnosed with autism. This work was supported by an Arts Council England grant awarded to SAPAC with whom Shila works regularly to embed Kathak in the region's cultural scene. In 2019, a dance production in Belgium, 'Women Speak' was toured to communicate female power based on concepts from Hindu mythology. 'Women Speak' was supported by the Flemish Government (Department of Youth, Culture, and Media), Ghent City, Ghent Cultural Council, and Ghent University. Nupur Zankar's work is creative, impactful, met by markers of esteem, and always has at its heart the core premises of Indian Classical forms such as self-development and guru-shishya parampara.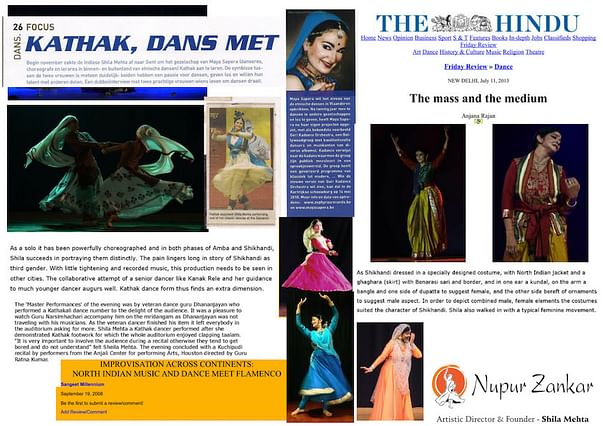 About Sanskriti Mahotsav 2021:
The world is not as we knew it. We have all had to rapidly adapt to the events of 2020. The new normal for many fields, including performing arts, is the digital or online platform. With this in mind, we are pleased to announce that Sanskriti Mahotsav 2021 will be able to reach more people across the world and draw on the theme of 'Meet the Masters'. As the world has adopted, we too will use this time to consider how Kathak has changed over time. We will showcase and highlight the significance of 'legacy or Gharana' in our classical art form, the Four Primary Gharanas being Lucknow, Jaipur, Banaras, and Raigarh as per their places of origin. We will feature the most senior Gurus, along with the second-generation disciples, and youngest generation of disciples to share the art form through talks, performances, and interactive Q&As.

Arts for Cause:
Nupur Zankar is a non-profit and socially responsible organization. We use our creativity to make important messages accessible to all. Moved by personal stories, funds raised will serve a dual purpose of supporting artists as well as people living with autism. In collaboration with the Swindon South Asian Performing Arts Centre (SAPAC-UK) we have previously explored rhythm through the lens of autism in a project through the Arts Council England. The art field has been hit hard by the Covid pandemic but has strengthened our resolve for community benefit.
Donations of any amount are welcome towards this effort.
About Shila Mehta:
A distinguished and internationally renowned Kathak exponent who brings a track record in dance and academics as a holder of a Bachelors in Commerce, Masters in Dance (Gold Medalist), and has audited contemporary dance courses at York University, Toronto Canada. She is a rare combination of an accomplished performer, choreographer, visualizer, director, teacher, administrator, and artist.
A choreographer recognized for innovative presentations with the established Indian traditions represents the lineage of Kathak Gurus Nrityacharya Prahalad Das, Pt. Vijay Shankar & legendary Pt Birju Maharaj. Being a Research Scholar, Shila has added deeper dimensions to the theoretical aspects of Kathak and has extensively researched themes such as 'Taal-Chhanda-Laya' under the able guidance of Pt. Suresh Talwalkar. She has received the knowledge of Shastriya tenets, as elucidated in Bharat Muni's Natya Shastra, from Dr. Kanak Rele. Her long span career of 35 years in dance includes the special field of research "Charani Ballad" singing, its manifestation, and adaptation in Kathak performances. She has Kathak Music CD and a book "Practicals in Kathak Dance" to her credit.
As a dance educator, Shila has trained students globally including those choosing careers in the arts as well as balancing dual professions. As a mass choreographer, she has successfully worked with ensembles of over 1,500 participants. Her productions like 'Women Speak', 'Nimitta', 'Mahasati', 'Abhisaar', 'Rasotsav' speak volumes about her novel approach as a choreographer and visualizer.

On a personal level, service to humanity is important to Shila alongside working with individuals to unlock their own potential. She is well- known for bringing out the best of those under her tutelage and unite them as a global community of artists working towards a common goal- spreading all that Indian cultural heritage has to offer.


You can reach us at
nupurzankar@shilamehtakathak.com