"We live in a small and remote village. Our school is a very small school. But I was very confident that I would get good education and become successful in life with the help of my school and teachers.
But Corona disturbed everything here, schools too were closed. I was feeling hopeless because my parents couldn't afford online education. It's too costly for us.

I didn't know how would I compete with other students who have expensive e-learning resources."
, says Payal an ambitious school girl from Patole Wasti, Beed.
"शाळा बंद होत्या, तरी आम्ही सगळे 'व्ही-स्कूल' वापरून अभ्यास करत होतो, यात खूपच सोप्या पद्धतीने शिकवलं आहे. माझ्या शिक्षणाचं आता काय होणार, ही माझी काळजीच 'व्ही स्कूल'मुळे दूर झाली."
पोलीस अधिकारी होण्याचं स्वप्न पाहणारी पायल आत्मविश्वासाने हे बोलत होती.
'Vowels of the People Association' identified such challenges and introduced VSchool - A free online education platform! Lakhs of students like Payal are using it for free and feeling empowered and dignified while building a better future for their families.
'व्ही स्कूल' काय आहे?
'व्ही स्कूल' हा ऑनलाईन शिक्षणासाठीचा मोफत प्लॅटफॉर्म आहे. येथे इयत्ता १ ली ते १० वीचा सर्व अभ्यासक्रम मराठी भाषेत उपलब्ध आहे. मागील
सहा महिन्यांत 'व्ही-स्कूल'ला १० लाखांहून अधिक वापरकर्त्यांनी ८० लाखांपेक्षा जास्तवेळा भेट दिली आहे

. पैसे नाहीत या कारणाने कोणीही आता ऑनलाईन शिक्षणापासून वंचित राहणार नाही आणि प्रत्येक विद्यार्थी त्याच्या उज्ज्वल भविष्यासाठी सज्ज असेल. हा प्रकल्प सुरू ठेवण्यासाठी आम्हाला मदत करा.
तुम्ही दिलेल्या देणगीएवढी रक्कम आम्हाला मोरडे फूड्स प्रा. लि. यांच्याकडूनही मदत मिळेल. उदा. तुम्ही रु.१००० ची मदत केली तर प्रत्यक्षात व्हिस्कुलसाठी रु.२००० उभे राहतील.




What is V-School?

VSchool is an online platform designed to address the challenges faced by rural children to provides

free online educational resources to students studying in Marathi and Semi English medium from 1st to 10th standard.

VSchool has received more than

80 Lakh page views by more than 10 Lakh users

in the last 6 months.
VSchool is currently in website format. An

android app

will be launched in Jan 2021.
It is highly replicable, scalable yet customizable.
We made sure, that V-School will be equally useful even after Covid-19 pandemic situation. V-School is designed to address the challenges faced by rural students:
It uses Marathi and local dialects for instructions
Multiple users can use a single mobile device
Requires low internet speed
Offline use is possible
Easy to use – simple dropdown to choose a lesson, one page one lesson.



How girl students are affected:

Due to Covid -19 education went online and that became a hurdle for millions of non-affording parents' children. Girl students are facing even more challenges as their education and spending on their education is usually not a priority of parents, furthermore, they are not allowed to use personal mobiles or tablets. VSchool is ensuring that every schoolchild gets good online education at no cost.

(VDO)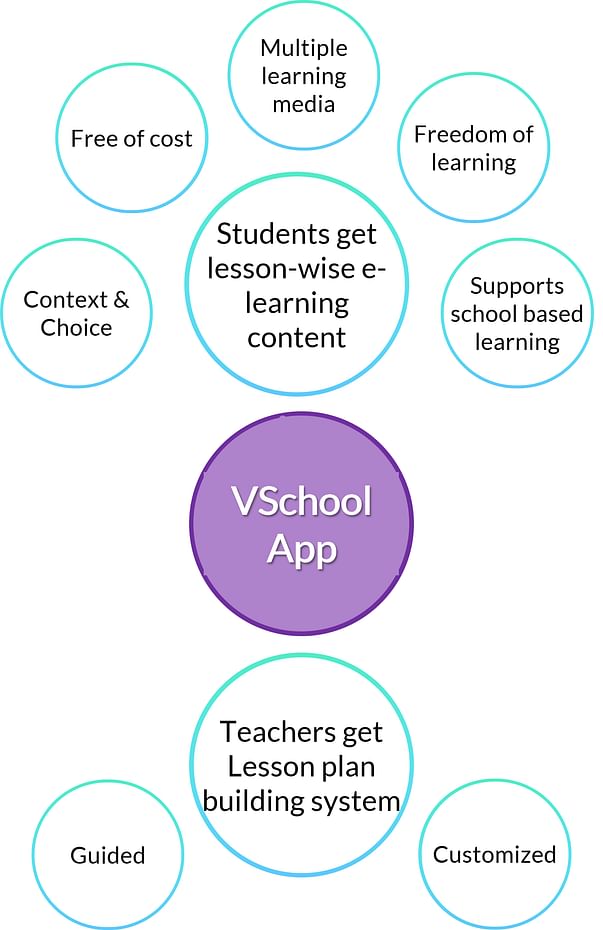 VSchool is not just a collection of videos. It consists of multiple learning media like PPTs, worksheets, audios, images, animated images, online tests, etc.
Expert teachers from various Zila Parishad are building this educational content.
Every lesson is linked with the daily life of students with suitable examples and activities
Local teachers have an active role in it. Students are encouraged to interact with them and get feedback.
VSchool in News: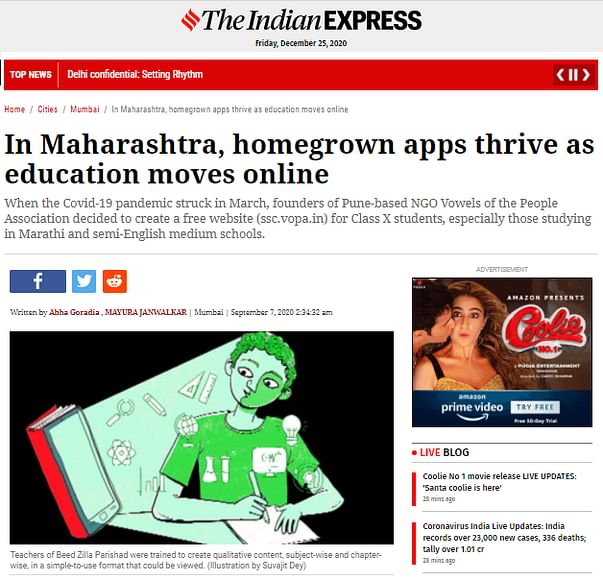 1.

The Indian Express (front page)

4. Other news articles here
Support Needed:


VSchool is appreciated by many government officials, education experts, and also many TV and Film stars. This is a mammoth project for us with a more than 75 Lakh Budget and 25 Lakh student beneficiaries. We have raised 12 Lakhs earlier. We urge you to come forward and donate to this noble cause.

Our Expenditure :


VSchool is partially supported by Morde Foods Pvt. Ltd. They are providing a matching donation to this campaign.



About VOPA:


Vowels of the People Association is a registered section 8 company working in rural Maharashtra to make school education more effective and efficient to provide a joyful and meaningful learning experience to the students. We provide facilitation, guidance, training and other support to educational institutes and schools working at the grass-root level.