23 September 2021 - Teachmykid

Support for Shaswathy education from Jaya Public School, Tiruninravur, Thiruvallur, Tamilnadu - 602024

Our country is passing through the disaster of Corona today, a lockdown is going on in the whole country. Due to this, almost all establishments in the country are completely closed. Kids from unprivileged families are deprived of basic educational needs due to this situation.

குறள் 102:
காலத்தி னாற்செய்த நன்றி சிறிதெனினும்
ஞாலத்தின் மாணப் பெரிது.

English Couplet 102:
A timely benefit - Though thing of little worth
The gift itself - In excellence transcends the earth

Couplet Explanation:
A favor conferred in the time of need, though it be small (in itself), is (in value) much larger than the world

Shaswathy is studying VII standard from Jaya Public School, Tiruninravur, Tiruvallur district. Her father Mr. Prakash expired on 7th October 2020, due to the heart attack and her mother Ms. Jayanthi is a housewife and she was also ill and faced severe attack in both brain and heart blood vessels. Due to that, she is suffering with seizure problems (fits). Now Shaswathy mother is so much worried about her future and her struggles to pay the school fees. She is also taking care of Shaswathy grandfather and bedridden grandmother. So that, she couldn't able to go for any job. Shaswathy grandfather's monthly pension is used for their daily expenses to run a family. Based on this critical financial situation, Shaswathy mother is not in the position to afford for her school fees.

It is said that God gives the hardest battles to his strongest soldiers. This year, as 2021 ushered in a ray of hope and new beginnings for most of us, God chose Shaswathy for her hardest battle.

"Great things are done by a series of small things brought together" Vincent Van Gogh

Today, it is the time for you, to transform the lives of our children by contributing your share to it.
Academic Year Fee Structure
Name - P. Shaswathy - Class 7th (2021-22)
School - Jaya Public School, Tiruninravur, Thiruvallur
I Term Fees – Rs.17,000
II Term Fees – Rs.16,000
III Term Fees – Rs.16,000
I, II, III Term Annual Fees – Rs.49,000
Ms. Shaswathy mother requested to school management and Correspondent Mr. Kannaka Raj from Jaya Public School, Tiruninravur, Thiruvallur regarding the fees concession and the management is ready to
discount the
50% fees from the annual fees for the next three years (till10th Standard).
Revised Annual fees after 50% discount - Rs.24,500/-
Books and Notes - Rs.7550
Total Annual Fees:
Rs.24,500 + Rs.7550 = Rs.32,050
Hereby, attached Bonafide Certificate for your reference dated 21.09.2021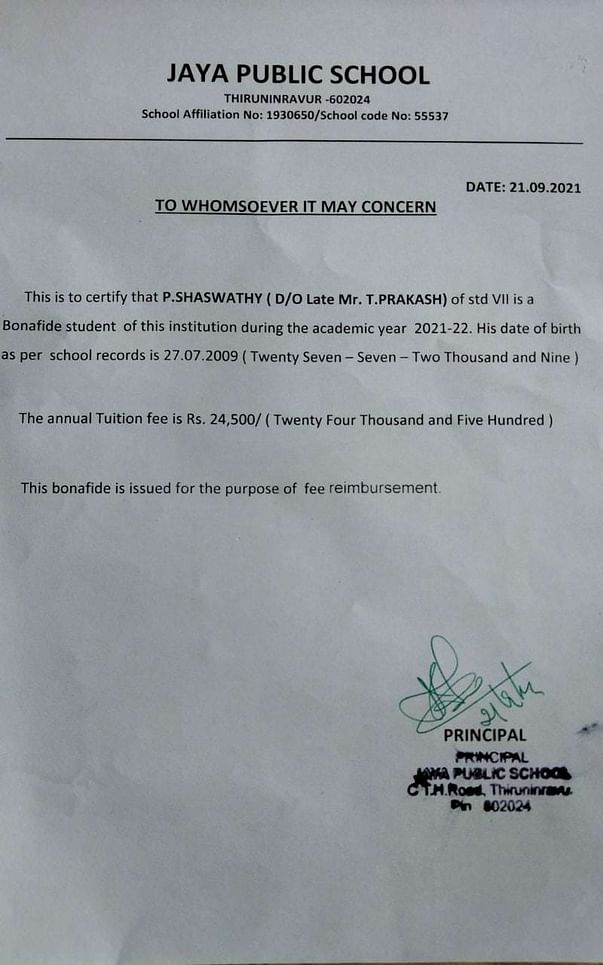 How Can You Help?
You can contribute however small or big. It is the spirit that counts.
No amount is small and every penny count.

Spread the word. Every effort helps.

Be a part of it if you can, we will be forever grateful.
Thank you in advance!