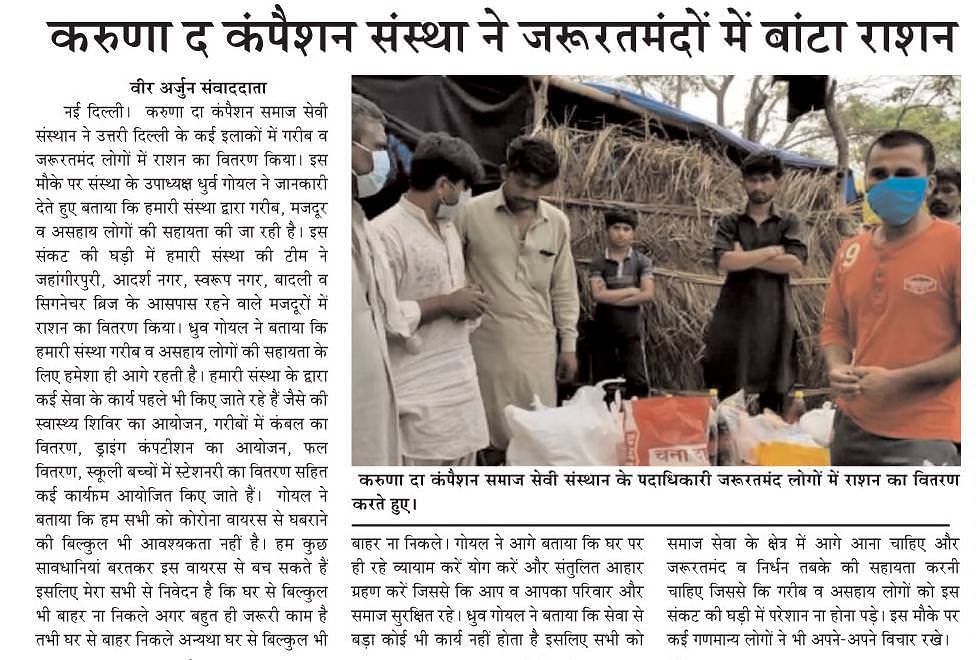 Stuck in this predicament that has befallen us all, the world seems gloomy. But it is way worse for some, who struggle to keep afloat in these times of despair. These times call for unity for the collective welfare of one and all. Ever since the lockdown began, we at Karuna the Compassion have been putting our best foot forward to help those in need.
INITIATIVE TAKEN:
We are doing so by distributing ration items to needy families and daily wage laborers who are connected to us. We have by now distributed 15 days' worth of ration to several families in need. In addition to this, we have also sent our Karuna Nid's kids (differently-abled) safely to their hometowns with the 1-month worth of ration items and also finances so they can stay at peace with their loved ones.
The basic ration kits that we provide contain rice, wheat flour, pulses, along with few spices, Dettol soaps. In addition to these, we also add Ayurvedic Immunity Boosters like giloy tulsi juices, chawanprash, and essentials like sanitary pads etc for women and children. Apart from these Ration Kits, we are now trying to arrange for Milk products such as milk powders, cereals etc for kids.
As per guidelines of the administration, we are also actively working towards the provision of PPE kits, Masks, Sanitizers, and Hand Gloves for front liner warriors.
WE NEED YOUR SUPPORT
We are getting multiple calls every day, from families in need and the administration for provision of essential items in times of this catastrophe. We seek your support for the same. Stand in solidarity and help those who aren't as privileged as you.
Help those in need, stand for a cause. Utilize your privilege to benefit several others.
Be a savior, and do your part by helping us reach out to those suffering the most.
Our website for more details: http://karunathecompassion.org/