Karthikeyan Ravichandran (Karthik)
, a bright young lad in his thirties, had just got married and was looking forward to live a cheerful life as all newly weds do. In December 2019, high misfortune struck the family and what started in the guise of a viral flu attack turned out to be
Acute ProMyelocytic Leukemia (Variant APML)
. He is being treated at
Meenakshi Mission Hospital, Madurai, India
since then. It estimated that the cost of treatment could go upwards of
US $60000
.
His brother, parents and close friends of Karthik are trying by all means to raise funds. We (
Team Karthik
) know Karthik very well through his brother Viswa (our college mate ). We've set this Milaap campaign help for Karthik's medical expenses.
We have received the summary of initial evaluation, line of treatment performed so far and the future course of treatment.
Dr Krishna Kumar Rathnam
, Senior Consultant, HOD Dept of Hemato Oncology-Medical Oncology and Bone Marrow Transplantation at the Meenakshi Mission Hospital & Research Centre has endorsed an approximate estimate for the next course of treatment.
Karthik has been suggested to undergo
Matched Unrelated Donor Bone Marrow Transplantation
and the initial estimate as been pegged at
USD $43835 (INR 32L).
Please help Karthik in whatever way you can
1)
Donate
as much as you can. No donation is too small
2)
SHARE
on social media (
#HelpKarthik
)
3)
EMAIL
this page -
milaap.org/fundraisers/support-karthikeyan-r
- to your family + friends.
Below is the initial estimation of transplantation expenses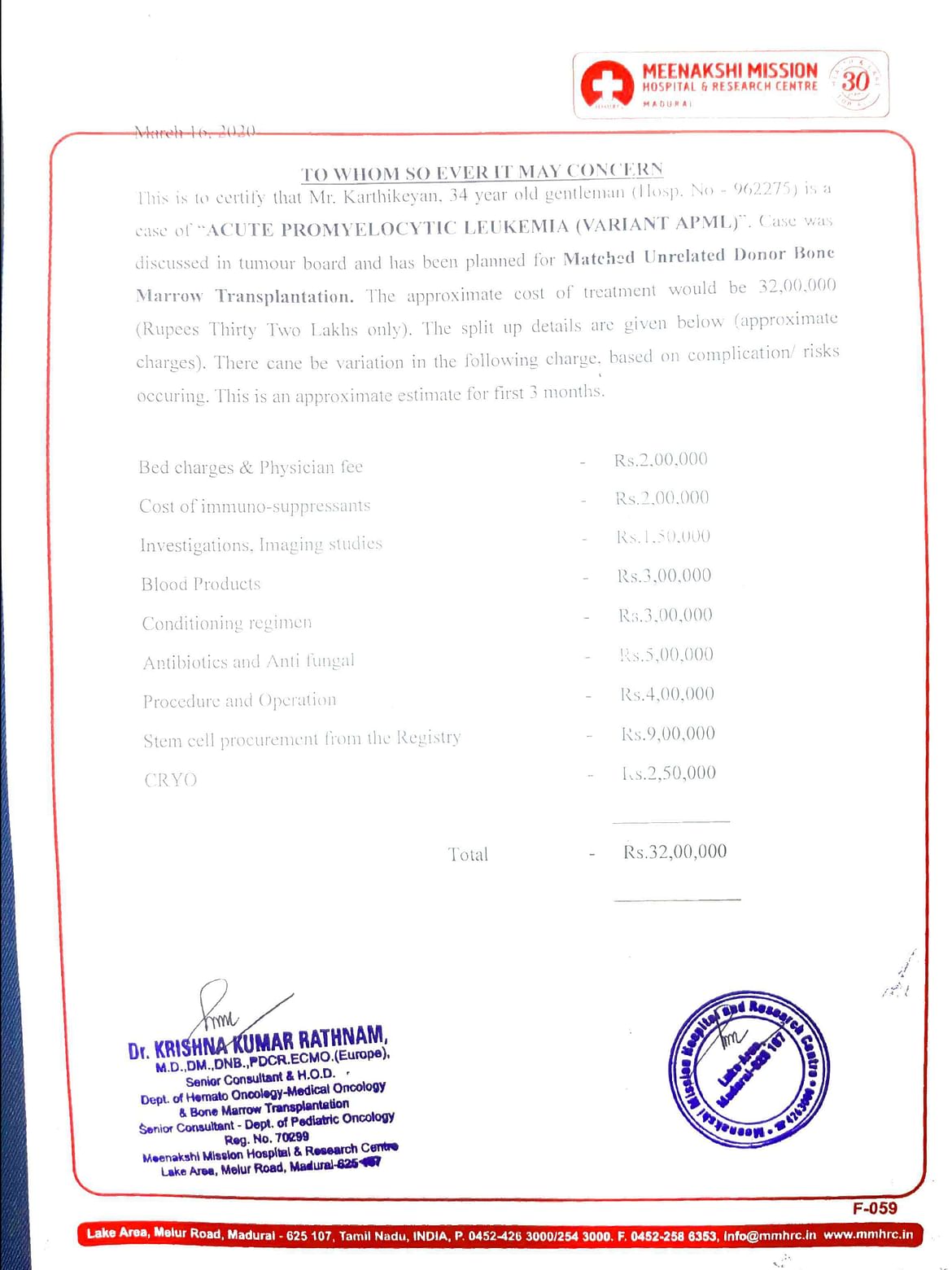 Below is summary of evaluation and treatment carried out at the hospital.