Myself Garikimukku Srinivasa Rao, an agricultural laborer from Gogineni palem, Ghantasala a rural village in Andhra Pradesh. My Daughter Garikimukku Harika suffering from Systemic onset Juvenile Idiopathic Arthritis (SoJIA) with high disease activity. SoJIA is a rare disease, which eventually leads to dysfunction of physical activity of Legs, Hands and other joints.
She needs biologic Tocilizumab-360mg, every 2nd weekly for control of disease activity for atleast 6 months. Approximate expenditure for 360mg of Tocilizumab is Rs 36,498/- So total expenditure 12 doses in 6 months 12 x 36,498 = Rs 4,37,976/-.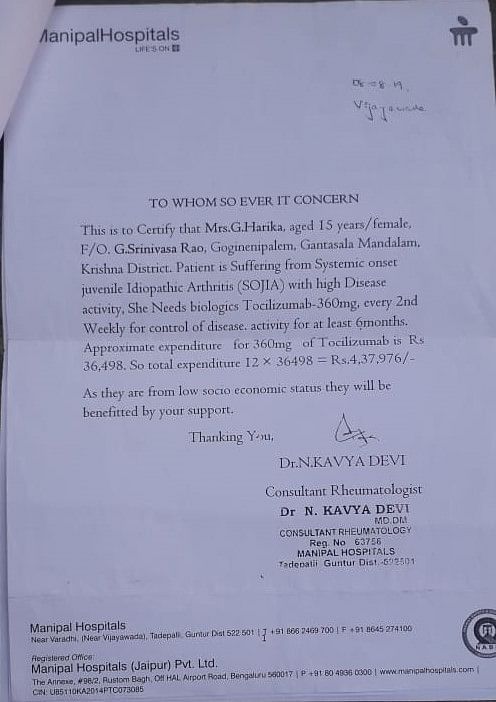 As I'm a daily wage labor, I can not afford medical expenses for the treatment of my daughter. Due to lack of money, the treatment is not yet initiated. With the help of educated in our village I came to know about milaap online fund raising platform, I request each and every person to help my daughter to treat SoJIA. Every single rupee donated by you will be helpful towards our daughters treatment.
In the next 30 days, we need Rs.4,37,976 more for Further treatment.Please come forward to support my cause. Any contribution will be of immense help. Do contribute and share this campaign link with your friends and family