I am Gargi Harithakam, a published fiction writer (Debut Novel- The Land of Lamp Bearers, 2014), a published poet, a visual artist and a queer feminist activist. I am a queer woman, living with my partner Naseema Nasrin with whom we have worked out many queer initiatives including the organizing of Kerala Queer Pride in 2018 & 2019. Working close to the community, we designed an art based (audio-visual content + installation + documentary film) political project based in Kerala, which explores and exposes many characteristics of queer lives and the 'normative'with respect to it.
As queer people ourselves, we have constantly experienced the accusations of madness and masquerade as tools of oppression.The common sense has conventionally associated the expressions of queer people like cross dressing and poly-loquaciousness with the word camouflage (as masking/cheating) and madness, just because they are in pursuit of 'unnatural' bodies and desires.Queerness is camouflage, not as in its linguistic denotation of disguise or mask or hide, but as a natural, spiritual quality and live out- which embarks infinite possibilities of self expressions. Our project is an attempt to go deeper in to the realm of reflective queer self expression, and public response to it, and the political aspects of the above.
During these pandemic times, we have decided to start with the first phase of the project which requires extensive research and documentation.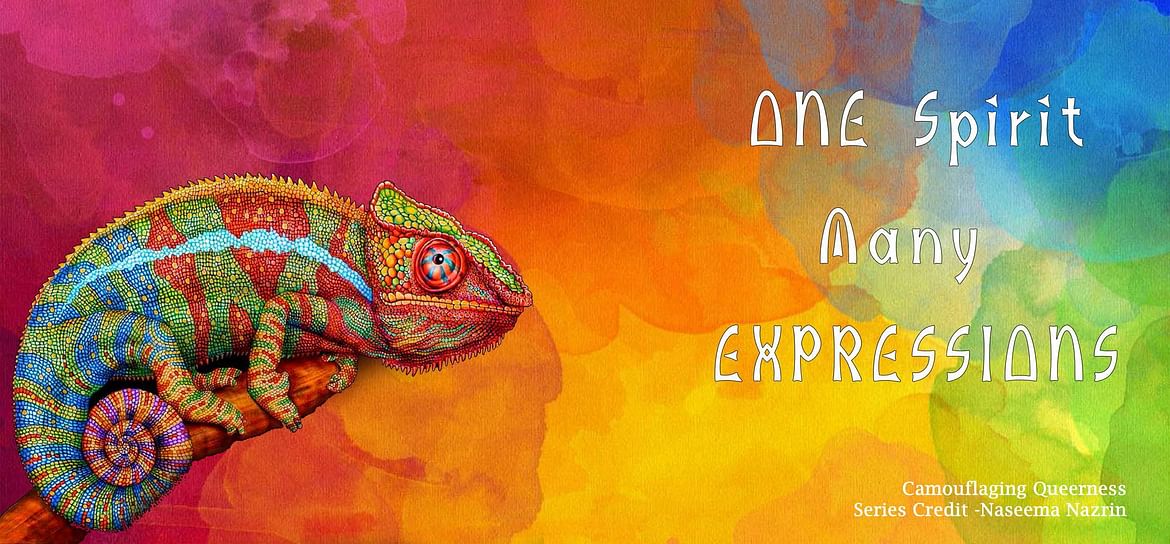 (A)Musing Queerness – Mirroring Camouflage and Madness-----------------
This project is a social experiment which uses art as a major tool to engage with/document public responses to queer content.
It has three phases. The first phase is designed to incorporate different research methodologies to collect, comprehend and analyse lived experiences and expressions of queer people. The mediums used will be various formats like audio, video, photographs, animations, illustrations etc and later, these contents will be developed/edited to use as creative materials for the second phase.
The second phase is an installation (in a room) including a mirror maze + a salon (physical spaces), video and text projections and sound. The materials collected in the first phase will be integrated to a single piece of multimedia creative which will be projected inside the mirror maze as part of the installation. Many other audiovisual materials will be used in the salon, for a closer experience of queerness. The public interaction with this installation will be documented.
The third phase of the project is making a documentary film incorporating the materials from the first and second phases. The derived political narrative from this work will be placed in the current gender and identity discourses through this documentary.
Use of Funds
----
Here, we are planning to use the money we will raise, for the first phase of the project which includes locating, research & documentation activities of the queer community in Kerala. It will include video + sound equipment expenses, travel expenses in Kerala and a remuneration for the queer participants & technicians of the project.
Please contribute, help us bring forth queer voices!