"With each passing day, we're seeing great jumps in COVID19 cases in India. As of April 5th, our country has 3730 confirmed cases, and 104 deaths... These are nearly double the numbers from just last week! If this keeps up, we'll have a crisis on our hands that we won't be able to handle.

We, at St. John's Medical College Hospital, need your help to fight this crisis now, by ensuring that every sufferer gets the treatment they need, whether or not they have the finances for it."
St. John's Medical College has always been at the forefront of providing services to the medically underserved - – whether by training medical students who spend a significant period of their early careers working in rural areas or by being the first to volunteer services in disaster-hit regions around the country. Since the 1970s to date, St. John's has sent teams to every single disaster-hit zone in the country – starting with the post-war Bengal refugee crisis to the super cyclone-hit Odisha districts in 1999 to the flood-relief services in Kerala and Kodagu in recent years serve the economically poor section of our society who are faced with the evolving crisis of the COVID19 epidemic. St. John's is committed to ensuring that no patient is turned away for a lack of finances and to ensure this we will surely need the support of gracious donors such as you or your organization. John has already set up a screening clinic, a dedicated isolation facility and a dedicated 15 bed COVID ICU.
Some of the costs of treating patients suffering from this dreaded disease are as follows:
Daily treatment in the general ward bed in isolation for non-serious patients – INR 4000/day
Daily treatment in ICU beds – INR 18,000/day
Setting up ICU bed with ventilator, monitor and dialysis support – INR 26,00,000/bed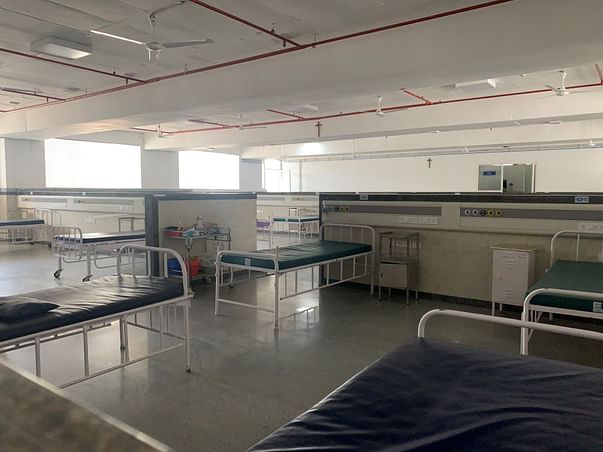 This time the disaster is at our doorstep. Our calling has been to
St. John's has committed to the Government of Karnataka to set up a 200-bed isolation facility. We already have a 60-bed ICU which is always full. We have also set up a 15-bed ICU with ventilators and monitors, 4 of which have dialysis facilities, for patients who are tested positive. We intend to ramp up this facility to 30 beds and are looking for funds for the same.

'The entire St. John's Medical College Hospital family is ready to stand and fight; please fight with us'

St. John's has 500 doctors and 1300 nurses, all of whom are willing to join hands and work day and night to save the lives of the needy, with no concern for their own health. As of today, 9 of our staff have been exposed to the virus during the course of their work and have been isolated! Our brave army of health professionals work on a staggered basis, alternating shifts, to minimize risks of cross-contamination. While this keeps the patients safe, they themselves are at risk. And yet, if the crisis looming on the horizon falls upon us, every single one of them is ready to jump into action and save the day.

In the days ahead, we will need the funds to help sustain our efforts.


Donate now, and donate as much as you can.