I work at a local Animal Rescue Center in Siolim, Goa. Our shelter is a safe haven for many unwanted, injured, abused & neglected animals. This is the story of two donkeys, rescued from the harshest conditions.
Rescued from life in a circus, Pablo (left) & Pedro (right) suffered for many years at the hands of their owners. They were used for entertainment purposes, with little to no care given to their health. Both suffer from undernourishment, skin diseases & are fearful of humans.
Pablo & Pedro flinch if we approach them for pets, hugs or kisses. It is truly sad to see the state of these beautiful, intelligent animals fear those who are helping them, but with their traumatic pasts it is expected.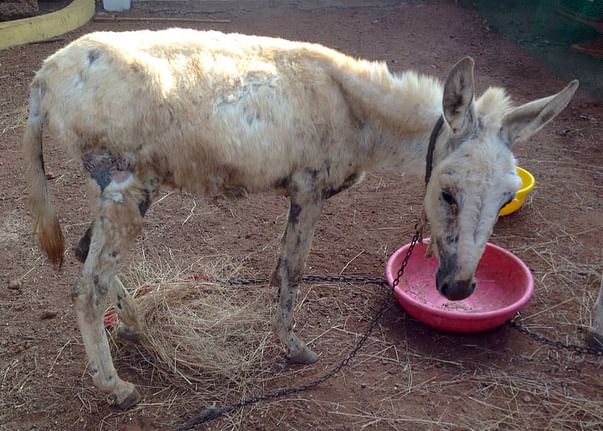 Both need extra medical care & attention while they are recovering at our Shelter. This includes oral medication, supplements for hair growth, & weight gain. Pablo & Pedro were no doubt beaten into submission as their bodies are covered in scars, whiplashes & open wounds. We cannot begin to imagine what they faced while performing in front of large, noisy crowds, being forced into carrying out tricks day after day.
Help us make them feel healthy & safe again. They deserve to have a dignified life, free from chains, beatings & heartache.