Every Sunday, Zsuzsanna Ferrao, a Hungarian woman, heads up to the Rangaon beach near Vasai and goes about cleaning it. She is accompanied by her husband Lisbon, a Vasai resident with their three-year-old son Lucius and 19-month-old daughter Nascha.
Zsuzsanna Considers India As Her Own Country And Believes Everyone Should Make Every Effort To Keep It Clean.
"Hungary doesn't have beaches but it has many rivers and lakes. I have been living in India for the last four years and feel people should keep the beaches clean"

- Zsuzsanna

"One day in February 2016, we were at Bhuigaon Beach in Vasai (outskirts of Mumbai, India) with our children, and we noticed our children were playing with empty plastic and alcohol bottles lying on the beach. The entire beach was laid with a blanket of garbage and in the monsoon, the scenario is getting worse as the layers are increasing with piles of rubbish coming from the neighboring nalas (sewers) and rivers."

- Zsuzsanna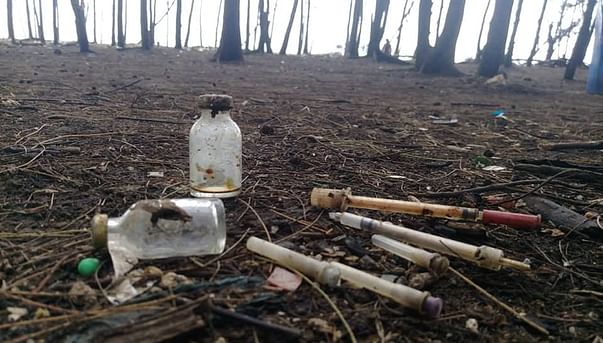 Her husband Lisbon Ferrao says he is a firm believer in Prime Minister Narendra Modi-led "Swachh Bharat Abhiyaan."
"However, the efforts of one person alone are never enough. It will take at least a few thousand people to clean only this beach. Naturally, more people need to contribute. Singing the national anthem in theaters is not enough. We must show our love for the country through our actions."

- Lisbon

At present, the beaches are filled with tons of plastic waste. The trees have fallen from the strong waves and dogs roam around in open dumpsters. Dead dolphins and turtles are found on occasions entangled in fishing nets, accompanied by littering due to lack of dustbins.


They've Taken Out More Than 250 Tonnes Of Plastic From 5 Beaches Since 2016
Initially, the couple decided to clean it up on their own, one bag at a time.
They started to clean along with their children helping them. They found that there was a variety of waste on the beach like plastic bottles, syringes, diapers, school bags, milk packets, shoes & slippers, plastic spoons, beer bottles, fishing nets, etc.
"We have a cleanup drive every Sunday morning and it's been the 140th week till date and we have cleared 250 tons of plastic. On an average, every Sunday, we clear at least 250kg, without any major types of equipment just a pair of gloves with plastic deeply rooted in the sand."

-Lisbon

For almost more than four years they have been helped by thousands of volunteers who are bank employees, people from gyms, sports clubs, schools, colleges, etc. They even hold lectures, presentations to many schools and colleges on beach cleaning, plastic, and saving mangroves.

As a token of gratitude, they provide breakfast to every volunteer after the cleanup. Due to the pandemic, they had to stop the cleanups for 3 months, as gatherings were not allowed. But now they have resumed cleaning by following social distancing norms with fewer volunteers.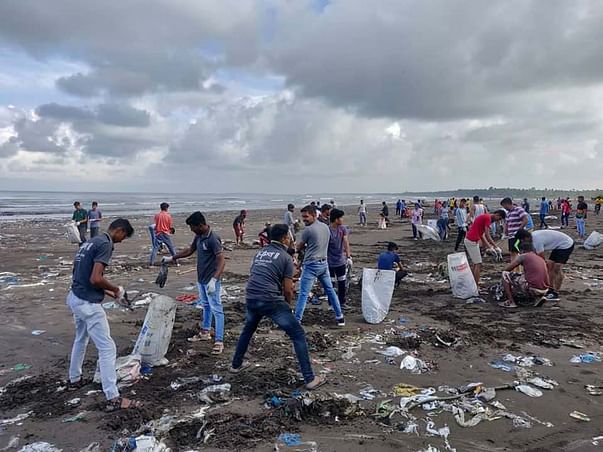 Their goal is to remove plastic waste from the beaches, recycling them, and continuing plantations to protect the coast and create a safer and cleaner place for children.

They have worked on Chowpatty (Mumbai), Versona (Andheri), and 5 others from Vasai so far. They hope to clean 7 beaches in the Vasai-Virar region (Bhuigaon, Bena, Rangaon, Suruchi, Kalamb, Rajodi, Arnala).
They also have a name for it 'Saving the Seven Sister (SSS Project)'.

Migrating Birds, Sea Life, And Mangroves Are Dwindling As The Years Passed By.
"Our mangroves cleaning and plantation have been going on since 2019 under the name 'MANGROVES PEOPLE'. Now we require more saplings to continue our goal of stopping the soil erosion, and strong waves that are bringing down the tree around the beach- Libson.
Besides cleaning the beach which involves mostly volunteers,
they need funds every week for -snacks, gloves, one-time cost for dustbins, 'No littering' signboards, and heavy machinery to remove out plastics.
They even plan to plant 4000 tree saplings and flowering bushes which would require paid laborers to create temporary fencing, watering plants in the dry season, and replanting dead saplings over a period of 24 months.
"I believe plants, animals, sea life can't voice the destruction we are causing them, and they are silently suffering, its time we give back to nature what we have been taking for so long."

- Zsuzsanna
Click Here To Donate And Support Them To Clean The Beaches