Name of Project/Program Humanitarian Assistance to the People Affected by Cyclone Amphan in West Bengal Theme/PIP Saving life now and future Category of the disaster Contact: (name, position) Bholanath Patra Secretary-KNDS Total Project/ Program Budget Depending on the specific intervention need and program coverage, project proposal, and corresponding budget will be developed Commencement date May 22, 2020 Project duration • Response phase– 12 Months Geographical coverage (Target) Worst affected areas in West Bengal: Two districts of South 24 Parganas, North 24 Parganas, and Medinipur. Direct Coverage (Target) West Bengal: 50000 worst affected and most vulnerable families across the Three districts Indirect coverage (Awareness programs through media, access to hand wash facilities in public places, etc.) An estimated 1 million Indian people will be benefitted through information sharing/ training and awareness generation activities
Extremely severe cyclone Amphan (Cyclone Amphan now onwards), which has killed over 86 people and directly affected more than 6,00,000001 people and destroyed more than 10,00000 houses in India, is now considered even more destructive than Cyclone Aila, which slammed eastern India and southern Bangladesh in 2009, as reported by the United Nations Country Team in India2. Cyclone Amphan hit West Bengal and Odisha on May 20, 2020, and foregrounded the compounded challenge of dealing with emergencies —increasingly exacerbated by climate amidst a pandemic. Even with reliable forecasts of its movement since May 16, and the preparatory moves by National and State Disaster Response Force units, the impact has been catastrophic. As mentioned by the Chief Minister of West Bengal, Mamata Banerjee, "It will take some time to restore normalcy... It's a catastrophic disaster. We are fighting three challenges as there is lockdown going on, and then there is COVID-19, and now this disaster. The villages have been entirely devastated.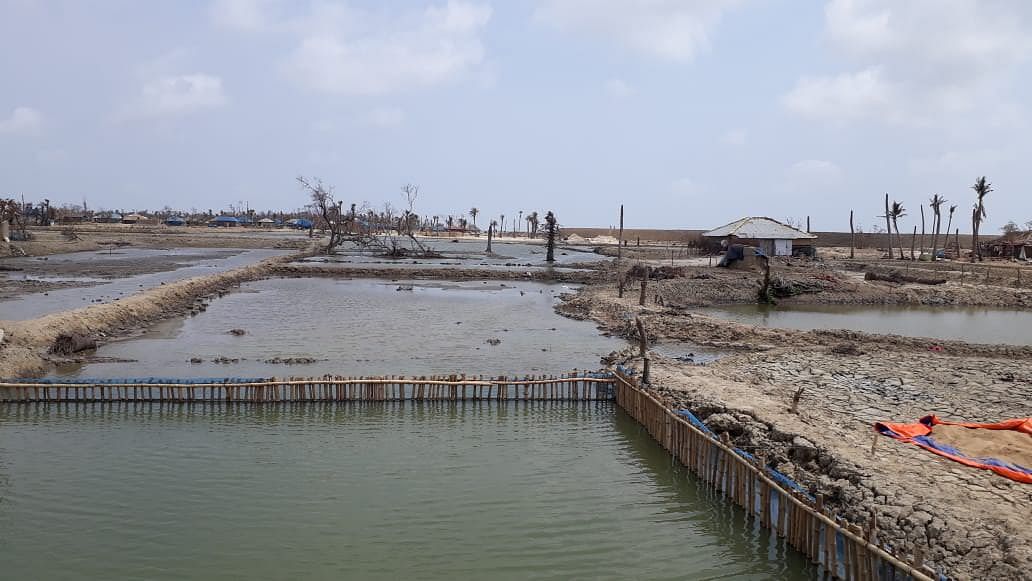 The immediate impact of Amphan across the worst-hit areas of West Bengal could be streamlined at three levels - a loss to life and property; loss to basic infrastructure, which will take months to leap back to normalcy, and thirdly, the loss to livelihoods due to saline water intrusion and large-scale inundation4. After the cyclone, the coastal villages in the three Bengal districts of North and South 24 Parganas Medinipur District are bracing for the impact of spring tide, as river embankments lay breached. The cyclone, and the four meters high storm surge that it triggered, left gaping holes in the embankments along the rivers. Reports of a breach in the embankments came from more than a 100 places across Basirhat subdivision in North 24-Parganas and the sub-divisions of Kakdwip and Canning in South 24- Paraganas5. Many embankments are seeing overtopping of water because the rivers have swelled up, these will break in days. In India, more than 650,000 people were evacuated from their homes in West Bengal and Odisha. But officials struggled to find space for the evacuees. Many of the cyclone evacuation shelters are already being used as coronavirus quarantine centers or housing migrants who have returned to their coastal communities because of lockdown. Sheltering the evacuated people and those who lost their homes during Cyclone Amphan has become a major challenge in the worst affected areas of West Bengal6. Extra shelters were prepared in markets and government buildings such as schools, community halls. However, the local authorities found it difficult to send people to storm shelters as people were scared of COVID 19 transmission. A senior police official from West Bengal said, "We have literally had to force people out of their homes, make them wear masks and put them in government buildings.7 " Pradeep Jena, the Odisha state in-charge of managing disasters said that the state had over 800 centers that are used during such natural disasters, each with a holding capacity of 2,000 – 3,000 people. Out of these, 242 were being used as COVID 19 quarantine centers. He said there was no precedent for managing a cyclone in the midst of a pandemic, and the need to maintain social distance means the state would need many more shelters than usual8. Immediately after the issuance of Early Warning on 'Amphan', KNDS and Partner in West Bengal started working in coordination with government departments, Inter-Agency Group (IAG) and other stakeholders of Humanitarian intervention in West Bengal to follow the field situation and initiate immediate response to save lives and livelihoods of the worst affected people. KNDS and field level partners have conducted the Rapid Needs Assessment (RNA now onwards) within the 24 hours of the disaster across the worst affected areas in West Bengal. Please find the latest version (updated) of the RNA report attached. The current concept note is based on the observations and recommendations from the RNA. This document underlines the immediate and mid-term plan for providing humanitarian assistance to the worst affected and most vulnerable people in two states of West Bengal. The implementation of the humanitarian response has already started as per the plan mentioned here. KNDS and local partners will keep track of the changing situation and corresponding modifications/ adaptations in program strategy will be made to make it the most effective intervention towards ensuring the attainment of the common goal of 'Saving lives Now and in the Future'.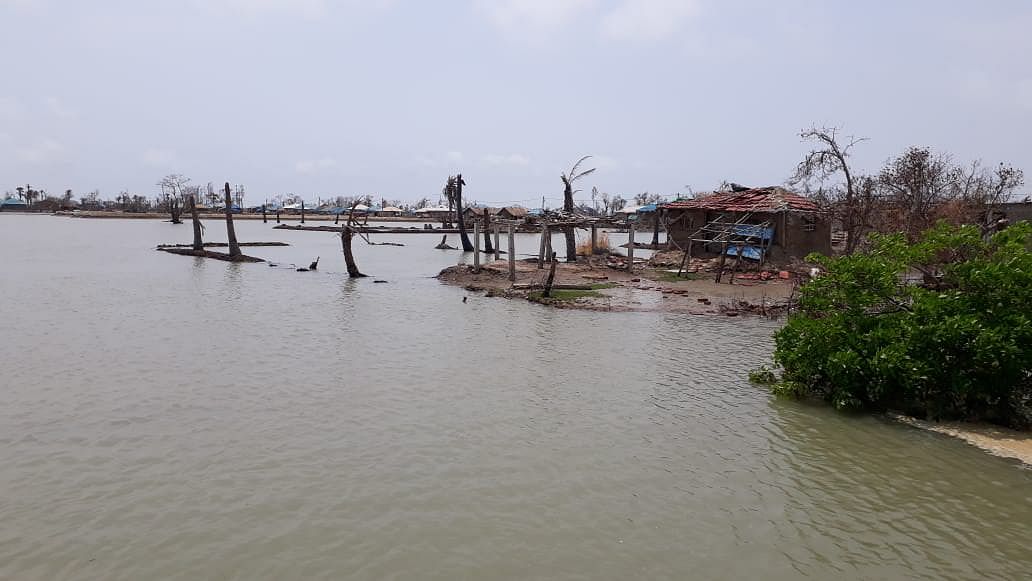 The initial reports indicate that the huge wind and rain caused widespread damage to houses, drinking water sources, standing crops, school materials for students, public infrastructures, schools, and public health centers even big trees were uprooted and fallen down. KNDS conducted the Rapid Needs Assessment with support from its field level partners across the worst affected districts of West Bengal.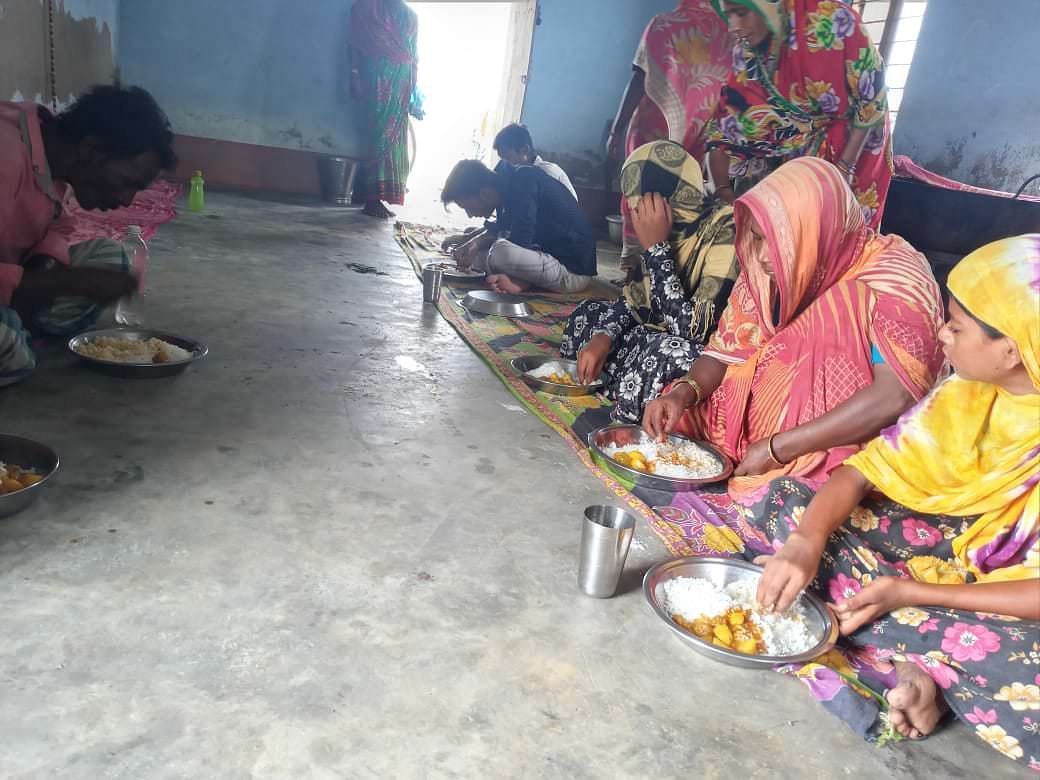 The storm is the first super cyclone to form in the Bay of Bengal since 1999. Though its winds had weakened by the time it struck, it was still classified as a very severe cyclone. The impact of Cyclone Amphan in West Bengal could be streamlined as follows: 1. Districts that are affected in West Bengal are North and South 24 Parganas, East Medinipur, Hooghly, and Kolkata 9 2. The worst affected districts in West Bengal are North 24 Parganas, South 24 Parganas, East Medinipur, and Kolkata 3. As per the initial estimate, more than 6,00,00000 people are affected in West Bengal10
4. The West Bengal Government has pegged the loss at around. 1 lakh crore Rupees based on the pictures shared from the ground we see peoples' houses, drinking water sources, toilets, schools, public health centers, government offices all are damaged.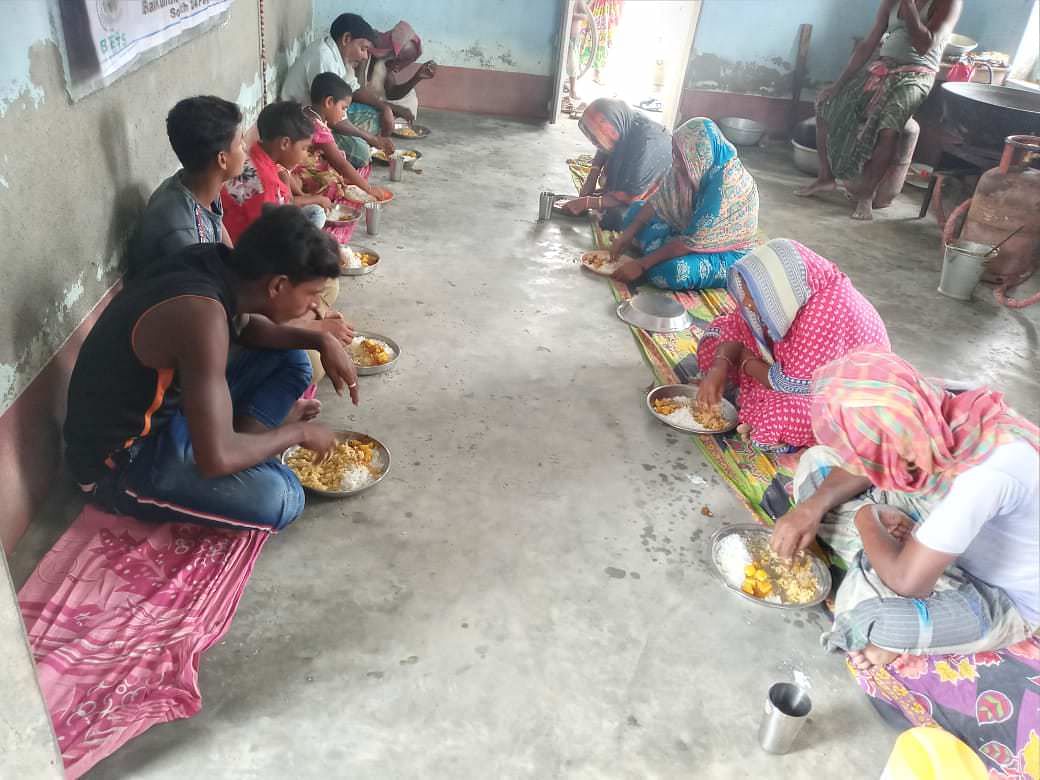 The impact of Amphan in Odisha could be streamlined as follows11: 1. Due to the impact of the cyclone 10 districts of Odisha (Balasore, Bhadrak, Kendrapada, Jagatsinghpur, Mayurbhanj, Cuttack, Jajpur, Keonjhar, Khordha, and Puri) have been affected.
2. 04 of them (i.e. Balasore, Bhadrak, Kendrapada, and Jagatsinghpur) have been affected more severely
3. 9833 no. of villages, 1558 Gram Panchayats in 92 Blocks and 272 Wards in 22 Urban Local Bodies have been affected in 10 districts
4. 44,44,896 populations have been affected in the above-mentioned districts.
5. 8,72,049 livestock have been affected.
6. Due to the impact of the cyclone about 500 numbers of houses have been fully damaged and 15000 numbers of houses got partially damaged.
7. 28 Large Animals, 9 Small Animal, and 3680 Poultry birds perished. COVID 19 related restrictions had hindered emergency and relief efforts for Cyclone Aman. Covid-19 and social-distancing measures made mass evacuations more difficult, and shelter homes could not be used to full capacity. This was a general observation across all the areas visited by the RNA team during the data collection.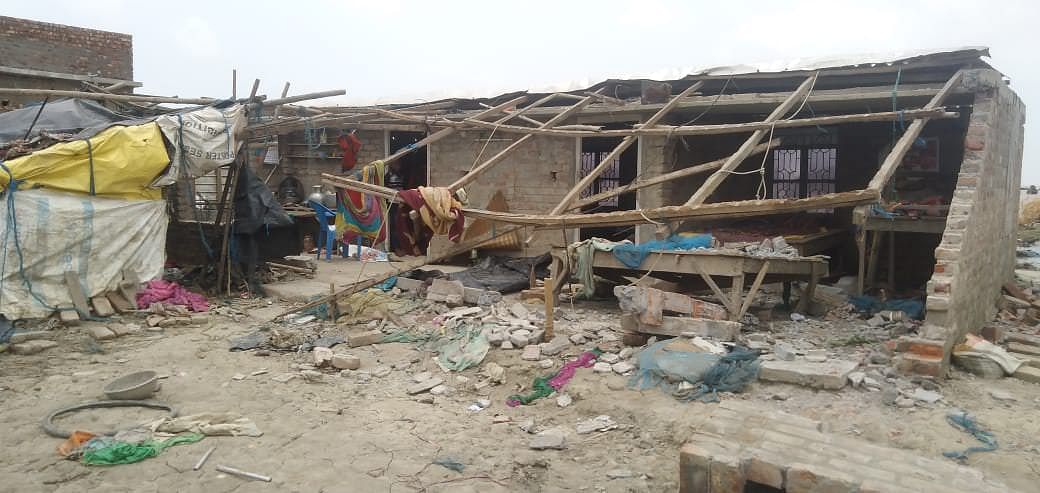 Adopting the 'Amphan plus COVID 19' approach in program planning and implementation: As identified during the Rapid Needs Assessment, the situation requires an integral approach towards reducing the impact of the Cyclone Amphan in the context of COVID 19. Preventive actions and protection strategies that were developed during COVID 19 will be adopted while implementing the humanitarian response intervention to support the worst affected and most vulnerable families Additionally, special attention will be provided for identifying and addressing the specific needs of the cyclone Amphan affected people in the context of COVID 19. The village Quarantine centers (where the migrant workers have taken shelter immediately after coming back) will be identified and need-based actions would be taken in line with the overall intervention focus areas (Shelter, WASH, and EFSVL) to prevent the spread of COVID 19 across the general population. Start with the areas with the existence of local partners: Given the fact that immediate response to Cyclone Amphan under the backdrop of COVID- 19 needs quick and local action for reduction of risk of spreading of the infection among the wider population. Thus, immediate response activities will be implemented by KNDS. All the existing partners, who are already trained on Humanitarian and Emergency response activities will be engaged for field implementation of the project. Ensure 'Inclusion' of people in response: KNDS believes that, in the face of any emergency, the inclusion of everybody needs to get be ensured. Amphan at the time of COVID- 19 reminds us that we all deserve to be treated equally and have the same basic rights. Thus, KNDS will extend the support to the 'Excluded' communities who remain outside the protection measures, because of their 'Locational' or any other disadvantageous position in the society. In our proposed states, the target people primarily belong to Scheduled Caste, Scheduled Tribe, and religious minorities. Some among the tribes are designated as Particularly Vulnerable Tribal Groups (PVTGs)1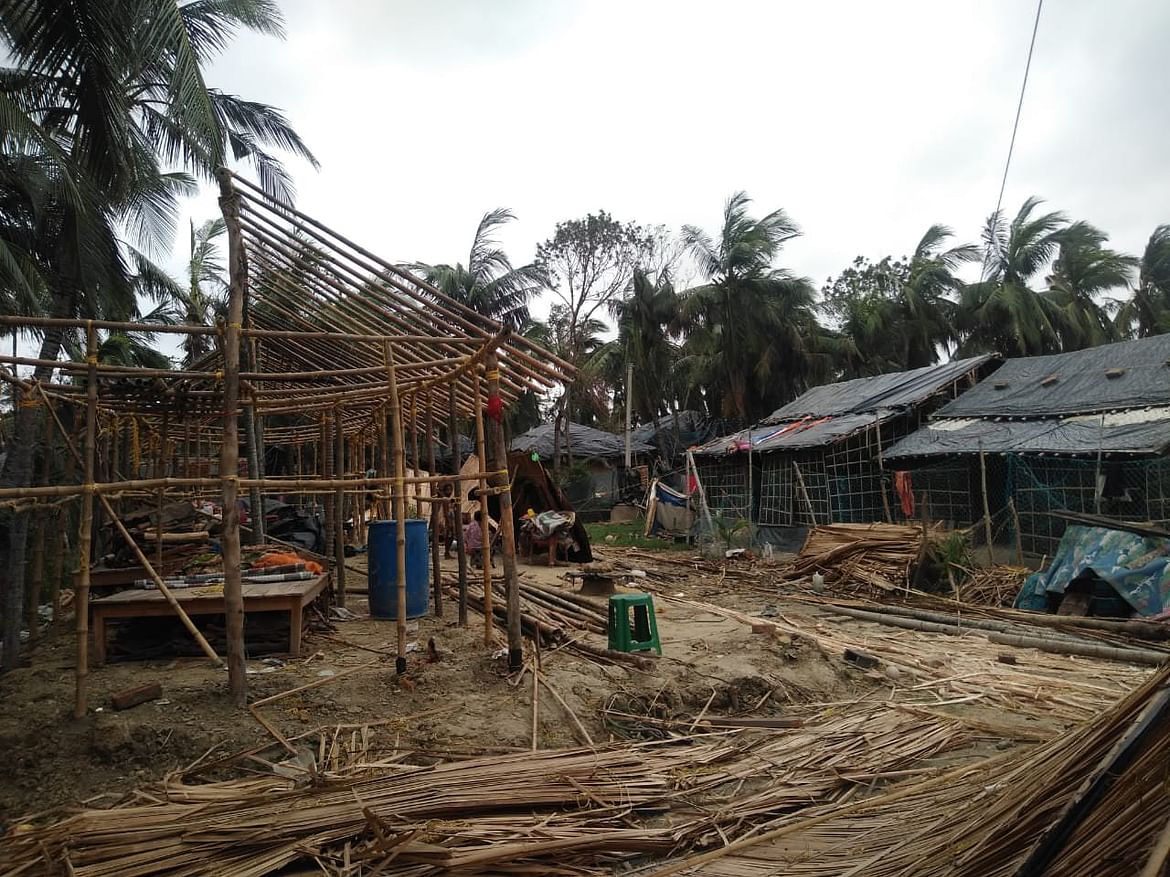 Target Women and girls in all efforts to address the socio-economic impact of Amphan during the time of COVID 19: It will be important to apply an intentional gender lens to the design of fiscal stimulus packages and social assistance programs to achieve greater equality, opportunities, and social protection. Protection of women, children, girls, and other vulnerable groups will be considered with high priority across all the phases of program planning, implementation, and management.
1.
Awareness Generation
at the community level with the use of mobile technology. KNDS innovated based solution to disseminate information on various aspects of COVID 19, starting from prevention measures till the availability of government supports in mitigating the impact of it leveraging different government schemes/programs in the longer term. The same solution will be adopted in the context of Cyclone Amphan for disseminating Public Health-related information across the affected population.
2. Training/ orientation of Partner Staff, frontline government workers, Panchayat functionaries on safety measures to be followed during the Community Engagement: Online training is being done for orienting various stakeholders of implementation of the COVID 19 response program. The same method will be used for reorienting/ training the program staff and volunteers on safe practices for implementing the Humanitarian Response program for Cyclone Amphan affected people in the context of COVID 19.
Project Areas The following districts will be brought under the coverage of the current intervention: • West Bengal: South 24 Parganas, North 24 Parganas, East Medinipur and Kolkata Project Area Selection Criteria The project district and the project villages will be identified using the following criteria: ▪ Districts/ villages that are highly impacted by cyclone Amphan, The impact stands for loss of life and livelihoods, damage of houses, loss of productive resources ▪ Villages mostly inhabited by poor and vulnerable and the socio-economically excluded groups such as Dalits, Minority people and Marginal and Informal labor ▪ Villages where women groups have lost their productive resources, e.g. agricultural equipment, seeds, livestock, small artisan materials, etc. ▪ Villages that are prone to natural disasters (floods/ draught/ cyclone etc.) and face the disaster almost every year ▪ Remote villages, forgotten disaster – worst affected areas which are not being focused by government or other humanitarian agencies ▪ Villages with COVID 19 Quarantine centers (special activities will be undertaken around the quarantine centers)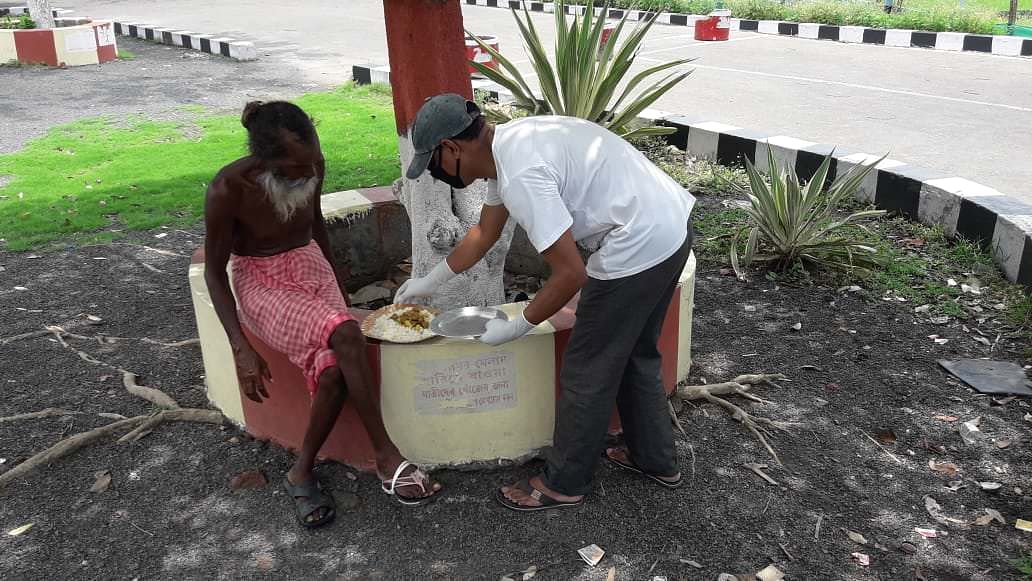 The objective of visibility activities is to guarantee awareness of the role of KNDS, the Donor and the partners to beneficiaries, local and national actors about the project, as well as for reasons of transparency and quality work. The key activities for Programme as well as Advocacy Communications under the project are as follows: 1. Display effective messages on basic steps to be taken for preventing post-Amphan Public Health risks, prevention of the spread of COVID- 19 through a local media such as banner at auto, rickshaw and local vehicles 2. More social media messages and quick in-house videos using smartphones – to utilize the Social Media Platforms in an optimal manner