PROBLEM
According to a
report
, only
24% of India's population is financially literate. This means the majority lack the awareness, knowledge, and skills necessary to make sound financial decisions and achieve individual well-being.
The situation is further grim among teenagers that do not receive any form of financial guidance that could enable them to be empowered citizens in the future.
To address this problem, a Bangalore-based social enterprise, Unherd India (
www.unherd.in
) is raising funds to mentor 30 students from under-resourced communities to teach them topics ranging from budgeting, savings, student debts, investments, and reading financial statements.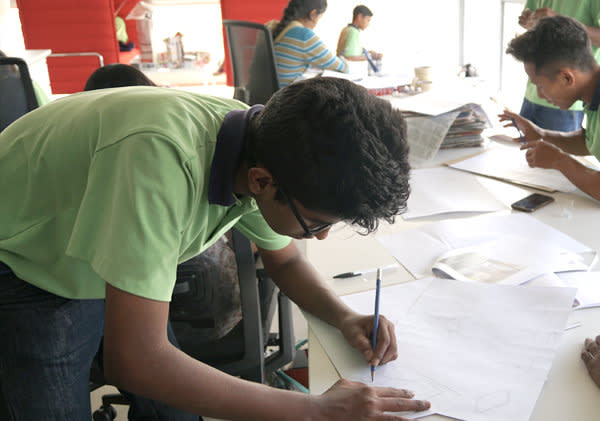 High-schoolers attending our career mentoring programs to learn relevant industry skills
Poor financial decisions can have a long-lasting impact on individuals, their families, and society - especially the vulnerable under-resourced community.
Low levels of financial literacy have also been associated with a lower standard of living, decreased psychological and physical well-being, and greater reliance on government support.
Financial Literacy can make a positive difference in a student's life and their family. It can empower and equip them with the knowledge, skills, and confidence to take charge of their lives and build a more secure future for themselves, their families, and their communities.
Unherd has onboarded two finance experts -
Ankit Bohra
(CA, AIR 27) and
Keshav Bagri
(Investment Banker, IIM Calcutta) to mentor 30 students on financial literacy through live online training, practical assignments, and real-world case examples. The Mentorship would also include career exploration in Finance, Accounting, and Venture Capital - a learning experience not typically found in Indian school or college education.
Not only will this mentoring program aim to educate and train students on Finance, but also demonstrate the importance of investments, savings, and assets.
FUND STRUCTURE:
Your contribution of Rs. 500 or more could help underprivileged students learn finance - a life skill that could have a positive impact on their personal well-being in the long run.
Class sessions will be conducted online on Zoom. Further Updates on the class session and student details will be sent to the donors.
*All participating students completing their assignments and quiz successfully, will receive a completion certificate. Updates will be shared with the donors.*
Know More about the Course and Program here:
https://unherd.in/project/finance/
FREQUENTLY ASKED QUESTIONS:
Q. How much is the fee per student?
The fee per student is Rs. 6550/- only for the complete Financial Literacy Program + Rs. 300 per student for their data recharge.
What is the demographic of these students?
Students attending the Financial Literacy Program will be from under-resourced communities of India. 60% of these students attending the program will be 14-to-17-year-old girls from an under-resourced community.
How long is this program for students?
Mentorship is for 9 Sessions, 90 minutes each spread across 4 to 6 weeks. Each session is a live class training conducted on Zoom.

Why is there a fee?
This mentorship is an exclusive mentorship with a maximum of 30 students per class, made better through online delivery and an intensive curriculum. A minimal fee is charged to sustain ourselves, pay our staff for the maintenance of our organization, and to the mentors who invest significant effort and time in conducting personalized training for the students.

What topics will the students learn in the Program?
Session1: Managing Personal Finances Art of Budgeting (Income, expenses, saving, debt repayment, student loans, credit cards).
Session 2: Introduction to Accounting Background of accounting. What is accounting? Purpose of accounting with case-based examples.


Session 3: Savings and Investments
Saving and Investing (Understand different asset classes – RE, Fixed Income, Bullion, Stocks), Power of compound interests.


Session 4: Introduction to Accounting Terms
Difference between Finance and accounting. Accounting concepts. Introduction to accounting terms. Type of business organizations.


Session 5: Career in Investment Banking
Investment Banking – What is it, how to become an I Banker, M&A, IPO.


Session 6: Bank Reconciliations
Recording transactions and rules with exercises.


Session 7: How Venture Capital works
Funding a company (Various stages- Angel, VC, PE, IPO) Using a company case study to learn the evolution of various stages.


Session 8: Balance sheet and P&L
Create a Balance sheet and P&L Statement


Session 9: Career as a CA
Introduction to globally accepted accounting principles. Career opportunities and Salary expectation in Accounting.
Q. I have more questions about this organization or this fundraiser, who should I contact?
For any further questions or updates, you could contact us here: contact@unherd.in.