Summary of contents below:
1) India's best train journey – Know about Jagriti Yatra
2) Some proud-to-be statistics of the Jagriti Yatra
3) Know whom you are donating to - My personal background
4) Maintaining Balance Sheets - How I will utilise the donations
5) Show me the returns - What you will get?
1) About Jagriti Yatra:
(Content taken from Jagriti Yatra's website: www.jagritiyatra.com )
"Inspire. And get inspired.
Change. And lead change in others.
Learn. And share your life's lessons.
Build and help build India through Enterprise
Discover India and a new Indian inside you
All outside the comfort of your homes, in a moving train across India "
Jagriti Yatra is a 15-day long, national train journey that will take you 8000 kilometers across the length and breadth of India, to understand and build the India of smaller towns and villages through enterprise.
450 youngsters, selected from thousands of applicants, many from smaller towns and villages, join the Yatra every year, with the goal of creating awareness and start a movement of 'building India through enterprise'.
History
Jagriti Yatra is set up under a non-profit charitable organisation Jagriti Sewa Sansthan and is headquartered in Mumbai. Jagriti Sewa Sansthan is based in Deoria, Uttar Pradesh and focuses on skill-development.
Origins of Jagriti Yatra
In 1997, Jagriti Yatra's chairman Shashank Mani organised the Azad Bharat Rail Yatra to mark 50 years of India's independence. The journey was transformational. It led to the book 'India, A Journey through a Healing Civilization' by Shashank Mani, which was published by Harper Collins in 2007.
The book inspired the rebirth of the Yatra. Jagriti Yatra board members, Raj Krishnamurthy and Rewati Prabhu joined Shashank Mani in creating and launching the Jagriti Yatra, with an ambitious new agenda of Enterprise-led-development. Gitanjali Bhattacharya and Swapnil Dixit were the first executives of Jagriti Yatra.
Today, Jagriti Yatra continues to be supported by a variety of companies, trusts and individuals, including Dell, Google, Coca-Cola, and Cairn India.
Vision
The vision of Jagriti is 'building India through enterprise'. It aims to inspire the young Indians living in the middle of the Indian demographic diamond to lead development by taking to enterprise, thus unleashing a movement of Enterprise-led-development.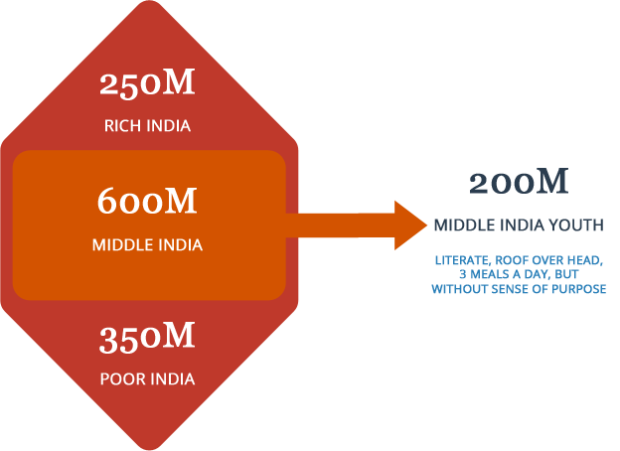 Jagriti focuses on the seven verticals of development
Agriculture
Education
Energy
Healthcare
Manufacturing
Water & Sanitation
Arts & Culture & Sports
Within this agenda, Jagriti is focused on the adaptation and replication of successful enterprise models across Middle India.
Mission
Jagriti Yatra aims to nurture 1 Lakh (1,00,000) entrepreneurs by 2022 and create 10 Lakh (10,00,000) jobs in this process.
2) Some proud-to-be statistics of Jagriti Yatra:
· Jagriti Yatra has been executed successfully since 2008 and has impacted the lives of more than 3000 Yatris. Experiences of past Yatris best capture this impact.
· 99% of Yatris recommend the Yatra as a 'Must-have Experience'
· Around 45 enterprises are being created by the Yatris every year. Even those who were entrepreneurs before coming on the train are benefitted immensely from the exposure and networking opportunities presented by the Yatra.
· 16% (or approx 50 out of 375) started their own enterprise after the Yatra
· 47% of the enterprises have been started in the small towns and villages. These enterprises are spread across a spectrum of sectors – Agriculture, Healthcare, Manufacturing, Education, Livelihoods, Online Services, and others – thus contributing to nation-building
Jagriti Yatra has set a global Example of a Unique Youth Program. It has generated great interest in USA, UK, South Africa and France where similar programs are now being developed. In the US, the
Millennial Train journey
, was led by a JY Alumnus, was successfully completed in August 2013
3) My personal background:
My name is Sagar Agarwal, and I have been born and brought up in Kalyan, a small city about 50 kilometres from Mumbai, India. I hold a degree in Computer Engineering, and a CFA Level 2, and I have been working with J P Morgan Chase in Mumbai for the past 4 years.
Having faced hardships myself, I realise the importance of education and the role it plays in a person's life. There were times during my school years when I used to teach my fellow classmates after my school for some fees to support myself. Nevertheless, I feel extremely fortunate to have teachers, family, friends & relatives who supported me throughout my educational phase, and I realise that not everyone is lucky to have them. It was with that aim that I decided to join the Jagriti Yatra – to understand the need of today's children in terms of education. Because they are going to be India's tomorrow, the hopes of a 1 billion people will rest on their shoulders.
I wish to be the change that I want to see!
4) How I will utilise your donations
Thankfully, after all the struggles, I have been blessed with a good job; so I will be paying all the Yatra fees of Rs. 59000/- (or USD$950 approx). So essentially all of the donations received will benefit straight to the children / NGOs who deserve it. However, I still have few plans and this is how I plan to maintain the "balance sheet"
Story books / drawing books / sports equipments / etc. - INR50000
Why this? Because they definitely do not have this. But why not books? Because they are already a part of some NGO and they do receive books. I believe that children should be provided all round development opportunities – we might have an Indian Picasso sitting behind those mathematics books. Because I never had any opportunity to pursue such self-development interests, I am of strong notion that this should be provided at all costs.
Doodle pads for all children – INR25000
What are Doodle Pads? Similar to re-usable whiteboards in offices, this is a re-usable notepad. You can essentially write / draw / scribble whatever you want, and then erase it. Then re-use again. Sounds like magic? Yes. Check on www.kraftout.com
Donation to some needy NGO – INR25000
During my trip, I will be visiting several role models – or NGO owners – who have been doing consistent & selfless work in the villages. They have decided to spend their rest of their lives in serving the needy & underprivileged. Depending on what type of work they do & the NGO's financial needs, I will be donating the rest of the money to them. This donation will be made on careful study & analysis on NGOs. This amount might also be split between multiple NGOs if needed. If nothing else works, I will donate this money to the trusts that organises the Jagriti Yatra to sponsor some needy Yatri like me in the next year's Yatra.
5) What you will get in return?
A lot, actually. Not in materialistic terms, though. But you shall have the joy that you helped sponsor some child in some remote village of India who might need it the most. Your contribution will not only educate someone, but also help build India's growth story. But still, because I belong to the Investment Banking industry, I know how our rational minds work; we always seek often what we will get in return. So here's a sneak peek:
Donations of INR500: A heartfelt Thank You email.
Donations of INR1000: A "Thank you" mention of your name on my website (I plan to launch my website wherein I plan to share all of my experiences). This will stay on forever.
Donations of INR3000: A special picture message straight from the Jagriti Yatra trip – I promise this will be indeed special!
Donations of INR7000: Souvenirs from places where I visit during the journey. I shall arrange to send this via registered mail (a bit costly) or via some close of friend of mine if they are travelling nearby your location (less costly, plus you make a new friend!)
Donations of INR15000: All of the above – Yes, you heard it right. I am generous enough ;)
Donations of INR30000: All of the above + Involvement - Your contribution signifies an interest in doing developmental work. That is why I will make you - the contributor - the decision making person for this amount. After your donation, you could reach out to me to know more about this.
Jagriti Yatra 2015 details:
Yatra start date: 24th December, 2015
Yatra end date: 08th January, 2016.
Itinerary: Will be shared shortly.