As Palani and Kasturi sat in the ambulance, on their way to the big hospital nearly 2 hours from their village, neither of them could think straight. Between them, lying on a stretcher, was Suganthi — their 12-year-old daughter. She was barely conscious, her tattered gown covered in blood and vomit.
Just two weeks ago she was completely healthy.
But that night, as these parents watched their daughter being wheeled away to the ICU as soon as they reached the hospital... little Suganthi's life was hanging by a thread.
This little girl went from healthy to dying, in just 2 weeks
It started when Suganthi woke her parents up one morning and told them she felt very sick. As Palani checked her forehead for any fever, he noticed her eyes had become a little yellow. Over the next two weeks Suganthi got more and more sick, even as her parents took her to one clinic after the other.
"Then one day she suddenly started vomiting blood, and then fainted in our arms! We tried and tried, but we couldn't wake her up. Our local doctor said she needed a big hospital, so we brought her to the city last week.

A scan has shown that Suganthi's liver is almost 100% damaged. Without a transplant... our daughter is going to die.

"

— Palani, father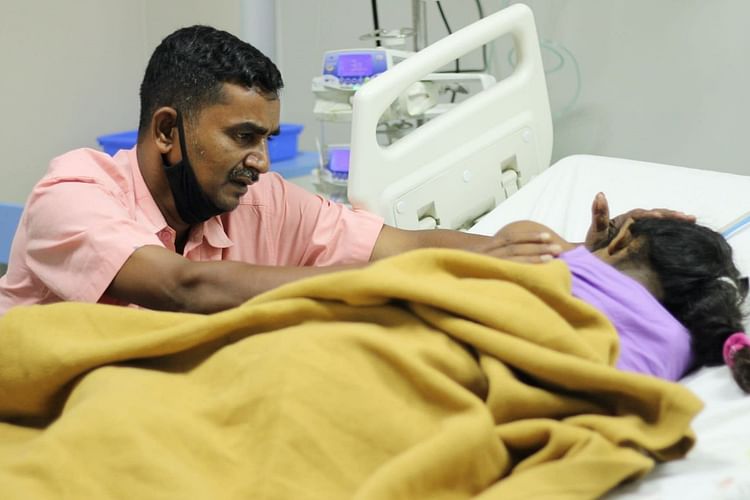 These parents have been sleeping on the road to save money for Suganthi
"From all the hospital visits and tests, to getting her admitted in the ICU, we've spent more money than I've earned in the past few years working as a driver. We sold everything of value we ever had, I've even taken loans upon loans on top. Today they told us that she needs the transplant in the next 48 hours to make it.

My wife and I have been sleeping on the road near the hospital, skipping meals, so we can at least afford her daily medication! How can we afford a 20-lakh surgery?!

"

— Palani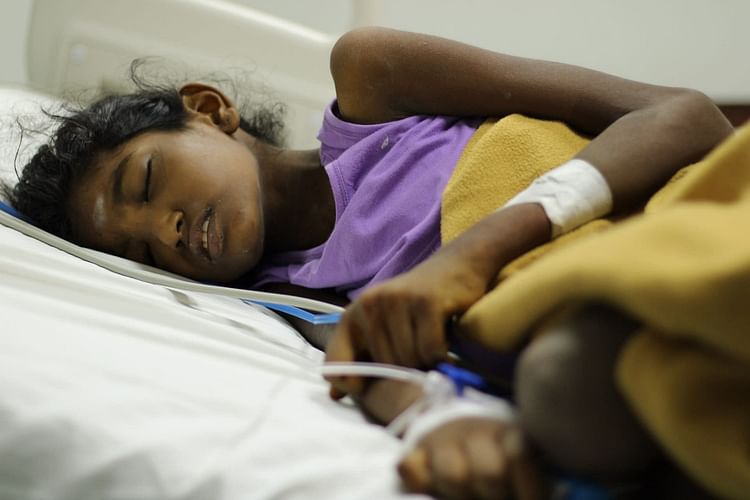 Without a transplant, this 12-year-old only has 48 hours to live
Suganthi has Acute on Chronic Liver Failure (ACLF), an extremely sudden and exceptionally dangerous liver disease. By the time she was diagnosed, almost her entire liver had gotten scarred and shriveled. The disease is wreaking havoc upon the rest of this frail little girl's body as well. It's gotten so bad now that she needs mechanical ventilation on and off — she's too weak to even breathe, and needs a machine to do it for her! Her parents kept her alive until now, but they've run out of money.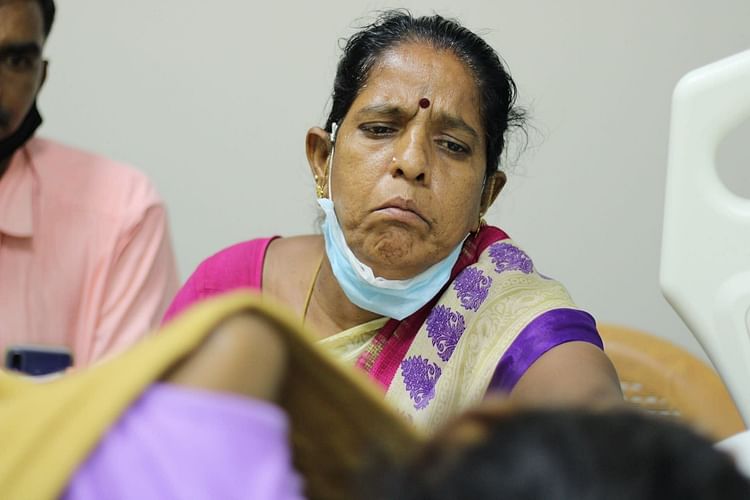 Their daughter woke up briefly, just once, crying for the pain to stop
"Palani was out trying to arrange for the money, and I had gone to get tested to be the donor. A relative of ours who came to visit was sitting with Suganthi.

When we got back in the evening, she told us that our daughter had woken up for a moment! That she cried because the pain was too much, and asked why her amma and appa weren't with her! What if... what if that was the last time she ever...

"

— Kasturi, voice trembling with guilt and fear
These parents have nowhere to go and no one to turn to. Every minute that passes by where their daughter's condition keeps worsening, doubles their desperation. You're their only hope now.