"The day our baby Sinthisai was born, our lives were finally complete. Our family grew by two feet, and nothing could compare the satisfaction and happiness I felt. Being a mother has been my greatest blessing and now I had another baby to dote on. But never did I imagine a situation like this, where things would go so horribly wrong that I would have to watch with despair as my 7-month-old struggles to even take breath."

- Banumathy, mother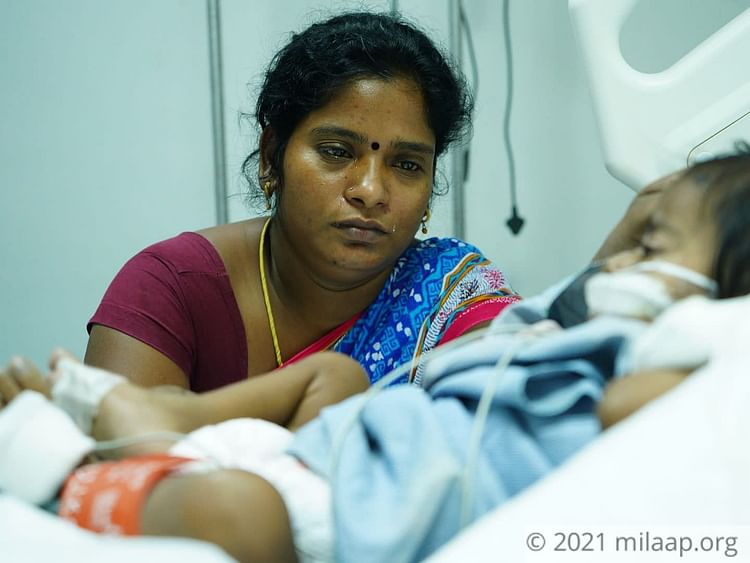 She was gasping for breath as soon as she was born
Soon after baby Sinthisai was born, she showed
symptoms of respiratory distress
. The newborn was
gasping for breath
, leaving her parents terrified at the thought of losing her when she'd just come into their life. She remained in the hospital in the NICU, until her breathing stabilized.
"Days later, she was doing very well and we were allowed to take her home. I had thought that the worst had passed, and that nothing could destroy our bliss. Until just last month, Sinthisai, yet again, started to have breathing problems. We rushed her to the hospital, where they ran an angiogram and more tests. That is how we found out our infant had a liver problem… and the only curative option for it is a liver transplant" - Elayaraja, father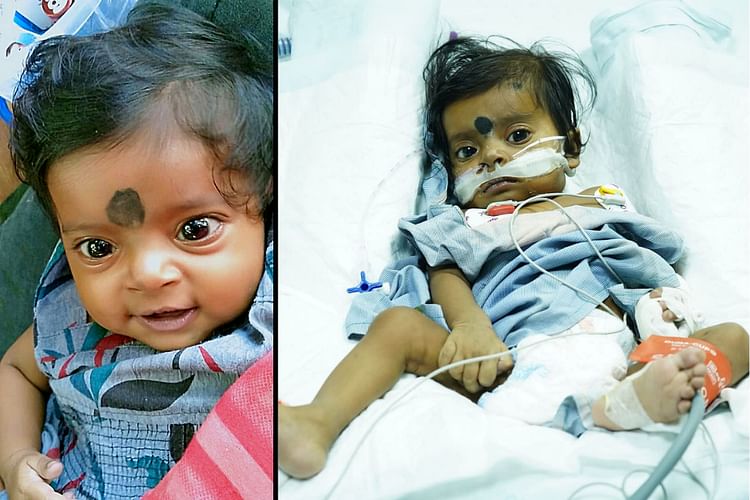 She suffers from two uncommon and dangerous conditions
Sinthisai was diagnosed with
Abernathy Malformation
, a
very rare congenital vascular malformation
. This condition is
causing portal blood (the blood from the portal vein that moves to the liver) to divert from her liver.
She also has
Hepatopulmonary Syndrome
, a
rare condition affecting the lungs of people with advanced liver disease.
It is making it hard for red blood cells in Sinthisai's blood to absorb oxygen properly. The only way she can recover is if she undergoes a
liver transplant at the earliest.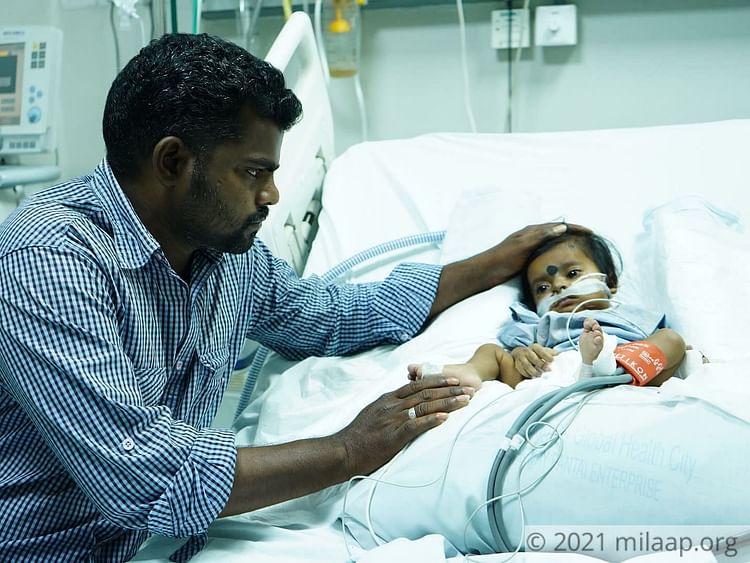 Already neck-deep in debt, he can't afford his daughter's liver transplant
Little Sinthisai's
condition has deteriorated
in the last few weeks and
now she is in NICU care on ventilator support
. It kills her parents to see her this way but with all their resources exhausted, they don't know how they will save their child.
Sinthisai needs an urgent liver transplant that will cost 19.5 lakhs, which her poor parents are struggling to afford.
"We came to Chennai, all the way from Pondicherry with the hope that the doctors here can save my daughter. I was so relieved when they told me she can recover from this illness with a transplant procedure. But the cost is beyond my reach! I am only a daily-wage labourer on an agricultural farm. I've spent whatever I had, about 2 lakh rupees, so far, borrowed from relatives and even approached moneylenders. I am already in debt and neither am I able to work! There is no way I can ever make such a huge sum in this lifetime. How will I save my baby?" - Elayaraja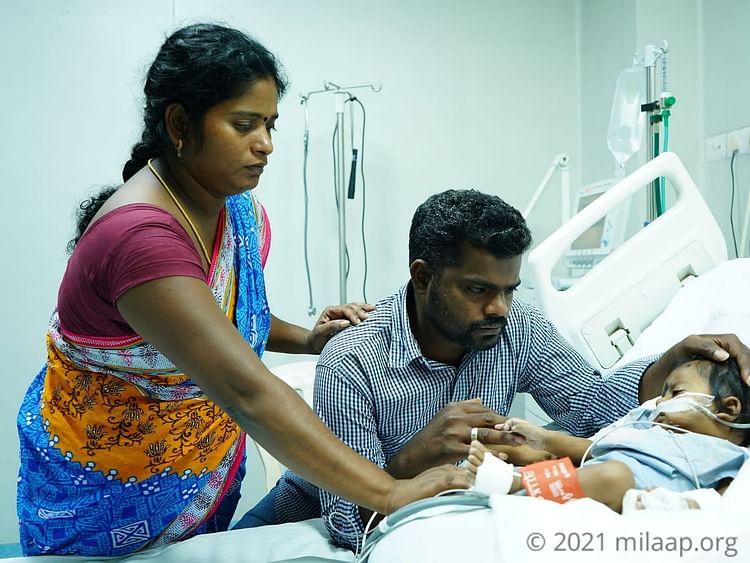 These parents are in desperate need of your help. Their baby has been with them for only a few short months, but her illness threatens to take her away. Sinthisai's older sister too is eagerly awaiting her return, so they can play together again. Your contribution will go a long way in helping Sinthisai live.