If there's one place Sayan Biswas would rather be, it is his classroom; sitting on his bench, facing the black board, and listening to his teacher go on about a philosophy lesson. Instead,
he sits in a hospital bed receiving treatment for a disease that is slowly sucking the life out of him.
In October 2020,
Sayan was diagnosed with Anaplastic Large Cell Lymphoma
, a cancer developing from abnormalities in the white blood cells. The 19-year-old is unaware of his plight and his parents wish to keep it that way, in the hopes that he will be able to recover sooner.
He needs continued chemotherapy and radiation as treatment, but his parents cannot afford it.
A lump on his throat led to the discovery of his cancer
A good-natured and energetic young man, Sayan was keen about his studies. He hoped to be a police offer one day, and had been pursuing a degree in philosophy in college. He had always been
healthy and full of vigour
, so when
he contracted a high fever one day
, late last year,
his parents got extremely worried.
"It started with a normal fever, but by the end of that day, his temperature had soared and despite our efforts, it wouldn't go down. We also noticed there was a lump on his throat, and it bulged while he was talking or swallowing. When the fever wouldn't subside, we took him to the doctor. We didn't know what was happening, but I knew it was serious with the number of tests we were asked to get done. Fear started to creep in and my wife was a wreck, sobbing inconsolably and terrified for our son. It felt like my heart stopped for a moment, when the doctor explained to us that our Sayan had cancer." - Sanjoy, father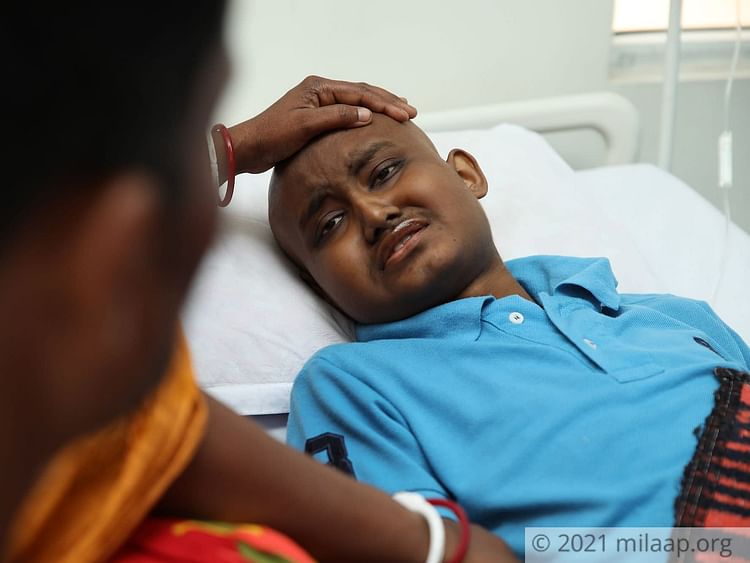 He doesn't know he's sick, they don't want his condition to worsen
"I haven't had a decent amount of sleep since the day he was diagnosed. I feel extremely anxious and overwhelmed. We haven't told him he's sick; he's still young and hopeful, and I can't bring myself to tell him that his body is slowly giving out. A disease is killing him and there's nothing I can do, but watch as he withers away. I can see that he's getting weaker day by day and it hurts because I know we can save him, but we just don't have the resources. Where are we going to get more money to continue his treatment?" - Amita, mother, unable to hold back tears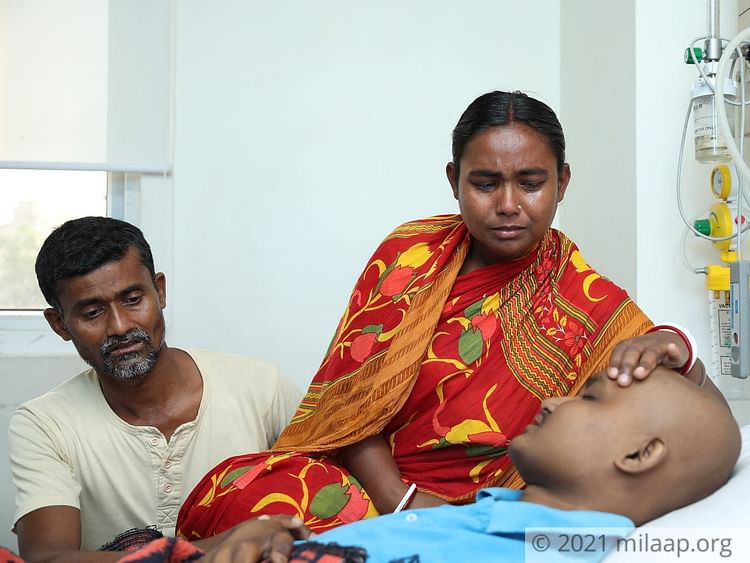 Only prolonged treatment can save him, but his parents have no way to pay for it
Sanjoy is a daily wager and
earns a meagre income that is barely enough for the family to get by
. He had been working tirelessly for his son because his only wish was to put Sayan through college. But now, all that money, plus some more that he borrowed from relatives has gone into saving his son's life.
They need at least INR 10 lakhs to continue Sayan's treatment, but they have nothing left
.
"We have spent all our life's earnings in making sure our son gets the treatment he needs. He's our only child, and has worked hard to come this far, but this disease is stopping him from living his life. He's so young and yet to experience all that the world has to offer. We want him to grow up well and healthy and achieve his dreams, but we don't have the money to pay for his chemotherapy. You are our only hope. Please help us to save our son... " - Sanjoy
Your contribution, no matter big or small, can help Sayan on his road to recovery. He wants to be able to go back to college again and study to be a capable police officer, one day. Click here to donate!