"He hasn't slept in days! He screams in pain all night because of his swollen stomach. He can't turn, he can't move without a shooting pain going through his entire body. He spends the whole night crying, but I can't carry him anymore. I'm his mother, and even my touch is painful for him. His liver is failing and when I look at him all I can think of is that he's running out of time." – Sutapa, mother
Baby Pulkit is just 10 months old, and he has less than one month to get a life-saving liver transplant.
One look at him and you know that he's very sick. His parents, Pranjal and Sutapa, are racing against time to save him – but despite all their efforts, they're failing.

His suffering began after just one month into this world
Sutapa and Pranjal had spent the whole of last September staying awake. Feeding the baby, changing diapers – there was chaos and fatigue, but also immense joy. Even when they would be woken up in the middle of the night by Pulkit's cries, they didn't mind. Their 6-year-old son and their newborn, Pulkit were their world.
"In October, everything changed. His stomach started swelling. His eyes became yellow and he had a fever. Everyone, including the local doctor, thought it was jaundice and it would go away with medicines. But it only got worse. Our baby was then diagnosed with a dangerous liver disease!" – Sutapa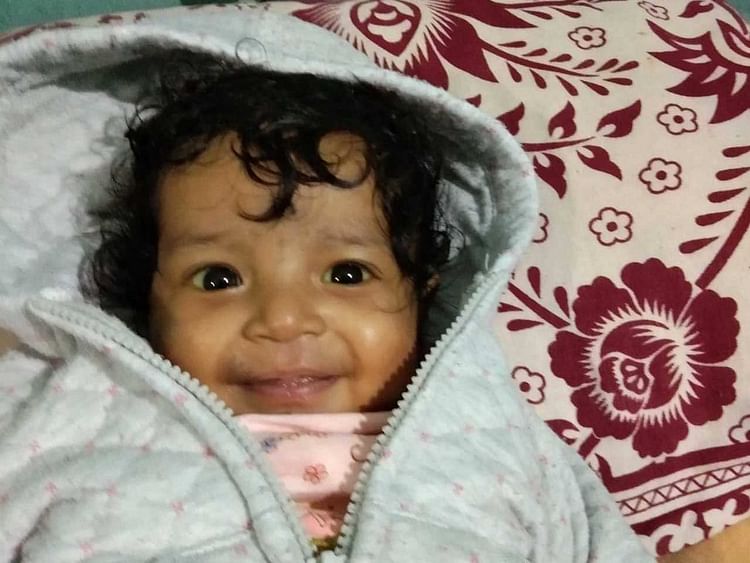 In November, Pulkit underwent a procedure to drain the blocked bile ducts. With this, his parents were hopeful that it was the end of his pain, that he can now have a normal childhood. Unfortunately, in January his condition worsened. All the symptoms he had were back, and more dangerously. He needs an urgent liver transplant.

He's in excruciating pain, only a transplant can save his life
Baby Pulkit's condition is getting worse with every passing day.
All his parents can do now is wait for someone to lend them a helping hand. Having spent all their savings and more on his treatment and tests so far, and on bringing him to a hospital in Delhi, they have nothing left.
"He can't even eat, he's fed through a tube in his nose at regular intervals. He's going through so much…you can imagine how helpless we feel as parents, not being able to do anything but watch. We've spent almost 10 lakhs until now. I work as a pharmacist in Assam…but I don't have enough to afford 16 lakhs for his transplant. Especially in such a short time. I can't even borrow from anyone anymore. You are our only hope!" – Pranjal, father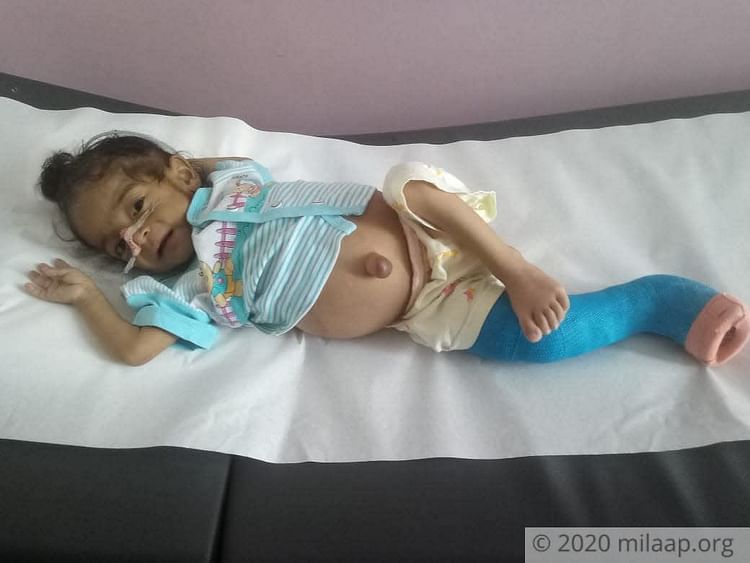 How you can help
Their 6-year-old son is back home in Assam. He calls them every day asking about his baby brother. But these parents have nothing to say to him anymore. They're watching their 10-month-old die before their eyes.
Without help, they can lose their baby to this deadly disease. Pulkit has just a few weeks left to get a transplant and survive. You can help him.