Two years ago, Safiulla and Mohamed's lives came to a standstill when the doctors told them that their 7-month-old baby had died. Engulfed in misery, they struggled to cope with the loss. Months later, they were told they were to be parents again. At first, they were terrified of what might be, but later embraced the news with great joy. Blessed with a baby girl, they decided they'd live for her. Laughter filled the house once again, but it didn't last long. Today, at 7 months old, Baby Hamna is fighting a raging battle with death. Her lungs are giving up on her, and her parents are struggling to afford her treatment.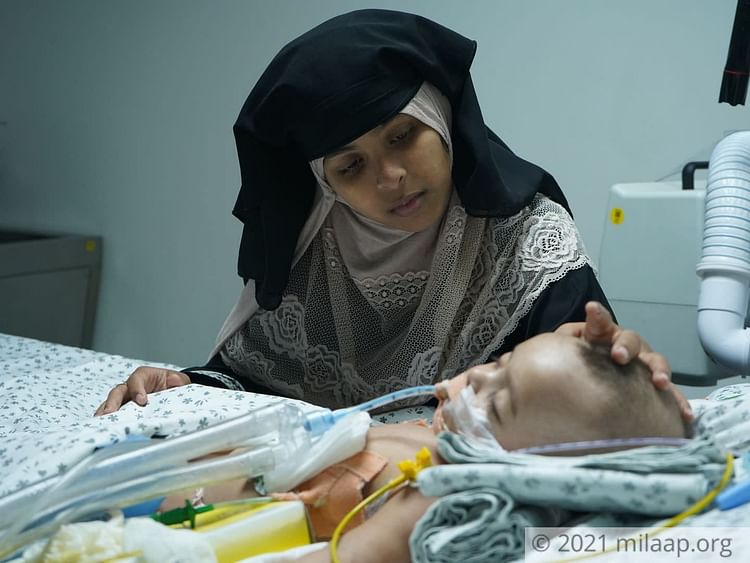 They knew something wasn't okay with Hamna, but they weren't sure what
"She was very active, and playful. Unlike her brother, she was hale and healthy. But one day, when she was 7 months old she started to have dry coughs. The next day, I noticed her chest becoming hollow when she breathed.

We rushed her to a clinic where they suggested IV injections. We'd seen our baby boy die in front of our very eyes… we couldn't even think of needles pricking Hamna too.

Understanding our plight, the doctor gave her oral medication. She was alright, but only for 2 days… What was happening to her, nobody knew!" – Safiulla, mother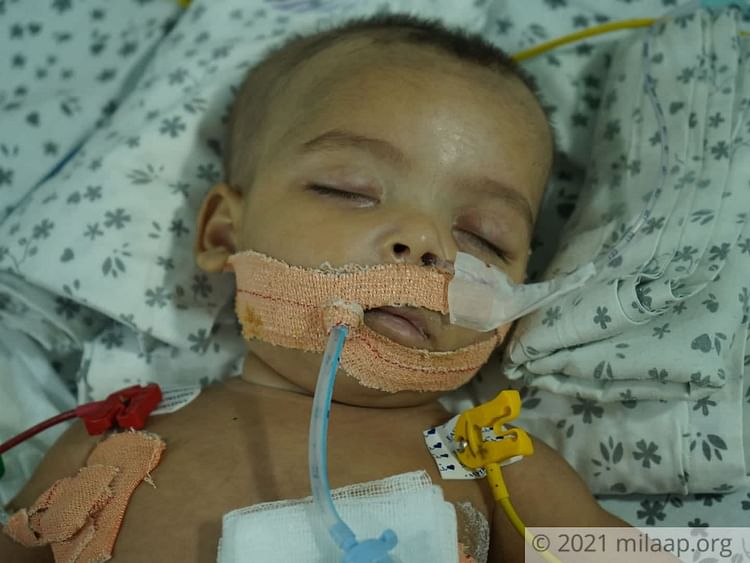 X-rays revealed a severe, fatal infection in her lungs
Initial X-rays revealed that everything was normal, yet Hamna continued to struggle to breathe.
Confused, the clinic's doctor suggested they go to a bigger hospital. When they got there, history repeated itself. Nobody knew what was going on. Thus, the parents shuttled from one hospital to the other, hoping for someone to tell them what was happening to Hamna.
"Everywhere we went, she was admitted for examination.

But when they saw her playing happily, and her clear x-ray reports, they passed us on to other hospitals. Nobody could tell us what was wrong.

One day, her x-ray reports suddenly showed an infection in her lungs. On the third day, it was so severe, they said she wouldn't survive.

We rushed to Chennai for its facilities… but this was also where we lost our son. The memories haunted us. Words can't describe the dread we felt, of losing Hamna to a similar fate

!" – Safiulla.
She can be saved, but only with expensive prolonged treatment
Now hospitalized, little Hamna is being treated by a lung specialist in Chennai. She is on
ventilator support and
her body is responding to the treatment.
Although she's still in a critical condition, doctors have said she has a very high chance of survival if she undergoes prolonged treatment.
But it will cost them 30 lakh rupees!
"

I'm a welder by profession, and earn up to 18,000 rupees in a good month. I have spent more than 4 lakhs in the past few weeks, by borrowing from friends and relatives.

Out in a different city, I can't go back to work anytime soon. Having lost a child before, we can't even dream of going through that again.

We lost our son not knowing until his last breath what he was fighting! With Hamna we know what can save her; there's hope. We want to see her live… please help us

. " – Mohamed.
In this month of Ramadan, where the family would have otherwise been celebrating, they're suffering. Your generous contribution can end their misery. Click to donate.